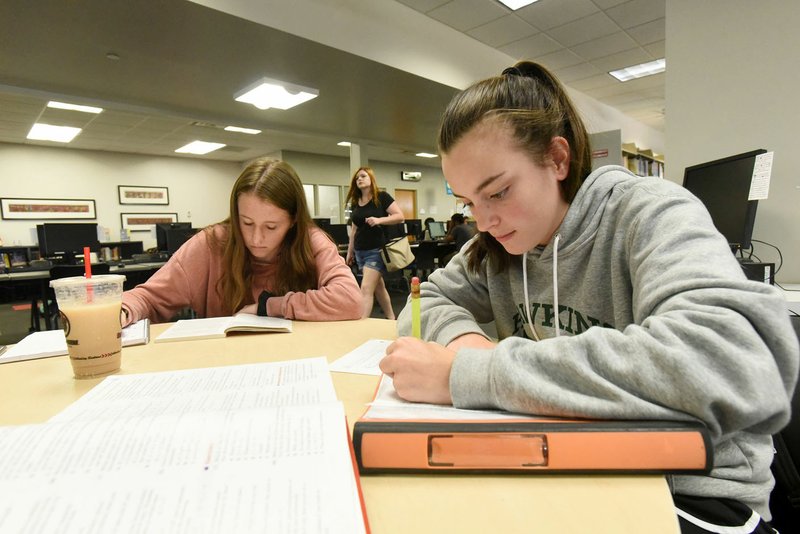 NWA Democrat-Gazette/FLIP PUTTHOFF Emma Fortner (left) and Faith Cornog study Tuesday in the Northwest Arkansas Community College library.
BENTONVILLE -- Fall enrollment is up for the second straight year at Northwest Arkansas Community College.
The college reported 8,649 students taking courses for credit as of Tuesday, the fall semester's 11th day of classes. That represented an increase of 341 students, or 4.1%, from the same point in 2018, according to a college news release.
Enrollment
Here are Northwest Arkansas Community College's preliminary enrollment reports for the 11th day of classes for the past five fall semesters. "Change" means the percentage change from the previous fall.
Year*Enrollment*change
2019*8,649*4.1%
2018*8,308*4.4%
2017*7,960*-0.2%
2016*7,973*0.1%
2015*7,962*-2.5%
Source: Northwest Arkansas Community College
The college last year reported 8,308 students on the 11th day, a 4.4% gain from the previous fall. That ended a streak of six years during which enrollment either declined or was flat. Enrollment numbers released Tuesday are preliminary.
Students this semester are taking 75,416 credit hours, an increase of 1.5% from last year's 74,285 credit hours, according to the college. Each student takes an average of 8.71 credit hours, a decrease from 8.94 credit hours last year.
Todd Kitchen, vice president of student services, said in the news release the enrollment growth can be attributed to the hard work of administrators, faculty and staff. Justin White, executive director of enrollment management, and his team have implemented changes that have yielded great results, Kitchen said.
"Our college leadership provides great resources, public relations and marketing support that allows us to effectively tell our story around the region," Kitchen said. "We are also extremely grateful for a college community that continues to serve and support our recruiting and retention efforts."
Jordan Hingoo was hanging out in the game room of the college's Student Center on Tuesday afternoon playing pool with some other students. Hingoo, 21, of Bentonville is in his third year at the college and is studying architecture. He said he's noticed there's more students and added the school is adapting to it well.
Hingoo enjoys the college because it's not as large as some universities. He said he likes the faculty and staff and the ability to meet people from around the world.
"I love it here. It's like a second home to me," he said.
The state Department of Higher Education requires institutions to take a snapshot of enrollment on the 11th day of fall classes. The department uses the data to develop funding recommendations for state money.
The official 11th-day figure is provided to the state in October. That number typically is a couple hundred fewer than what's reported this week because the official figure won't include students who are auditing a course or who are enrolled in "late start" classes, which begin after the traditional 16-week term kicks off, according to the news release.
Enrollment steadily increased from the college's founding in 1990 until 2011, when its official fall semester number hit an all-time high of 8,528 students. Enrollment then went into a period of decline before starting to rebound last year.
Arkansas' 22 two-year colleges -- including Northwest Arkansas Community College -- last fall enrolled a total of 46,632 students, a decline of 4% from the 48,596 students of 2017 and a decline of 16.9% from the 56,116 students of 2014, according to data from the Arkansas Division of Higher Education.
Statewide totals for this year's fall semester are not yet available.
Northwest Arkansas Community College's enrollment increase comes as it prepares to open a 38,000-square-foot Washington County Center in Springdale with the capacity to serve 2,000 students. The center will offer general education and health professions classes starting in January.
NW News on 09/11/2019
Print Headline: NWACC enrollment rising
Sponsor Content
Comments