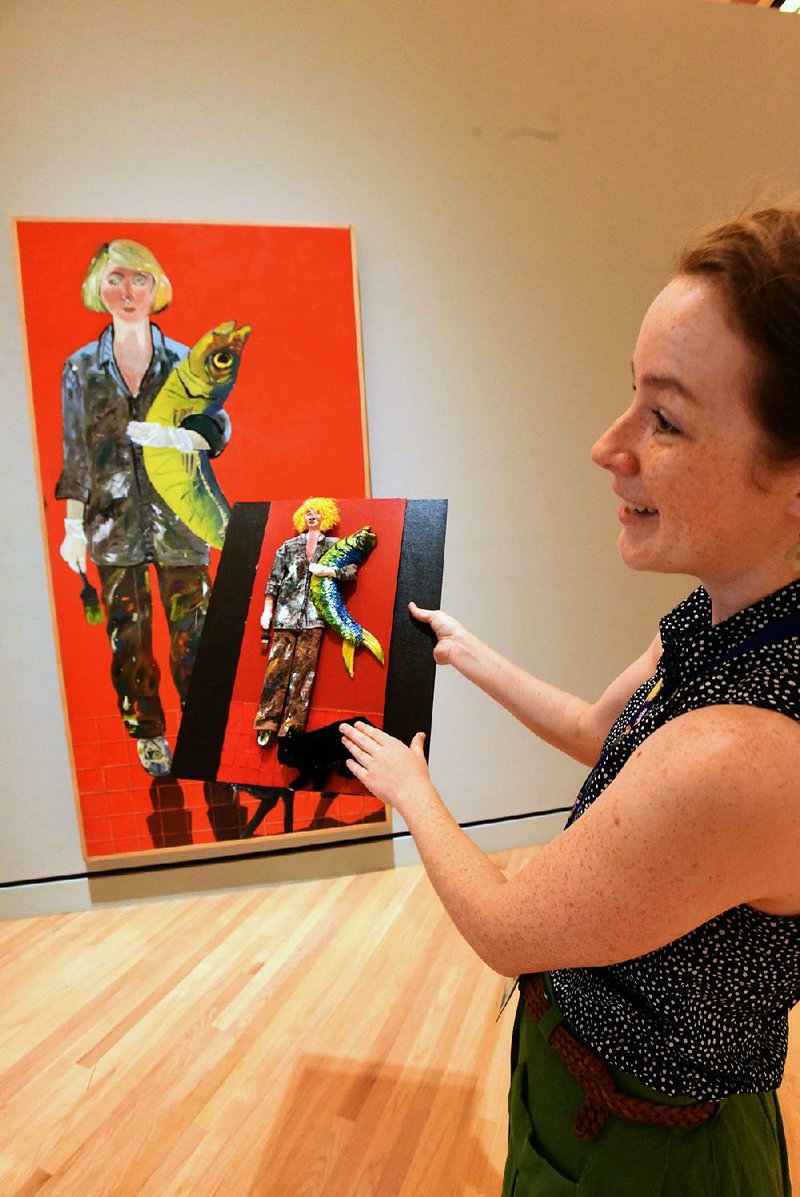 Kim Crowell with the Crystal Bridges Museum of American Art staff holds a touchable version of the painting Self-Portrait with Fish and Cat by Joan Brown, one of the items the museum is using to aid vision-impaired guests. - Photo by Flip Putthoff
BENTONVILLE -- Museums are getting creative to make art more accessible to the disabled.
"It's also part of a growing trend right now of the arts in general to make art more accessible and available to all populations, regardless of geography, income, race, ethnicity and also disabilities," said Beth Bienvenu, director of accessibility with the National Endowment for the Arts.
In 2014, 12.3 million adults had serious difficulty seeing, including 1.6 million adults who were blind, according to a report on Americans with disabilities published by the U.S. Census Bureau in November 2018.
Some 17.1 million adults experienced serious hearing difficulty, including 3.4 million who were deaf, according to the report. About 4.2 million people had both vision and hearing difficulties.
Kim Crowell, senior museum educator and accessibility coordinator with Crystal Bridges Museum of American Art, said the efforts the museum makes toward inclusion for the disabled are in keeping with its mission to welcome all.
"I think the arts community has always been sensitive to the need to make art available to all people for a long time," Bienvenu said. "The Arts Endowment has had initiatives to make the arts available to underserved communities since the 1970s."
MULTISENSORY EXPERIENCES
Crystal Bridges features Multisensory Saturdays quarterly to help visitors with all levels of sight explore the museum's artwork, Crowell said.
"We have four different touch tables with different activities or scents or sounds or touchable maps related to four works of art in our collection," she said.
The latest event was Aug. 31, at which tables were set up in gallery spaces alongside the artwork. Featured works included George Washington [The Constable-Hamilton Portrait] by Gilbert Stuart and The Bathers sculpture by Marisol.
Evan Muse, 36, of Elkins attended with his children, Elder, 6, Elias, 5, and Magnolia, 3.
Elder and Magnolia have macular degeneration. He said Elder has 10% of his vision left, while Magnolia has 40%.
"They will go completely blind at some point, and it's pretty aggressive with Elder," he said. "Magnolia's doesn't appear to be quite as aggressive, but she has a lot of issues with depth perception and running into things."
The family spends a lot of time outdoors because finding cultural experiences for the children is challenging because of noise and crowds that often exist in public spaces.
"Elder navigates a lot by sound, and a lot of times he'll talk and it's kind of like an echo location kind of thing," Muse said. "He has a hard time navigating because he can't hear," he said of public venues.
Elder likewise has difficulty understanding art he can't see, Muse said.
"A lot of times there's a lot of confusion and frustration," he said. "We just do the best we can to explain it to him."
The touch tables included items like textured materials, wooden blocks and scented items that represented the pieces of art.
"It gives them some cultural experience that they otherwise wouldn't have," Muse said of his children. "I think it's wonderful that they're providing this opportunity."
The Museum of Native American History in Bentonville has also introduced touch tables to increase understanding of its exhibits, said Charlotte Buchanan-Yale, museum director.
"We have someone there at the table to point out different things that you can hold and touch and feel," she said of items such as replicas of pottery, grinding stones and ax handles. "They're on rabbit fur, which gives another tactile element to the touch and explore table."
Crystal Bridges introduced free glasses for the color-blind with the opening of the Color Field exhibit in June, Crowell said. The exhibit of outdoor sculptures is open through Sept. 30.
"There are of course various types of color-blindness, so we invite guests to come in and checkout the glasses and to try them out," she said.
Crystal Bridges' efforts toward inclusion don't stop with providing cultural opportunities for those with vision loss, Crowell said.
The museum's interior is fully wheelchair accessible, and the venue offers tours using sign language for the deaf or hard of hearing, assisted listening devices, closed captioning for distinguished speaker or spotlight lectures, audio tours for guests who are blind or have low vision and a summer camp and special events for youth with autism.
The native American history museum is wheelchair accessible and has listening devices to help visitors explore some 142 different artifacts, Buchanan-Yale said.
The museum has tour wands for visitors to hear quiet messages in English or Spanish about the artifacts, she said.
"It's just a little wand you hold in your hand," Buchanan-Yale said. "We see kids 3 years old to big kids 80 years old using them."
COMMUNITY IMPACT
The efforts being made by the Bentonville museums for people with vision loss are being noticed by the blind community, said Rita Reese-Whiting, Arkansas Council of the Blind president.
Reese-Whiting, 45, of Fayetteville lost her vision 12 years ago because a blood clot damaged her optic nerve, she said. She visited Crystal Bridges shortly after it opened in 2011, she said.
"For me, it was pretty much just 'Let's walk through all these hallways and listen,'" she said. "All I had to go on was somebody's verbal description, which really gave me nothing at all."
She said the touchable paintings and small sculptures have created new opportunities for art appreciation.
"With the audio descriptions and especially the 3-D printed models available, I think more and more blind and visually impaired folks will go to the museum," said Reese-Whiting. "There's going to be some form of interaction that can be had, rather than just walking through really nice hallways."
Buchanan-Yale said creating a more inclusive environment encourages visitors to return.
"We're planting seeds all the time," she said.
Crowell said future efforts for Crystal Bridges include introducing more scaled-down versions of sculptures and panels with large print and Braille descriptions placed alongside the original sculptures.
"We are working on creating touchable models of some of our outdoor sculptures," she said. "People of all levels of sight can experience those."
The native American museum will be introducing an archeological-style dig of a dire wolf on a to-be-determined date, said Buchanan-Yale. Visitors will experience a very tactile experience as they use tools to "unearth" a cast of the dire wolf, she said.
Museums should also consider including people with disabilities in who they hire, select as artists and place on their boards, Bienvenu said.
"I just would want to encourage arts organizations to make sure people with disabilities are included in their work," she said. "There are many different ways to approach accessibility to the arts for people with disabilities and making art education and art programs."
Crystal Bridges has a Community Access Advisory Committee that consists of people with and without disabilities who are advocates for inclusion in Northwest Arkansas, Crowell said.
Reese-Whiting said she's a member of the board alongside members in wheelchairs, with Alzheimer's experience, who are deaf, volunteer in support of blind parents or have children with autism.
"They are really helping to review and refine inclusive practices of the museum," Crowell said of the committee. "We're taking some of our cues for things that they have suggested that they would like to see at the museum."
Reese-Whiting encourages other museums to follow Crystal Bridges' lead.
"People who're blind or visually impaired, we know that art is important. It's part of our society, it's part of our experience," Reese-Whiting said. "If people don't know what the needs of their patrons are, then they don't know that they need to make these changes like Crystal Bridges did."
Metro on 09/09/2019
Print Headline: Museums making art more disability-accessible
Sponsor Content
Comments