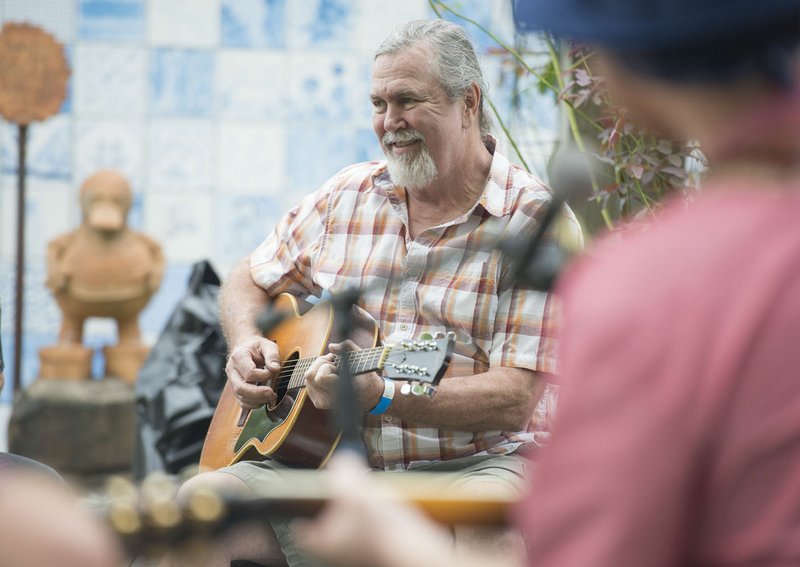 NWA Democrat-Gazette/J.T. WAMPLER Jim Mills of Fayetteville plays in a song circle during the Terra Studios Fall Music and Art Festival in 2018.
Since 1975, Terra Studios has been a peaceful retreat for artists and art lovers alike. Tucked into the Ozarks on the edge of Fayetteville, the grounds offer plenty of room to roam and to find the artistic surprises showcased all around the property. Colorful art classrooms also help visitors exercise their creative abilities.
Most of the time, admission to this artistic wonderland is free (with a suggested donation). But when fall rolls around, so does the organization's annual fundraiser, the Fall Music and Art Festival. The modest admission fee -- $15 at the door -- helps to keep admission free of charge for the other 300-plus days of the year. It's also a perfect opportunity to celebrate what Terra Studios has meant to the public for nearly 45 years now, says the organization's executive director Val Gonzalez.
FAQ
Terra Studios Fall Music & Art Festival
WHEN — 11 a.m.- 6 p.m. Sept. 8
WHERE — 12103 Hazel Valley Road in Fayetteville
COST — $15
INFO — 643-3185
"This major fundraiser in September gets us through the winter time," she says. "It's one of the most fun fundraisers I've ever been to. There's all kinds of music, a wonderful children's area, parent-child yoga -- something for everyone."
Gonzalez says around 20 artists will have booths set up around the grounds, and the event's "song circles" will have music from many genres ringing out over the grounds.
"Groups of musicians come together," she explains. "We have about nine different solo artists or groups in the morning and nine at night. They take turns playing and back each other up. It's so much fun -- almost like sitting in on a rehearsal."
Throw in a variety of food trucks, and you have the ingredients for a fantastic day out, says Gonzalez.
"My boys used to tell me that this was a great place to go on a date -- you have a really pretty drive out to Terra and lots of things to do once you get here, so you're not just staring at each other. But it's also a great place to bring kids. If you like music or art, you can really make a day of it."
NAN What's Up on 09/08/2019
Print Headline: Every Kind Of Art
Sponsor Content
Comments