Northwest Arkansas is experiencing a boom in developing places to experience art, but a deficit in providing affordable places for artists to work and live, according to a study.
The 14-month study by Artspace, a Minneapolis-based nonprofit arts developer, showed a 123% increase from 2014 to 2018 in places where art is made in the region. The study, paid for with a $400,000 grant from the Walton Family Foundation, concluded in January and examined locations such as museums, music venues, restaurants and shops in Bentonville, Fayetteville, Rogers and Springdale.
Creative Spaces
Creative Spaces at Mount Sequoyah supports arts residencies, studio spaces and public arts programming. Artists-in-residence and visitors alike have access to a wide range of experiences and opportunities that will enhance for all a sense of connection to the arts and to their own creative potential. Learn more about securing a space to work and create at at Mount Sequoyah at mountsequoyah.org.
Source: Staff Report
It recommended the establishment of affordable artist working and living spaces in all four communities as part of Northwest Arkansas' next steps toward growing its creative economy.
The creative economy consists of for-profit creative service businesses, nonprofit arts groups and independent creative businesses. Those businesses include self-employed artists, according to the Center for Creative Economy.
"It's a common challenge for creative people across the country to not have adequate space to create their work," said Wendy Holmes, Artspace's Consulting and Strategic Partnerships senior vice president.
Northwest Arkansas is no different in that regard, Holmes said.
According to the U.S. Department of Housing and Urban Development, families who pay more than 30% of their income for housing are considered cost burdened and may have difficulty affording necessities such as food, clothing, transportation and medical care.
An estimated 12 million renter and homeowner households nationwide now pay more than 50% of their annual incomes for housing, according to HUD. A family with one full-time worker earning the minimum wage cannot afford the local fair-market rent for a two-bedroom apartment anywhere in the United States.
"If you don't support creative people with affordable space in your community, you will lose them," she said.
Why artists?
A shortage of artists could be detrimental to a community, said Robert Stafford, Fayetteville Arts Council chairman. He said artists and arts-based businesses, venues and organizations are often some of the largest contributors to a city's economy.
"When an artist is able to make a living in their own community, then they go out and spend the money they make," he said. "It all gets fed back into the local economy."
Artists are unique compared to many other areas of the workforce, as they're often more successful when they live and work in close proximity to each other, Stafford said.
"When you have that, you have artists collaborate, you have artists employ each other, you have artists teach each other," he said.
That collaboration feeds the economy as artists create everything from paintings to custom furniture to sell, Stafford said.
"People think of art as just painting, sculpture and photography," he said. "Really it's so much more than that."
The Artspace Hamilton Lofts in Hamilton, Ohio, offers housing and workspaces for 60 artists and their families, a commercial space for creative businesses and a gallery, said David Stark, a resident artist and the property manager.
Stark is a writer and spatial artist who's lived at the lofts since 2017.
Hamilton is on the northern edge of Cincinnati's metro area, according to the Artspace website. The space was created by restoring a historic building in downtown Hamilton.
"Hamilton is a city that's on the rise. It is an old industry town that's been remade into something of an arts town burgeoning with a lot of small businesses," Stark said. "Our location is located right in the center of everything."
He said artists use art to remain visible downtown by offering free monthly community events at the gallery, creating murals and completing commissions for public art attracting people to downtown Hamilton.
"Not only are our artists getting a bit of a better shake by having access to people to come in and view and purchase their art, we're also providing the city with all the more means for their exposure to the burgeoning arts scene," he said. "It's definitely a two-way street."
Emerging artists
The need for affordable space challenges emerging artists seeking to start a career in Northwest Arkansas, said Jeannie Hulen. Hulen is University of Arkansas' J. William Fulbright College of Arts and Sciences associate dean and School of Art ceramics and art professor.
As many as 60 students graduate from the art school annually, many of whom would like to become part of the region's growing arts scene, she said.
"They are seeing many job opportunities in this region for the arts, and more are added every year," Hulen said.
The School of Art has a responsibility to help meet the needs of the region's growing creative economy, she said, but the lack of affordable artist living and work spaces makes it difficult.
"The more freedom creatives have to create, the more they can give back to their community," Hulen said.
Creative Spaces
Mount Sequoyah Center in Fayetteville has taken that concept to heart and began offering 18 artist work spaces in January through the Creative Spaces program, said Christina Karnatz, the center's development and communications director.
The center is a nonprofit group created to celebrate and connect with people with land and spirit, she said.
Mount Sequoyah opened the artist spaces after a visioning process determined how it could become a better community resource, Karnatz said. The process was completed through the Velocity Group in Bentonville.
The center subsequently opened 15 dorm-like spaces with 150-225 square feet on the first and second floors of Sequoyah Hall, which rent for $150 a month, said Jessica DeBari, Creative Spaces program director. Martin Hall features three larger spaces ranging from 550-725 square feet for $550 per month, she said.
The center plans to add 12 artist spaces on the third floor of Sequoyah Hall and an event space on the fourth, DeBari said.
"Eventually we want to be able to rehab this whole building and open up the fourth floor, which would be the coolest event space in town," she said. "The fourth floor is the highest point in Fayetteville. So, if we can get windows put back in, it will be the most amazing lookout you can imagine."
Providing artist spaces benefits the center, Karnatz said.
"We're earning income from these rooms that we were not earning income on previously," she said. "We are providing that resource to the community, and we're activating our spaces."
Karen Ahuja of Fayetteville uses acrylics as a medium and began working out of one of Martin Hall's work spaces in February. She previously worked and sold her art through Art Ventures studio and gallery in downtown Fayetteville.
"I was busting out of that space," Ahuja said of her 150-square-foot space at Art Ventures. "There's tons of space here, and I can store and I can create and I have access to water."
The artist is experiencing less accessibility to the public now that she's moved, she said. Mount Sequoyah doesn't offer the same level of foot traffic of potential buyers readily available off the Fayetteville Town Center through Art Ventures.
"I have to go out on my own and source my own traffic, which is the trade-off," she said.
New spaces
Bentonville is working to develop working and living space for 50 artists, Holmes said. The development will be at a to-be-determined location by the Momentary.
The Momentary is owned by Crystal Bridges Museum of American Art and is set to open Feb. 22. The public art space is near the 8th Street Market.
The discussion concerning the specific location, design and cost for the artist living and work space will begin Oct. 30, Holmes said.
"It's an eight-acre site, so there's a lot of different choices," she said of the location.
The major financing application will be put together in March, Holmes said. Construction would begin in the summer or fall of 2020 and is anticipated to take about one year to complete.
Holmes anticipates funding the project through the state Low Income Housing Tax Credit program and donors with a vested interest in growing the region's creative economy. The federal Home Investment Partnerships Program may also provide an additional source of funding, she said.
Recognized need
Rogers also recognizes the need for artist living and work spaces, said John McCurdy, community development director, said in an email.
Creative spaces in the city grew 193% from 2014-2018, the most among the four studied cities, according to the Artspace report.
"I'm not sure what the secret sauce is in Rogers, but there is definitely a sense of a growing creative sector that is acknowledged by the businesses community and the leaders," Holmes said.
Rogers is in the process of updating its plan, McCurdy said.
"The Vision 100 project being conducted in conjunction with the Rogers-Lowell Area Chamber of Commerce and the need to support arts and culture initiatives through both civic and philanthropic means will be an emphasis item within the plan," he said.
The city must secure money to build the development prior to moving forward, McCurdy said.
"The Artspace development model requires a complex partnership of private, public and philanthropic entities," he said. "We have yet to identify a philanthropic organization that is prepared to take this on."
Springdale hopes an arts district in the city will help contribute to developing more artist working and living spaces, said Patsy Christie, Springdale Planning and Development director.
"There's just a growing trend in the city to talk about quality of life issues, and that's one of those things that people are looking at," Christie said.
Planning in Springdale helped planners discover a thriving artist population seeking affordable places to live and work, she said.
"I think we knew they were there," Christie said, adding artist attendance at community planning meetings helped the city realize how robust its artist population is.
Work in progress
Responsibly growing the region's artist living and work spaces will take time, said Allyson Esposito, executive director of an as yet unnamed regional arts organization.
"The timeline to get those things done takes five to seven years, typically, so we're still on the early end of figuring out what the next steps will be," Esposito said.
The unnamed arts organization aims to support all arts and cultural activity in Northwest Arkansas to connect institutions and spaces with the artists, Esposito said. The organization will gather arts communities, residents and stakeholders to outline priorities and resources.
"The opportunity is exciting -- especially given the redevelopment that's happening in each of the cities," Esposito said "To position arts and culture in consistently maintained space for artists at the center of those downtowns as they're redeveloped is very exciting and timely."
The development of arts in the region will be ongoing, she said.
"The goal is to create one larger, regional plan that will be a culmination of all of the city-level planning efforts," Esposito said. "A big part of that conversation will be what shall we do with the spaces that we still have not developed, how can we amplify the arts districts that we are developing in the downtowns?"
Artist work and living spaces will be a significant part of those conversations, she said.
Holmes said it's usually better to develop one Artspace location at a time.
"You're using a lot of the same resources," she said. "It takes a whole leadership team from the cities and the communities in addition to Artspace and funders to put these projects together."
Holmes said the leadership to make the pending development feasible in Bentonville was in place, allowing the artist living and work space project to move forward.
"I think it's there in the other three communities, but they haven't made those decision yet," she said of city leadership. "We're ready when they are."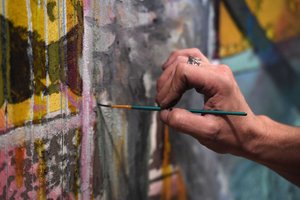 NWA Democrat-Gazette/J.T. WAMPLER Jody Travis Thompson of Fayetteville paints Oct. 17 in his studio at the Mount Sequoyah Center in Fayetteville.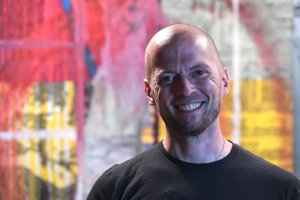 NWA Democrat-Gazette/J.T. WAMPLER Jody Travis Thompson of Fayetteville in his studio at the Mount Sequoyah Center in Fayetteville.
NW News on 10/27/2019