Attention all Parrotheads, island-lovers, margarita-drinkers, cheeseburger-eaters and relaxation-seekers! Your Broadway moment has finally come, thanks to the brand new show traveling the country on its first national tour. Jimmy Buffett's "Escape to Margaritaville" assembles all the tunes a Parrothead would expect to find in a musical built around Buffett's island escapism vibe, plus a few new ones written for the show.
"I think it's a great musical for people who don't think they like musicals," says Jennifer Wilson, Walton Arts Center public relations director. "Very approachable. Very accessible."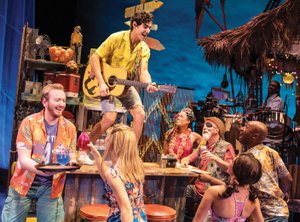 Photo courtesy Matthew Murphy On the cover: Direct from Broadway, Jimmy Buffett's "Escape to Margaritaville" is showing at the Walton Arts Center in Fayetteville Oct. 22-27 as part of the show's first national tour.
"It's a really fun show," adds Mike Utley, the show's orchestrator. "And it is about escaping -- going someplace and, for two hours, being entertained with really talented people."
Utley has worked with Buffett for nearly five decades, joining his Coral Reefer Band full time in 1981. He was brought onto the "Escape to Margaritaville" creative team early in the process to work with Christopher Jahnke, music supervisor and arranger. One of Utley's primary responsibilities was to ensure the show catalog was as close as possible to what the Coral Reefer Band plays live.
"What a thrill," Utley enthuses. "At 71, getting my name in a playbill for a Broadway show? I couldn't have ever imagined it."
Utley is on tour with Buffett currently, so he doesn't travel with the production. But, luckily, the Arkansas native and University of Arkansas graduate was just back in Fayetteville during the spring to be honored as the UA Alumni Association's 2019 Johnson Fellow.
"I had the good fortune of visiting the [Walton Arts Center] when I was there back in April, and it's a beautiful facility," he shares. "When I was in Fayetteville, it was just a small town. But it's sort of become metropolitan."
Whether Fayetteville could be considered officially metropolitan, it is at least comparable to its surrounding markets as a Broadway presenter.
"Escape to Margaritaville" is among this season's abundance of direct-from-Broadway shows and is one of the 2019-20 season's six Arkansas premieres of official Broadway tours. In fact, Robinson Center also has the musical on its 2019 schedule, but the show will stop in Little Rock after the Walton Arts Center.
As a venue that usually nabs one or two of those brand new shows per year, a season stacked with fresh work points to the growth both the region and the performing arts center have experienced.
"It means that the industry is taking notice of Northwest Arkansas," Jennifer Ross, WAC director of programming, notes proudly.
For this, the opening show of the official 2019-20 Broadway season -- Blue Man Group's new show "Speechless" was an add-on for the Broadway series -- audiences will follow a woman down from Cincinnati as she meets and falls for a part-time bartender, part-time singer in a bar in the Caribbean.
"I was so humbled by the talent," Utley muses on the crew for "Escape to Margaritaville." "And the cast! They're kids -- they're in their 20s and how talented they are is amazing. This really is a fine production.
"The whole thing is trying to keep the music like what the people at the concerts see, with a narrative, and to have a good time and to be entertained. It's a really fun show."
FYI
Get Engaged
In 'Margaritaville'
The Walton Arts Center has organized a few engagement opportunities around "Escape to Margaritaville" to give guests even more ways to get into the party spirit.
Add Ons:
• A craft cocktail class led by Cannibal & Craft's skilled mixologists will be offered prior to the Oct. 25 performance. Participants will enjoy a hands-on class where they will make and enjoy two drinks with light appetizers before seeing the show. The add-on cocktail class is $35, and patrons must be 21 to participate.
• Get your mind on island time Oct. 26 from 4:30 to 7:30 p.m. with a Tropical Garden Party in the Sudduth Garden Room and Bradberry Amphitheater. Featuring the music of Paul Tull & The Amazing Islanders, and presented in partnership with Walton Arts Center and the Northwest Arkansas Parrothead Club, proceeds from the party will benefit Serve NWA's New Beginnings. Party tickets are $25 each or pair it with a show ticket and the party is just $15.
• The Broadway Book Club event for this show will take place after performance week, on Oct. 28 at 6 p.m. Read "Tales from Margaritaville" by Jimmy Buffett on your own, see the show, then meet up with other fans of Broadway and books to discuss the two works. Each participant is responsible for their book and show ticket purchases. Books are for sale at Walton Arts Center's Box Office whiles supplies last. Participation is free, but you must register at waltonartscenter.org.
FAQ

'Escape to Margaritaville'

WHEN — 7 p.m. Oct. 22-23; 1:30 & 7 p.m. Oct. 24; 8 p.m. Oct. 25; 2 & 8 p.m. Oct. 26; 2 p.m. Oct. 27

WHERE — Walton Arts Center in Fayetteville

COST — $32-$69

INFO — 443-5600, waltonartscenter.org, escapetomargaritavillemusical.com
NAN What's Up on 10/20/2019