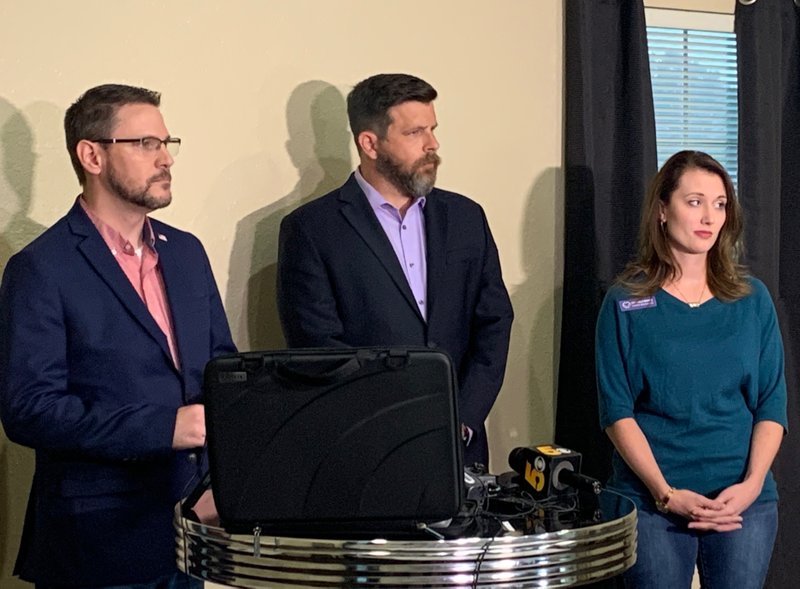 NWA Democrat-Gazette/MARY JORDAN Josh Bryant, nonprofit attorney, (from left), Justin Heimer, adoption attorney and Michaela Montie, executive director of Shared Beginnings, at a press conference at Shared Beginnings in Fayetteville.
FAYETTEVILLE -- Thirteen couples who hoped to be taking newborns home soon filed a lawsuit Thursday against the lawyer who arranged the adoptions.
Paul D. Petersen faces 62 criminal charges in three states, including a 19-count federal indictment, for illegal trafficking of expectant mothers from the Marshall Islands.
Petersen, 44, of Mesa, Ariz. was taken into custody Tuesday night at his home and remained in the Maricopa County Jail on Thursday on a $500,000 cash bond.
"It cannot be assumed or reasonably believed that Mr. Petersen will be able to continue representing biological parents with whom the plaintiffs have been matched for adoption," according to the lawsuit filed in Washington County Circuit Court.
Circuit Judge Doug Martin scheduled an emergency hearing at 9 a.m. Friday.
Document
Adoption Lawsuit
View
The goal of the lawsuit is to place all of Petersen's pending adoptions in Washington County under the oversight of a single judge. The would-be adoptive parents come from several states, according to the lawsuit.
Josh Bryant of Rogers, who filed the lawsuit, said Thursday the lawsuit is make sure the needs of the mothers, adoptive parents and children are met.
Two women were in labor about 5 p.m. Thursday, Bryant said. They had adoption plans up until two days ago, he said at a news conference Thursday. They are uncertain if those adoption plans will go through.
The lawsuuit seeks to ensure the birth mothers have a say in the adoptions, he said.
NW News on 10/11/2019
Print Headline: Civil suit filed in adoption scandal
Sponsor Content
Comments