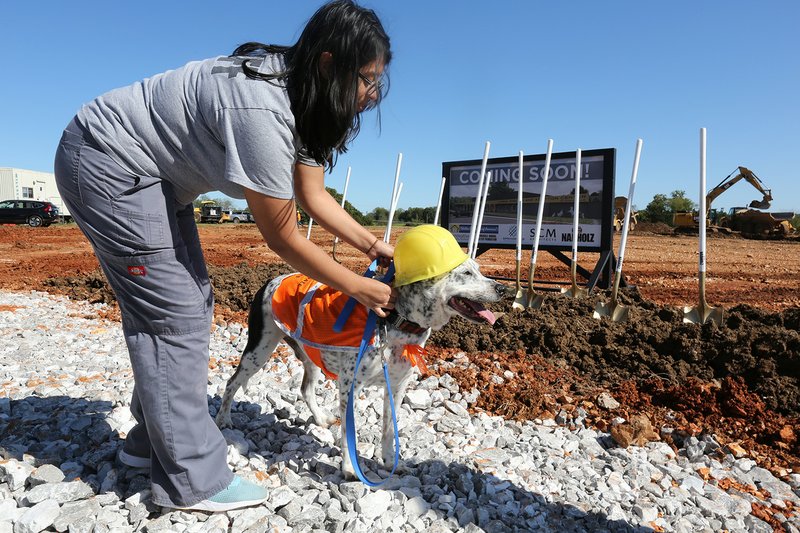 Nancy Chavez, a kennel technician, leans over to place a plastic construction hat on Toby Tuesday, October 8, 2019, before a ground breaking ceremony for the new Animal Shelter and Adoption Center of Springdale. The new facility, located at 1549 E. Don Tyson Parkway, was made possible by a 2018 $200 million bond program voted on by residents that also includes money for streets, fire stations and a new city administration building. - Photo by David Gottschalk
SPRINGDALE -- The city spent $1.6 million the last week of September and $2 million the first week of October -- all on bond projects, Wyman Morgan told City Council members Tuesday night.
Morgan, the city's director of finance and administration, said the city in September spent $19 million in 2018 bond money.
"And everything is balanced and accounted for," Morgan said.
Voters approved a $220 million bond issue in February 2018 providing money for street projects, the Fire Department, a new animal shelter, parks and recreation facilities and a new city administration complex. With nothing else on the agenda for Tuesday's meeting, the department heads over those areas gave council members progress updates.
Sixteen street projects are completed or in various stages, said Brad Baldwin, director of engineering and public works.
"We started with 30-some possible projects and asked for public input. Then you prioritized the projects," he said.
A Gene George Boulevard extension north to Elm Springs Road is under construction and expected to be completed in June. Maple Avenue's extension east to Park Street will begin this month, Baldwin said.
Projects nearing the construction phase include improvement to 40th Street north of Falcon Road to the Arkansas Game & Fish Commission's nature center -- also is under construction; Ford Avenue's extension from the industrial park to Butterfield Coach Road; and 56th Street south to Johnson.
Baldwin said most projects have cost less than budgeted, but he sees costs increasing as new bids arrive.
Mayor Doug Sprouse said the city waits for final bids on several of the projects before choosing others. He listed George Boulevard north to Bob Mills Road or even County Line Road as an important project. "As is extending Don Tyson Parkway east to (U.S.) 412. Or you may know of others. You will need to decide," he told the council.
Morgan said the city has $67 million in highway projects underway, with $13 million held in reserve. He expects the city to retain $6 million to put into other projects after contracts are signed as final bids are approved.
Fire Chief Mike Irwin said Fire Station No. 7 is open and fully operational.
The new station on Har-Ber Avenue opened in July. Irwin said the project also was completed about $117,000 under budget.
"At Station No. 8, they just poured the concrete under the apparatus bay," Irwin said, referring to the garage area to hold the station's vehicles. He said $960,168 of the $3.172 million planned for Station No. 8 has been spent, but he also expects the project to come in under budget. The station will serve the city's industrial parks from East Huntsville Avenue.
The department has paid the park bond fund $33,125 for land where it will sit in the new Shaw Family Park in the far northwestern reaches of the city, Irwin said.
Bond money also has been used to expand the fire training center, buy equipment and pay for a radio system for the Fire and Police departments.
Irwin said he expects about $400,000 will remain in the fund after all promised projects are completed.
"But don't worry. We're not going to give it back to you," Irwin joked with the council.
Sprouse suggested using the money to buy the property behind the department's Station No. 4 on Elm Springs Road. In fact, the city has started an appraisal process, he said.
"That's the next station for expansion," Sprouse said. "It's in a great location."
The city will break ground on Shaw Park on Oct. 21, said Chad Wolf, Parks and Recreation Department director.
The city spent $474,000 for the park's design. The bond's other big project -- renovating Randal Tyson Recreational Complex -- rests with the designers. The city capped the project at $5 million, which should pay to update the park to compliance with the Americans With Disabilities Act and new lighting for some of the baseball fields, Wolf said.
The city spent $4.1 million of the $21 million park bond money to buy its recreation center, known variously as the former All-Star or Next Level building. The building -- purchased in December -- still needs a new heating and air conditioning system -- which will cost about $1 million, Wolf said.
The city will look to other sources of money for the repairs, Sprouse said.
Bond totals
In February 2018 Springdale voters approved a $220 million bond project to build new amenities for the city. The bonds were dedicated to:
• $92,710,000 for street improvement
• $44,765,000 to refinance debt
• $42,580,000 for a criminal justice center and to renovate the city administration building
• $21,320,000 for parks and trails
• $17,635,000 for three stations and other fire department projects
• $5,645,000 to for a new animal shelter.
Source: Springdale
The story has been corrected to say that the new fire station on Har-Ber Avenue was completed $117,000 under budget, not $117 million under budget.
NW News on 10/09/2019
Print Headline: Council members hear update on bond projects
Sponsor Content
Comments