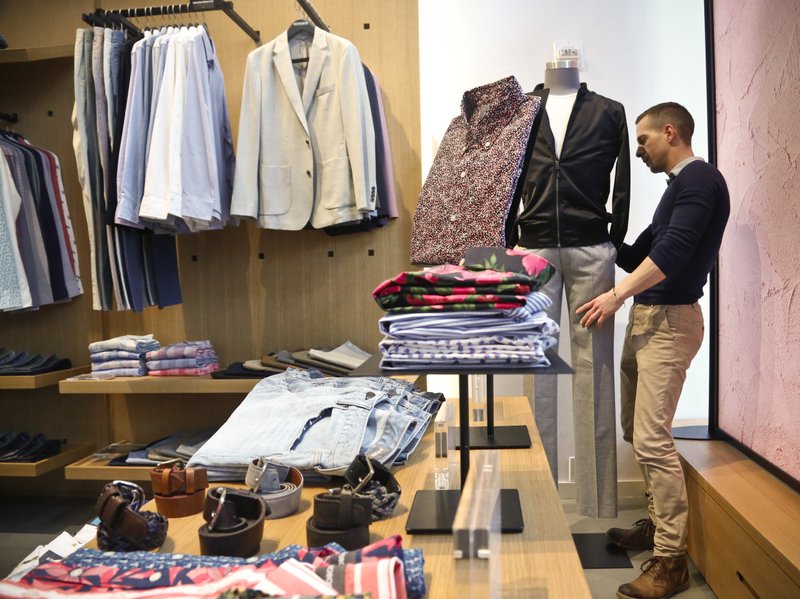 In this Monday, March 20, 2017, file photo, Bonobos manager Stephen Lusardi arranges clothing at the brand's Guideshop, in New York's Financial District. (AP Photo/Bebeto Matthews, File)
Walmart Inc.'s men's apparel retailer Bonobos said Monday it's cutting "a few dozen" jobs as Walmart continues efforts to stem losses in its United States e-commerce operations.
"Today we made the difficult decision to part ways with valued members of the Bonobos team," a Bonobos spokeswoman said. "These decisions are not taken lightly, but we believe they are necessary to set the brand and business up for long-term success."
About 600 people work at the New York-based brand Walmart acquired in 2017 for $310 million, the spokeswoman said. Walmart purchased other digital brands around the same time, including Jet.com, Hayneedle.com, Shoebuy.com and ModCloth.
On Friday, investment firm Go Global Retail said it is buying ModCloth. The company did not disclose the terms of the deal.
Speculation has swirled for months that some of these acquired brands have yet to turn a profit and that Walmart leadership was pressuring Marc Lore, who heads the U.S. e-commerce division, to cut losses by selling one of the brands.
Lore, who founded Jet.com, became president and chief executive of Walmart e-commerce U.S. after Walmart acquired his company in 2016. He then led the acquisition of Bonobos, ModCloth and other online fashion brands as part of a strategy to grow Walmart's e-commerce business.
Walmart shares fell 93 cents, or 0.8%, to close Monday at $117.23. The shares have traded between $85.78 and $119.86 in the past 52 weeks. Trading volume Monday was about 4 million shares, below an average daily trading volume of about 5.6 million shares.
Business on 10/08/2019
Print Headline: Walmart's menswear retailer cuts jobs
Sponsor Content
Comments