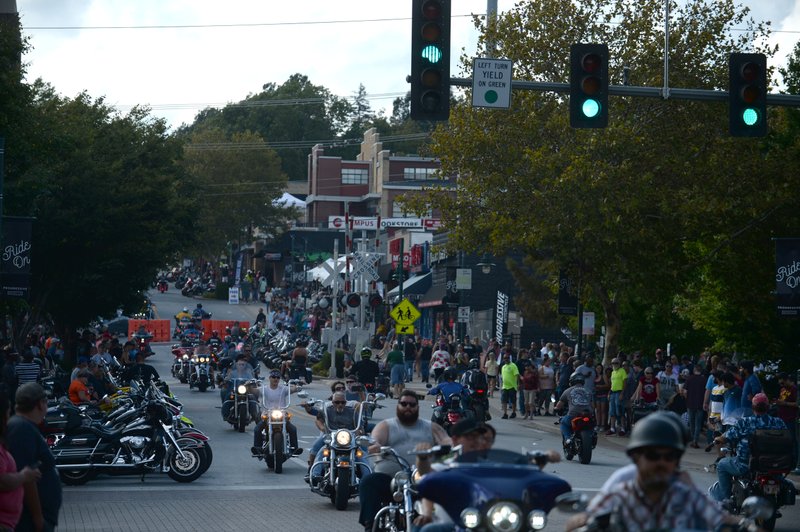 Motorcyclists ride Saturday, Sept. 28, 2019, along Dickson Street during the 20th annual Bikes, Blues & BBQ Motorcycle Rally in Fayetteville. - Photo by Andy Shupe
Around the time the echoes from the roar of exhaust pipes begin to fade as motorcycle enthusiasts go home after another edition of Bikes, Blues & BBQ, it's time for critics to throttle up on what they hate about the annual motorcycle rally.
Of all of them, the folks who have the most legitimate complaints live near Dickson Street in Fayetteville. Sure, they chose homes near the entertainment district, so some noise is part of the deal. But Bikes Blues & BBQ takes intrusive noise to a whole new level, unheard of (literally) the other 361 days of the year. It's understandable why some residents actually leave town to avoid the four-day event; it's also understandable why feeling the need to do so is a bitter pill to swallow. Plus, not everyone has the option to take a four-day vacation from their lives.
What's the point?
Bikes, Blues & BBQ has gotten undeserved criticism for hateful or otherwise repugnant messages sold by retailers whose only connection to the annual motorcycle rally is they swoop in to make money.
The rally just marked its 20th year. Community debate has settled in to what is, perhaps, an uneasy acceptance of the rally. Even organizations that promote Fayetteville all year long -- the Fayetteville Chamber of Commerce, the taxpayer-supported Experience Fayetteville and the Arkansas Department of Parks, Heritage and Tourism -- all stand behind the event as sponsors. Charitable organizations that help people year-round and benefit from the rally's fund-raising provide volunteers to work the event, quite content to come back year after year.
There's always the question of just how much economic impact the rally has, and that largely depends on one's business. Hotels and some restaurants seem to do quite well. Others see their regular customers dry up during the rally and don't really have drawing power to pull in the bikers.
A lot of folks appear to view the Bikes, Blues & BBQ multitudes and their loud rides the same way people often view a visit from distant relatives: It's exciting to see them arrive and, by the time Saturday night and Sunday roll around, a relief to see them depart.
Beyond the noise, some critics took to social media expressing their disgust at some of the patches they found available for sale. Without a doubt, some of the messages communicated are repugnant. As always, there is controversy over patches or stickers that feature the Confederate battle flag. Another sticker said "Equal rights for Southern Whites."
Still others offered insensitive remarks, such as "Sexual harassment will not be reported. It will be graded for content and originality." Certainly, there were messages we wouldn't want our kids to see.
One patch simply said "White power."
The critics jumped to conclusions or just ignored facts. For example, Bikes, Blues & BBQ was "allowing vendors to sell hate in Fayetteville," according to a message on Twitter from the group Ozark Indivisible. The message went on to suggest Fayetteville's city government "might want to rethink" Bikes, Blues & BBQ.
While these are not unreasonable concerns, they are misplaced. For another year, officials with the rally have had to explain that they stand by their event's "family-friendly" declarations. Indeed, their rules and regulations for vendors make the family-friendly atmosphere a clearly stated goal and outline prohibited merchandise: firearms, pornography in any form, control substances or drug-related paraphernalia and lewd, obscene, profane or inflammatory clothing or items.
"Bikes, Blues and BBQ reserves the right to refuse (prior to the event) or remove from the rally any vendors whose products, intentions or attitude are not compatible with the family-oriented nature of the Bikes, Blues and BBQ motorcycle rally," each application form explains.
So what gives? Call it capitalism at work. People who own private property on or near Dickson Street -- or other spots we saw along other city streets -- can use those properties to try to make a buck. It is, under city code, a use by right as long as they are zoned for retail operations. The city of Fayetteville issued 36 short-term event permits for private retailers to set up shop for the dates of the motorcycle rally. That's three dozen retailers that don't operate under the auspices of Bikes, Blues & BBQ, but are drawn to it like conspiracy authors are to a UFO convention.
Some of those retailers on private properties actually hurt the motorcycle rally's fundraising by selling similar items, whether it's T-shirts or turkey legs. If the rally's organizers could shut them down, it would be in their interest to do so. But they have no such authority, and the city doesn't have authority to pick winners and losers among sellers, either.
The city requires a permit to ensure these temporary retail operations will collect the required taxes on their sales. The city does not evaluate any of the merchandise to be sold. The American Civil Liberties Union and the U.S. Constitution would have it no other way.
Yes, it's a free country, we're told. Believe it or not, repugnant messages can sometimes find a market. And it's certainly not within city government's authority to ban repugnant messages or to stop the rally based on complaints about unpopular messages. There's a little amendment known as the First that gives people the fundamental right of free speech.
Naturally, it's easier to cast misdirected aspersions on the rally's organizers. That'll get'em all stirred up, right? But from what we can tell, the rally's organizers are the ones in all this who are taking a stand to keep their event free of repugnant messages. Indeed, a lot of signs one can see directly related to Bikes, Blues & BBQ-controlled areas features messages about the nonprofits the event has funneled a lot of money to over the years. And every little bit helps when you're trying to do some good.
Some of the other motorcycle rallies around the country make no effort to be family friendly, and based on the stories we hear from motorcycling friends, they are significantly more, shall we say, adult than the Fayetteville event. From what we know of the founders of the event, we suspect the last thing they want in Fayetteville is a copy of Sturgis or Daytona.
We appreciate Bikes, Blues & BBQ for affirmatively staking out its desire to be a family-friendly event and its considerable efforts to limit inflammatory messages in areas within its control. We saw lots of men and women pushing strollers and holding hands of little tykes wandering through the event, because all those motorcycles are a sight to behold.
Naturally, what goes on related to the motorcycle rally after dark is more adult oriented, as is the usual activity on Dickson Street even when the motorcycles aren't in town. It's naive to assert what happens at 11 p.m. ought to be as family focused as something happening at 11 a.m.
We agree that the repugnant messages cited by the critics of Bikes, Blues & BBQ ought to be criticized by people availing themselves of their freedom of speech. But neither the rally's organizers nor the city of Fayetteville has authority to stop private retailers from selling what they want to sell. Direct those complaints to the local property owner who rented out space to the offending -- and probably not local -- retailer. That's where the complaint belongs.
Commentary on 10/06/2019
Print Headline: Beyond the blues
Sponsor Content
Comments