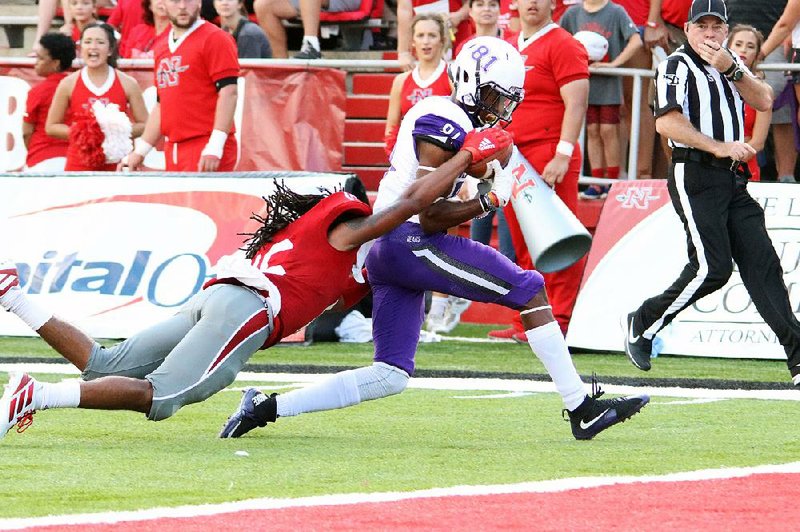 Central Arkansas wide receiver Kylan Robinson (right) runs though a tackle by a Nicholls State defender Saturday to score a touchdown during the Bears' 34-14 loss to the Colonels in Thibodaux, La.
The University of Central Arkansas could not overcome a rough start in Thibodaux, La., on Saturday afternoon.
Nicholls State quarterback Chase Fourcade completed 24 of 29 passes for 327 yards and a touchdown as the Colonels bounced the Bears 34-14 at John L. Guidry Stadium in a Southland Conference matchup.
Fourcade also ran for a touchdown.
UCA (3-2, 1-1) held the ball for only 3:35 of the first quarter and did not earn a first down until the second quarter. The Bears were held to 98 yards in the first half and trailed 20-0 at halftime. UCA's second touchdown came with six seconds left in the game.
Breylin Smith finished 20 of 27 for 182 yards. He tossed scoring passes of 4 yards to Lujaun Winningham and 44 yards to Kylan Robinson, but Smith was sacked four times and intercepted once.
Nicholls State (3-2, 2-0) drove 90 yards on nine plays on its first possession, scoring on Fourcade's 1-yard run at the 10:58 mark of the first quarter. The Colonels' second drive lasted 13 plays and went for 98 yards, but ended with a lost fumble at the Bears' 1.
UCA returned the favor three plays later with a fumble at the Bears' 14. Nicholls State capitalized three plays later when Julien Gums ran in from the 8 with 14:56 remaining in the first half.
Gums, who finished with 51 yards on five carries, scored the Colonels' final touchdown of the first half on a 36-yard run with 4:02 left before halftime.
Nicholls State compiled 314 total yards in the first half, including 221 through the air.
The Bears closed to within 20-7, scoring on their opening drive of the second half. Winningham's TD catch closed out a 12-play, 75-yard drive that took 5:10 off the clock.
Robert Rochell gave the Bears a chance to cut deeper into the Colonels' lead, intercepting a Fourcade pass at the UCA 34 with 9:20 remaining in the third quarter. But three plays later, Smith was sacked for a 10-yard loss by Allen Pittman.
Nicholls State scored touchdowns on its next two drives. Fourcade hit Jordan Talley for a 26-yard touchdown pass with 3:03 left in the third quarter to cap an eight-play, 73-yard drive to put the Colonels in front 27-7.
After stopping the Bears on downs at midfield late in the third quarter, Nicholls State drove 49 yards on nine plays to take a 34-7 lead, scoring on Kendall Bussey's 8-yard run.
UCA's final drive used seven plays to pick up 67 yards and took 1:49 off the clock.
Central Arkansas 0 0 7 7 -- 14
Nicholls State 6 14 7 7 -- 34
First Quarter
NICH--Fourcade 1 run (kick failed), 10:58
Second Quarter
NICH--Gums 8 run (Jones kick), 14:56
NICH--Gums 36 run (Jones kick), 4:02
Third Quarter
UCA--Winningham 4 pass from Smith (Ray kick), 9:50
NICH--Talley 26 pass from Fourcade (Jones kick), 3:03
Fourth Quarter
NICH--Bussey 8 run (Jones kick), 11:33
UCA--Robinson 44 pass from Smith (Ray kick), :06
Attendance--7,021.
UCA NICH
First downs 18 23
Rushes-yards 33-138 40-150
Passing 182 327
Comp-Att-Int 20-27-1 24-29-1
Return Yards 38 33
Punts-Avg. 5-49.2 3-37.0
Fumbles-Lost 2-1 1-1
Penalties-Yards 7-65 8-70
Time of Possession 26:18 33:42
INDIVIDUAL STATISTICS
RUSHING--Central Arkansas, Crossley 11-6, Myers 8-46, Blackman 9-42, Smith 5-(minus-16). Nicholls State, Gums 5-51, Fourcade 11-48, Taylor 9-24, Granier 2-24, Bussey 5-23, Carrington 4-5, Guarisco 1-(minus-1), Adair 1-(minus-1), TEAM 2-(minus-23).
PASSING--Central Arkansas, Smith 20-27-1-182. Nicholls State, Fourcade 24-29-1-327.
RECEIVING--Central Arkansas, Robinson 1-44, Hudson 2-37, Blakey 3-34, Ross 3-34, Winningham 2-21, Nix 1-5, Richmond 1-4, Camargo 2-2, Crossley 2-1, Blackman 3-0. Nicholls State, Dixon 5-140, Cook 2-33, Talley 2-31, Bussey 4-30, Gums 3-25, Taylor 3-22, Smith 1-14, Carrington 1-12, Franklin 2-11, Robinson 1-9.
Sports on 10/06/2019
Print Headline: Bears tumble after rough half
Sponsor Content
Comments