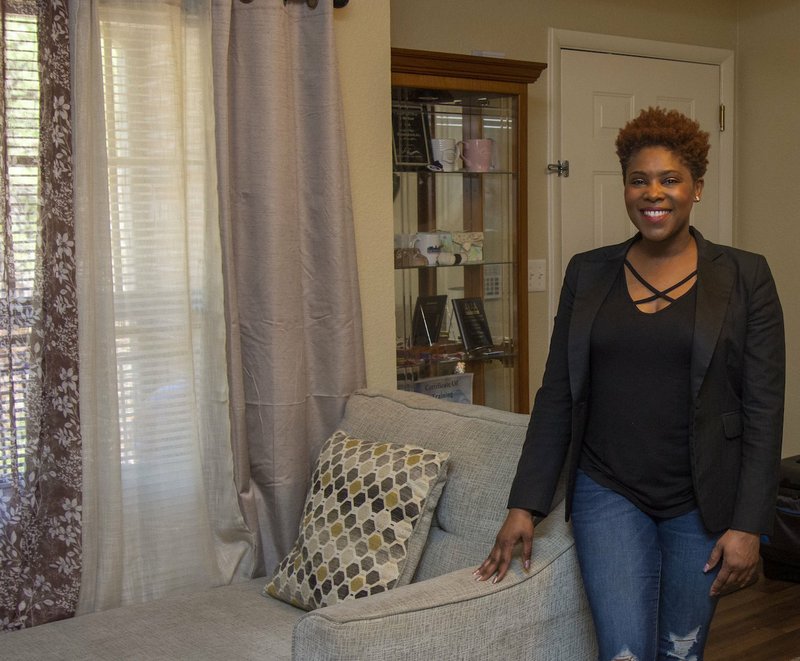 Shalonda Michelle for Personal Space (Arkansas Democrat-Gazette/CARY JENKINS)
Shalonda Michelle
Where I live: Near Pinnacle Mountain in west Little Rock
Occupation: Mom; full-time student at the University of Arkansas at Little Rock, majoring in mass communication with a minor in marketing; and part-time host of the No Show, KHTE-FM "The Box" 96.5
My favorite space is: My living room.
Why? There, we all gather for family meetings, a good chill/relaxation, movie bingeing and snacks. It's there that we engage in horseplay and open gifts at Christmas. We get to stretch out and cuddle. It means so much to me, a single mother, that my children are snuggled on each side of me, even as teenagers. What I love most, though, is that everything comes through the living room first ... whether it's one of us with the groceries; my eldest son, visiting from college; friends coming through to say hello and see how we're doing; or my younger children, returning from school or the gym -- everything and everyone has to come through the living room. I love that it's right next to the kitchen and we can see each other when I'm cooking. Whether one is curled up reading a book or simply gazing out the window, the living room is probably the most popular place in our home.
If I could change anything about this space I would: Give it higher ceilings with a skylight so that when we walk in, we can be reminded to aim high. The space may be limited, but the sky is not!
-- Helaine R. Williams
HomeStyle on 11/30/2019
Print Headline: PERSONAL SPACE
Sponsor Content
Comments