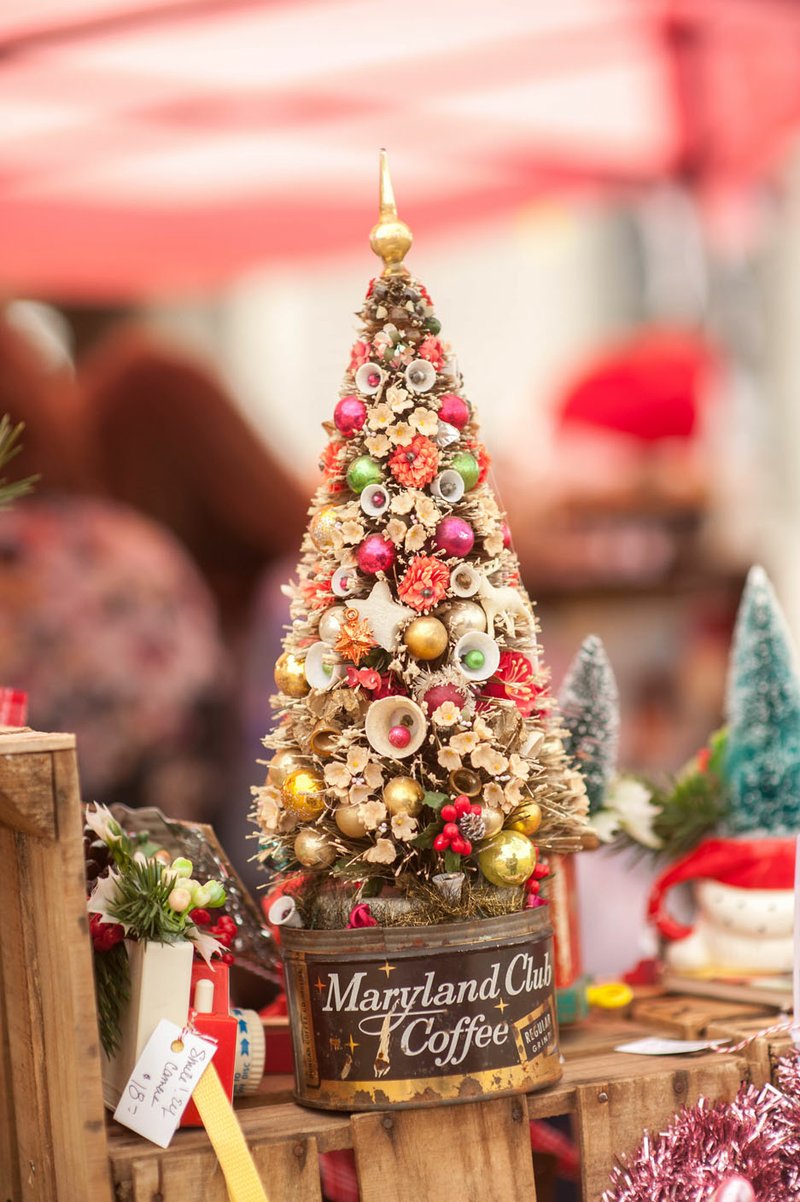 NWA Democrat-Gazette /Lara Jo Hightower "It's pure nostalgia to most people," says Monkeybox Vintage's Shara Stacks, who is known both for her large stock of vintage Christmas items and the unique pieces of art she creates. "People come in and touch an item and talk about how their grandma had it or they had it when they were a child. The old stuff has such character and whimsy, too. Sure, you can go buy a new reproduction Santa mug, but it won't have the same feel in your hand or the same vintage-y face."
After the open-air flea market they launched in 2013, the Junk Ranch, turned into an almost immediate success, co-founders Julie Speed and Amy Daniels started thinking beyond the twice-yearly schedule they had established for the first five years of the event.
"We thought about doing a Christmas show for three years before we eventually hosted our first one last year," says Daniels. "Our plan was to offer Christmas shopping and vintage hunting, but we also wanted to turn up the festive feel of the farm with lots of lights and magical holiday touches. The Holly Jolly Junk Ranch is a great way for Julie and me to have one more excuse to immerse ourselves in vintage, support small business through our vendors and work with the merchants in Prairie Grove."
FAQ
Holly Jolly Junk Ranch
Flea Market
WHEN — 10 a.m.-7 p.m. Dec. 6-7
WHERE — 11195 Centerpoint Road in Prairie Grove
COST — $5-$10; children 12 and younger are free
INFO — thejunkranch.net
Thus, the Holly Jolly Junk Ranch was born. It seems a logical move: Vintage Christmas items -- particularly those from the mid-century era -- have become some of the most sought-after merchandise over the past decade. Vintage vendor Shara Stacks of Monkeybox Vintage has had a booth at The Junk Ranch since the very first show and has become known at the event for her plentiful vintage Christmas items and art. She says she works year-round to find the collectibles her customers love so much.
"I had an aluminum tree at the Junk Ranch one year," Stacks remembers. "It was set up along the fence line, and the sun was gleaming on it. A group of ladies literally came running across the parking lot waving their debit card yelling, 'I want that tree! I want that tree!' They had all their grandmother's Christmas decorations stored in a shed, and it had caught on fire. It was a complete loss. They were trying to replace everything as they found it. They were so happy to have found that tree! And I was delighted to have been able to be the one that was able to help them with their quest!"
Though the Holly Jolly Junk Ranch will offer a wide selection of vintage Christmas items, that's only a small part of the offerings, says Daniels.
"In addition to vintage Christmas, you will still see vintage furniture and other old finds. Our vendors also bring handmade goods for decorating, gift giving merchandise from artisans and boutiques, home decor and so much more. We have vendors who can personalize ornaments and customize door hangers and pillows on site. This show is a great way to work through your Christmas list, give unique gifts and take home things for yourself."
New this year is a curated vintage Christmas backdrop perfect for one-of-a-kind selfies, a Santa appearance on Saturday from 10 a.m. to noon, and a novel way for The Junk Ranch to help promote the downtown businesses of Prairie Grove.
NAN What's Up on 11/29/2019
Print Headline: Holly, Jolly Junk
Sponsor Content
Comments