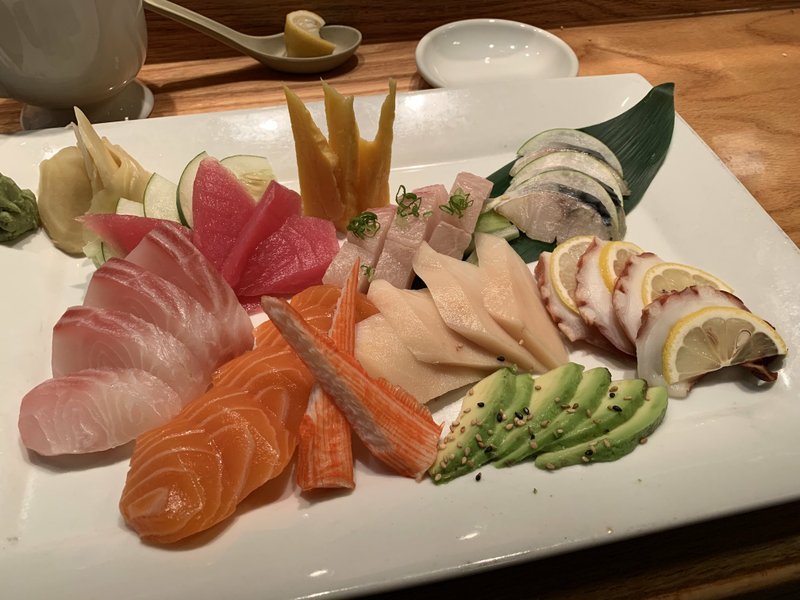 A large sashimi plate at Kobe includes at least 21 pieces of fish, in this case (clockwise from left) red snapper, tuna, yellowtail, mackerel, octopus, escolar, crab stick and salmon. Arkansas Democrat-Gazette/Eric E. Harrison
In 1996, folks in west Little Rock started seeing a sign on a patch of weeds where Financial Centre Parkway becomes Chenal Parkway that a Kobe Japanese Steak & Sushi was coming soon.
So much, of course, depends on just how you define soon. Because that patch of weeds was unoccupied for five(!) years. It was approaching the end of 2001 that Kobe finally opened in a weirdly shaped strip center, alongside an optical establishment, a sandwich shop and a now-closed Starbucks.
Kobe Japanese Steak & Sushi
Address: 11401 Financial Centre Parkway, Little Rock
Hours: 11 a.m.-2 p.m. and 4-10 p.m. Monday-Thursday, 11 a.m.-2 p.m. and 4-10:30 p.m. Friday, 11 a.m.-10:30 p.m. Saturday, 4-9:30 p.m. Sunday
Cuisine: Japanese (hibachi grills and sushi bar)
Credit cards: V, M, AE, D
Alcoholic beverages: Full bar
Reservations: Yes
Wheelchair access: Yes
(501) 225-5999
Nearly two decades and the openings of more than a dozen competitors later, Kobe continues to shine among its peers. The service has been consistently good and the food, the sushi and the products of the teppanyaki tables, has been consistently excellent.
It has been a while since we last visited and in the interim, much to our surprise when we walked in, the sushi bar and surrounding dining area have been remodeled and expanded — the sushi bar has actually more than doubled in size and seating capacity — now with (rough count) 18 seats at the bar and seating for at least 60 in tables and booths.
Various Japanese items accent the decor, including a kabuki doll on the sushi bar and a big fan behind it. Large flat-screen TVs carry various football games on weekend nights.
We revisited our standard Kobe sushi bar order: the large sashimi plate ($39), one of the area's largest — officially 21 pieces of carefully sliced, fresh raw fish (but, as in our recent case, there might even be more) artfully arranged on a plate with garnishes that, with the exception of a single bamboo leaf, were almost entirely edible (a lot of cucumber plus some avocado slices, and no, we're not counting the thin lemon slices the chef applied as separators).
The sushi chef did the rare but exceedingly simple thing of asking us which fish was our favorite and whether we would turn up our noses at octopus. So while our plate included the standard sashimi items, including salmon, tuna, snapper and yellowtail, we also got slices of mackerel and octopus. Plus tamago (the sweetened Japanese omelet) and surimi (the crab stick).
Everything was tip-top fresh; the snapper unfortunately tasted a little muddy. That happens. The muddy snapper also showed up in the one weak spot of our experience: the Kobe roll ($10.95), snapper, salmon, tuna, avocado and crab stick surrounded by a layer of rice with a nori (seaweed) wrapper. It was dull at best, especially disappointing as this is the shop's title roll.
In contrast, the City Man ($13.95), one of Kobe's "special" rolls, was a delight: spicy tuna, avocado and nonspicy tuna inside the rice, with "spicy crab" — that's shredded surimi in a spicy mayonnaise — on the top. There were enough competing-yet-complimentary flavors to make the roll exciting and worthwhile for Intrepid Companion, who loves sushi but rarely goes beyond a fairly restrictive comfort zone.
Gallery: Kobe Japanese Steak & Sushi
***
The teppanyaki steakhouse part of the establishment is clearly delineated from the sushi bar — the flooring is different on that side of the dividing line, for example.
Kobe has enough space that not only are the hibachi table-grills farther apart than at most places, but each has eight chairs, where competitors are cramming in nine or even 10. (Unless you fill up a hibachi table with your own party of eight, you are destined to dine with strangers. Having that little extra elbow room, especially if one or more of the other parties at your table includes kids, can be a blessing.) You can also order sushi and appetizers off the menu.
Our teppanyaki chef was excellent. It may be because a small child was present, but he put on pretty much the entire standard show, including the onion volcano and the squirt from the fake ketchup bottle, though he skipped the shrimp-shell flip. He grilled the seafood, chicken and vegetables in one shift, and waited until the grill was cleared of those before he put on the two steaks, which isn't always usual. So those who ordered a steak-and-seafood combination, like our Filet Mignon and Lobster ($31.95), got the lobster first and the filet afterward.
Both halves of our meal, as well as the grilled veggies and the fried rice, were delicious and perfectly enhanced by whatever the chef added to them as they were grilling. (Fried rice is a $2.50 or more add-on at most places but here included in the meal along with soup and salad.) Intrepid Companion, a veteran of many such meals, proclaimed her Steak and Chicken ($22.95), a small New York strip cut into cubes plus moist and flavorful teriyaki chicken, the best of her recent experience. Portions were generous.
The accompanying onion soup was delicate with just a brief fried-onion kick in the last ladle. Our salad consisted mostly of overchilled greens topped with a better-than-average ginger dressing, with perhaps a hint of garlic. Ranch is also an option but, really, why would you get ranch dressing at a Japanese restaurant?
The miso soup ($2 a la carte) that came with our sashimi dinner was tasty but tepid and almost entirely broth, skimpy on tofu cubes and bits of seaweed. Speaking of soup, Kobe serves its hot green tea in an oversize cup-mug with the little ladle you get with Asian soups instead of a spoon.
Weekend on 11/28/2019
Print Headline: Kobe a keeper
Sponsor Content
Comments