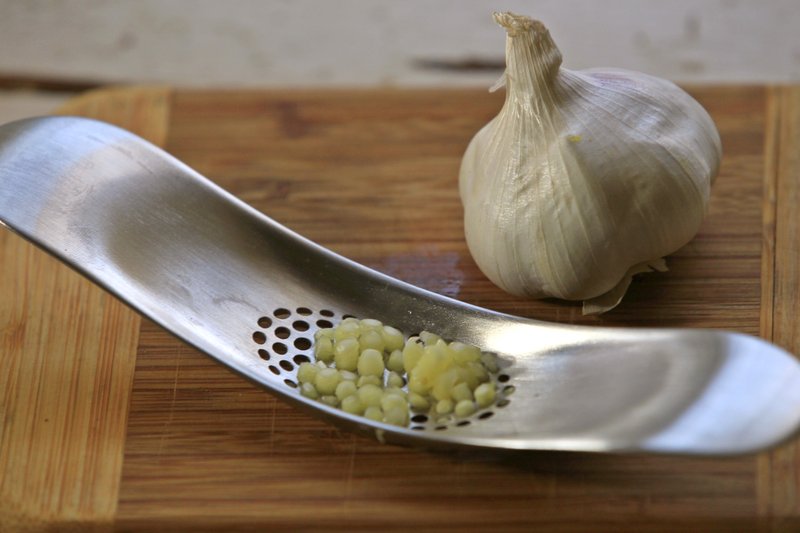 Democrat-Gazette file photo
Recipes that appear in Idea Alley have not been tested by the Arkansas Democrat-Gazette.
"Almost all recipes specify chopped or minced garlic. I use a garlic press, as it is so much easier. Can't see that there is any difference but would appreciate your comments on this," writes Robin (Nick) Jones.
The short answer: There is no significant difference between mincing and pressing fresh garlic cloves.
The long answer:
Garlic, like its cousins onion, shallot and leek, contains the enzyme alliinase. The more cutting, chopping, pressing, crushing or otherwise rupturing of cell walls that takes place, the more alliinase released. Alliinase converts alliin, an organic sulfuric compound, into allicin. Allicin is what gives garlic its pungent aroma. A similar process happens when you cut an onion.
Pressing is essentially the same as mincing, as just as many cell walls are ruptured to release the alliinase enzymes.
In recipes that use a small amount of garlic, say a single clove, this is unlikely to make that much of a difference, especially if there are other assertive flavors present or of the dish is cooked for a long time. However, in recipes that use lots of garlic, how the garlic is prepared will have a noticeable effect on the finished dish. Mincing or mashing the garlic to a paste will impart the strongest flavor; slicing or roughly chopping will be moderate; and using whole or lightly crushed peeled cloves will imbue the dish with a subtle, sweet flavor.
All that being said, if you're using jarred or packaged garlic, it will not have the same flavor as fresh. Those same alliinase enzymes that give fresh garlic its flavor punch, change over time, becoming sharp and sometimes bitter.
We're one day away from Thanksgiving. You likely have your menu set, but this recipe for cornbread dressing shared by Amy W. sounds too good not to share. If your family is like mine, dressing is likely to be on your Christmas table as well.
"I make the dressing every year for Thanksgiving and it is the 'bomb,'" Amy W. writes.
Old Time Southern Cornbread Stuffing
3 cups crumbled cornbread
2 to 2 ½ cups crumbled, day-old light bread
1 onion, chopped fine
¾ cup finely chopped celery
½ teaspoon ground black pepper
½ teaspoon salt
1 ½ teaspoons sage or poultry seasoning
2 to 3 eggs
4 to 5 cups chicken broth
½ cup melted butter
In a large bowl, mix cornbread and light bread. Add onion, celery, pepper, salt and sage. Toss to mix everything. Beat eggs with 2 cups of the broth, add butter and pour over bread mixture. Toss to mix, then add the remaining broth. The mixture should be soft, about the consistency of cake batter.
Transfer to a greased 9-by-13-inch baking dish. Bake until set and browned on top. About 40 minutes at 425 degrees.
Makes 10 to 12 servings.
If you need a fruit salad to round out your menu, this one from a Little Rock cook is a classic.
Carrot and Raisin Salad
½ cup raisins, soaked in boiling-hot water for 5 minutes
1 (8-ounce) can pineapple chunks
2 cups coarsely grated carrots
½ cup mayonnaise
Drain raisins and place them in a medium bowl. Drain the pineapple chunks, reserving the juice. Cut the pineapple chunks into small pieces and add them to the raisins. Stir in the carrots.
Whisk together the mayonnaise and a bit of the reserved pineapple juice to thin to desired consistency. Stir thinned mayonnaise into carrot mixture. Mix well. Cover and refrigerate until ready to serve.
REQUESTS
• Gluten-free waffles for Susan Thomas.
• Fried plantains like they served at the (closed) Montego Cafe on Main St. in Little Rock for Bob Longo.
• House salad dressing like the one that was served at Emmy's, the German restaurant in Fort Smith that closed in 2017 for Amy W. "It had a dill pickle base and was so unique and delicious," Amy W. writes.
Send recipe contributions, requests and culinary questions to Kelly Brant, Idea Alley, Arkansas Democrat-Gazette, P.O. Box 2221, Little Rock, AR 72203; email:
Please include a daytime phone number.
Food on 11/27/2019
Print Headline: Should you mince or press your garlic?
Sponsor Content
Comments