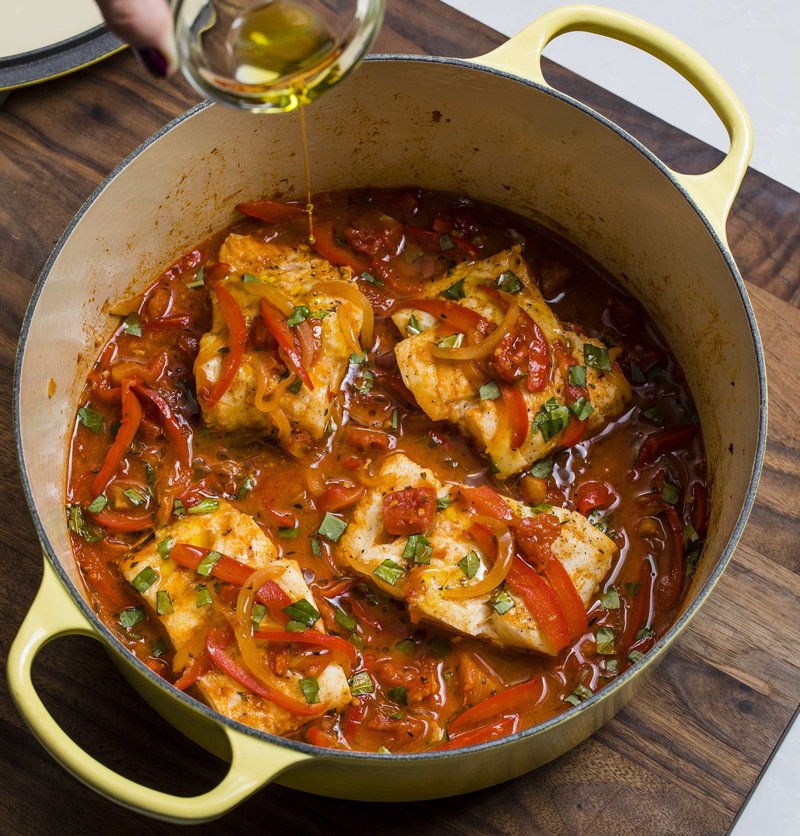 Courtesy of America's Test Kitchen Braised Cod Peperonata
A week's worth of quick, healthful meals for budget-minded families
SUNDAY: Make an oldie but goody family favorite for today's gathering: Swiss Steak. Heat oven to 350 degrees. Cut 2 pounds (½-inch thick) boneless beef round steak (visible fat removed) into 8 serving-size pieces. Place in a 13-by-9-inch baking dish coated with cooking spray. Sprinkle with ¼ teaspoon pepper. Top with 1 thinly sliced medium onion, 8 ounces sliced fresh mushrooms and 1 (8-ounce) can no-salt-added tomato sauce. Cover and bake 1 hour, 15 minutes or until steak is tender. Serve with your own mashed potatoes, green beans, mixed greens and whole-grain rolls. For dessert, this Cinnamon Apple Tart (see recipe) is hard to resist.
Plan ahead: Save enough steak and sauce for Monday; save enough tart for Wednesday.
MONDAY: It's Hoagie Sandwiches for the kids tonight. Chop and heat leftover steak and sauce and spoon onto sliced, toasted hoagies (or any sandwich rolls). Serve with curly fries (from frozen). Add deli carrot salad on the side. Make dessert simple with strawberry ice cream.
Plan ahead: Save enough ice cream for Saturday.
TUESDAY: How about a no-meat Pizza With Peppers tonight? Heat oven to 450 degrees. Place 1 (12-inch) ready-to-heat whole-grain pizza crust on a baking sheet. Sprinkle with 1 cup (of 2 cups total) shredded cheese blend, top cheese with half a (1-pound) bag (thawed and drained) frozen pepper stir-fry mix (green, red and yellow peppers and onions) and then the other 1 cup cheese. Bake 15 minutes or until crust is crisp and cheese is melted and bubbly. Slice and serve with a spinach salad. How about peaches for an easy dessert?
Plan ahead: If time permits, assemble Wednesday's meatloaf tonight.
WEDNESDAY: Easy, unique and affordable, Chicken Parmigiana-Style Meatloaf (see recipe) has lots of flavor. Serve with baked potatoes, broccoli and a mixed green salad. Add whole-grain rolls. For dessert, warm the leftover tart.
Plan ahead: Save enough meatloaf for Thursday.
THURSDAY: Make Meatloaf Sandwiches on dense white bread for a quick meal. Top with lettuce. Alongside, add deli coleslaw. For dessert, enjoy pineapple chunks.
Plan ahead: Buy enough coleslaw for Friday.
FRIDAY: You could go to a fast-food place, but why not make your own Fish 'n' Chips for a quick meal instead? Prepare frozen fish filets and frozen potato wedges according to package directions. Place fish into heated taco shells and spoon leftover coleslaw over fish. Now, cool down with orange sherbet for dessert.
SATURDAY: Our guests enjoyed Braised Cod Peperonata (see recipe), and so will yours. Serve with brown rice to catch all the juices. Add a romaine salad, steamed sliced zucchini and whole-grain rolls. Buy a chocolate cake for dessert and serve it with leftover ice cream.
THE RECIPES
Cinnamon Apple Tart
1 refrigerated pie crust
2 (10- to 12-ounce) packages frozen cinnamon apples, partially thawed
1 teaspoon freshly grated lemon peel
1/8 teaspoon cinnamon
1 egg white, lightly beaten
2 teaspoons sugar
Heat oven to 375 degrees.
Line a baking sheet with a square of nonstick foil. Unfold pie crust and place on foil; press out folds.
In a large bowl, combine apples and lemon peel. Spoon onto crust, leaving a 1 ½-inch border; sprinkle apples with cinnamon. Fold edges over filling, making pleats as you go. Brush edges of pastry with egg white; sprinkle with sugar. Bake 30 minutes or until crust is golden. Use a spatula and transfer to a platter. Serve warm or at room temperature.
Makes 10 servings.
Nutrition information: Each serving contains approximately 144 calories, 1 g protein, 6 g fat, 24 g carbohydrate, 2 mg cholesterol, 116 mg sodium and 1 g fiber.
Carbohydrate choices: 1.5.
Chicken Parmigiana-Style Meatloaf
1 pound ground chicken (or turkey) breast
1 medium onion, finely diced
2 eggs, lightly beaten
½ cup dry bread crumbs
1 tablespoon Italian seasoning
2 to 3 teaspoons garlic powder
1 cup no-salt-added marinara sauce, divided use
1 ½ cups shredded part-skim mozzarella cheese, divided use
In a large mixing bowl, combine chicken or turkey, onion, eggs, bread crumbs, Italian seasoning, garlic powder, ½ cup marinara sauce and ½ cup cheese. Using your hands, mix gently but thoroughly and press into a 9-by-5-by-3-inch loaf pan. Place loaf pan in an oval (4-quart or 6-quart) slow cooker. Spread the remaining marinara sauce on top; sprinkle with remaining cheese. Cover; cook on low 8 hours or until internal temperature is 165 degrees.
Makes 8 servings.
Note: If you don't have an oval slow cooker, shape the meatloaf to fit your slow cooker and wrap the bottom and sides in double layers of heavy-duty foil.
Nutrition information: Each serving contains approximately 242 calories, 27 g protein, 9 g fat, 13 g carbohydrate, 129 mg cholesterol, 388 mg sodium and 1 g fiber.
Carbohydrate choices: 1.
Braised Cod Peperonata
2 tablespoons extra virgin olive oil, plus extra for serving
1 onion, halved and thinly sliced
2 red bell peppers, seeded and thinly sliced
½ teaspoon coarse salt, plus more to taste
4 cloves minced garlic
2 teaspoons paprika
1 (14.5-ounce) can no-salt-added diced tomatoes, drained
½ cup dry white wine
1 teaspoon minced fresh thyme, or ¼ teaspoon dried
4 (6- to 8-ounce) skinless cod fillets, 1 to 1 ½ inches thick
Black pepper to taste
2 tablespoons chopped fresh basil
Sherry or balsamic vinegar to taste
Heat oil in a Dutch oven on medium until shimmering. Add onion, bell peppers and ½ teaspoon salt; cook 5 minutes or until vegetables are softened. Stir in garlic and paprika; cook 30 seconds or until fragrant. Stir in tomatoes, wine and thyme; bring to a simmer. Season cod with salt and pepper to taste. Nestle cod into pot and spoon some sauce over fish. Cover, reduce heat to medium-low and cook about 10 minutes or until fish flakes apart when gently prodded with paring knife and internal temperature reaches 140 degrees. Season sauce with additional salt and pepper to taste. Sprinkle with basil and sherry (or vinegar) and drizzle with extra oil before serving. (Adapted from Cook It in Your Dutch Oven from America's Test Kitchen.)
Makes 4 servings.
Nutrition information: Each serving contains approximately 255 calories, 29 g protein, 8 g fat, 13 g carbohydrate, 65 mg cholesterol, 349 mg sodium and 3 g fiber.
Carbohydrate choices: 1.
Susan Nicholson is an Atlanta-based cookbook author and registered dietitian. She can be reached by email:
Food on 11/27/2019
Print Headline: 7day menu planner
Sponsor Content
Comments