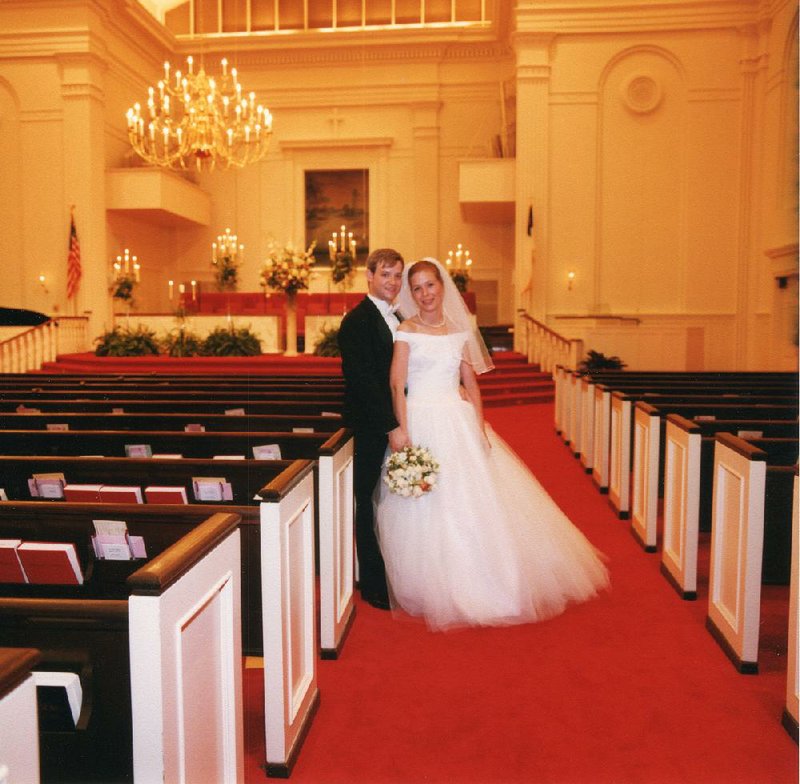 Dr. Jason Farrar and Julie McVey were married on Nov. 13, 1999. They met through a mutual friend who was making up a missed semester in college. "She was this cute, cute girl I had not met before from exotic lands far, exotic, cold north," he says of Julie. "And she was teaching and sort of had this confidence about her."
Jason Farrar's college friend got so sick she had to miss a semester of college. It was her misfortune, but it was possibly the luckiest thing that's ever happened to him. It was through her that he met Julie McVey.
There's more to the story, though. Julie had left her home in Wisconsin to go to college in Indiana and study political science, which afforded her the opportunity to do a summer program in Washington, D.C., where she met the girl who got sick. Then she did a stint with the Teach for America program, which led her to the Mississippi Delta-- and to Jason, who was still there because he wasn't quite sure what career path to follow.
The first time I met my future spouse:
She says: "He was happy. I just really wanted to be his friend. He looked like a nice person."
He says: "She was this cute, cute girl I had not met before from far, exotic, cold northern lands. She was teaching and she sort of had this confidence about her."
On our wedding day:
She says: "I remember being really happy to have so many of our friends and family there. It was like a big party."
He says: "It was a really fantastic wedding. It was relatively small, but we got married in the church I grew up in."
My advice for a long happy marriage:
She says: "Don't sweat the small stuff."
He says: "Be patient and be kind. Julie is usually better at that than I am, but that's how we've kept it together through three kids and all the soccer trips and dance trips and ice skating trips and all the things that kids do."
"It's kind of one of those funny stories of super crazy chance, lucky things happening," Jason summarizes.
Jason, a Little Rock native, had just graduated with a biology degree from Rhodes College in Memphis in 1995 and had been accepted into medical school at the University of Arkansas for Medical Sciences in Little Rock. He decided at the last minute to defer medical school for a year so he could stay in Memphis and work in a research lab at St. Jude Children's Research Hospital.
"I was trying to figure out exactly what I wanted to do with my career," he says, "so I had decided kind of late in the game to stick around Memphis."
Julie, meanwhile, had finished a degree in political science from DePauw University in Greencastle, Ind., and gone through the Teach for America program. She was teaching in Tunica and, because housing was scarce there, she lived for a while in Helena and then moved to Memphis.
When she settled in Memphis, she got in touch with her old friend.
"She was still there because she got mono and hadn't graduated when she should, so she was a semester behind," says Julie.
Her friend wanted to introduce her to the people she had met at Rhodes, so she invited her to a Christmas party Jason and his roommate were throwing.
Jason not only thought Julie was cute -- he thought she was brave, having set out on her own and volunteering to move from Wisconsin to teach in an impoverished, rural school in Mississippi.
They hung out in a group for a while and became good friends.
Money was tight then, so they found entertainment in simple things.
"We would find happy hours that had free food," she laughs. "We hung out a lot."
Six months after they met, Jason moved to Little Rock to start medical school. Julie was still fulfilling her Teach for America commitment in Memphis, but it felt natural that they should stay in touch.
"We had mutual friends between Memphis and Little Rock and people would come back and forth visiting," says Julie. "At some point, I came back without my friend and Jason and I went on our first date."
She thinks they went to Chili's for dinner and then to the theater to see the movie Scream.
As their relationship grew more serious, they took turns visiting each other on weekends.
Jason typically had exams scheduled for Mondays, so he needed to spend big chunks of his weekends preparing for those.
On Fridays, Julie drove straight into the setting sun on Interstate 40, lugging papers to grade alongside him while he studied.
"I do remember complaining a lot about driving straight into the blinding sun at the end of the day," she laughs.
Jason and Julie, who moved to Little Rock in 1998, planned a trip to Eureka Springs for Valentine's Day in 1999.
"I had it all sort of laid out in my head that would have this nice weekend and sort of cap it off with a scenic proposal somewhere in Eureka Springs," says Jason. "The minute we got there I just spilled the beans. I couldn't walk around with that ring burning a hole in my pocket all weekend."
They were married on Nov. 13, 1999, at Pulaski Heights Baptist Church in Little Rock, the church Jason had attended as he grew up.
"It was right in the middle of interview seasons for residency, so the weekend after the wedding we went to Washington University in St. Louis because I had a residency interview. And then the week after that we went to a nice little beach on the Pacific side of Costa Rica."
In 2000, they moved to Milwaukee, and in 2003, they went to Baltimore. In 2012, they moved back to Little Rock.
Jason is a pediatric oncologist with Arkansas Children's Hospital and Julie teaches fifth grade in the Little Rock School District.
The Farrars have three children -- Clay, 18, Allie, 15, and Laine 12.
They made it out to dinner for their 20th anniversary, and they may plan a bigger celebration if they can figure out how to schedule something between work and family obligations. They have plenty to celebrate.
"We really shouldn't have met," says Julie. "That's the funny part. But I guess maybe we were supposed to because a lot of things happened."
If you have an interesting how-we-met story or if you know someone who does, please call (501) 425-7228 or email: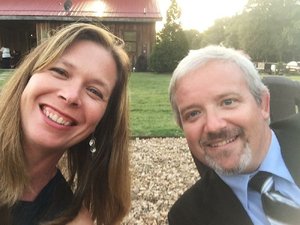 Photo by Special to the Democrat-Gazette
Julie and Dr. Jason Farrar met in Memphis, where he was working in a research lab while he deferred a year of medical school. She was fulfilling a commitment with Teach for America in another town, and they were introduced by a mutual friend who should have graduated the summer before. "We really shouldn't have met," says Julie. "That's the funny part. But I guess maybe we were supposed to because a lot of things happened."
High Profile on 11/24/2019
Print Headline: Friend's sick spell unites two lovers, against odds
Sponsor Content
Comments