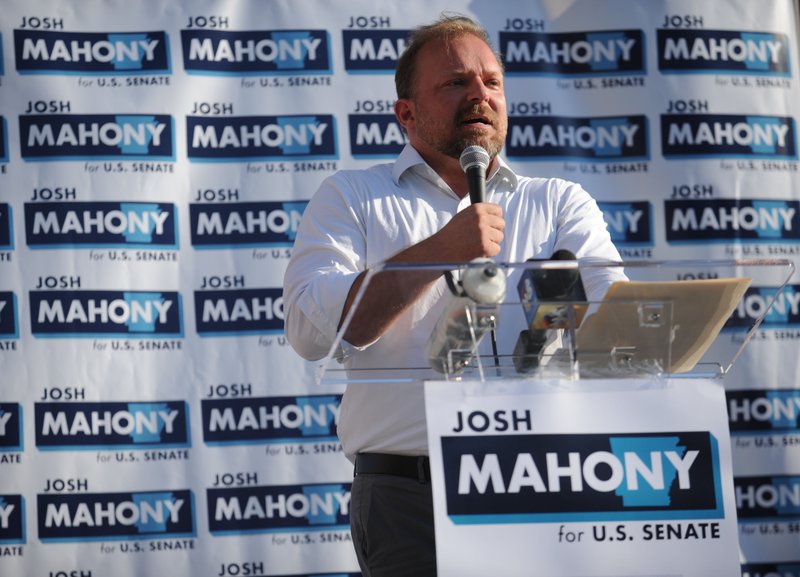 Josh Mahony announces his candidacy for Democratic nomination for U.S. Senate Friday, July 26, 2019, during a press conference at the Fayetteville Town Center in Fayetteville. Mahony will oppose Sen. Tom Cotton. - Photo by Andy Shupe
It was shocking that it took just two hours after the candidate filing period closed for Joshua Mahony, the Democrat who took on the likely sacrificial role of trying to unseat incumbent U.S. Sen. Tom Cotton, to withdraw from the race. The timing, in all likelihood, barred his own party from finding someone else to take up the challenge in the 2020 election.
The timing, though, was the shock of it, not the fact it happened.
What's the point?
Senate candidate Joshua Mahony's actions, aided by his party's lack of serious vetting, helped the GOP ensure voters get little choice in next year's U.S. Senate race.
Mahony, in his two prior runs for public office, certainly didn't face the kind of hard-core political scrutiny as what could easily be anticipated in a contest against Cotton. The state's junior senator is viewed by many in the GOP as a rising star, often enough mentioned as a potential presidential candidate one of these days. The Republican apparatus stands ready to protect his potential future.
Mahony's employment history has always suggested a nontraditional path. When he ran for Washington County judge and for Congress, he touted his volunteer work with nonprofits when asked about his past jobs or livelihood. His suggestions of being a small-business man or a "natural resources" executive, at best, appeared to stretch reality.
It was in filling out federal financial disclosures that Mahony's sources of income and job history became more dramatic. He had to amend his filings again, and again, and again to get it all close to accurate. The vagueness of the past would just no longer do.
Were these the "significant vulnerabilities in Mahony's background" cited in a memo from a Cotton campaign manager as fodder to exploit in torpedoing Mahony's candidacy? We know the state Republican Party announced moments after candidate filing ended that it would file a complaint with the Federal Election Commission accusing Mahony of lying on campaign-related federal paperwork.
The National Republican Senatorial Committee questioned the Mahony's work history, suggesting he was "unable to remember the last time he was employed."
In withdrawing, Mahony cited "family health concerns" as the reason behind his decision. He didn't notify the Democratic Party beforehand and hasn't spoken of it since.
"I promise you we can do it," Mahony told a crowd in front of the Fayetteville Town Center last July.
But even Democrats doubted it. It was easy to see those rallying to Mahony's side mostly consisted of those would would vote for anyone but Cotton, not people inspired by the Democratic candidate himself.
More fact-checking or mud-slinging, depending on one's perspective, was promised. And something in all that convinced Mahony either that his background wouldn't withstand the scrutiny enough to keep him a viable candidate or that the battle ahead wasn't worth going through.
Call it unfortunate that the Republican strategy was to scuttle the Democrat's campaign after the filing period so that Arkansas voters would be denied an opportunity to have another major-party option on the ballot next November. The GOP has threatened a lawsuit if the Democrats even attempt to put a new candidate forward, thanks to state law that puts strict limits on the reasons a candidate can be replaced.
It's a cynical strategy. And it worked. And it should be expected in big-time politics.
Democrats should be disappointed in their own party, which either lacked the political foresight to put its likely Senatorial nominee through a serious vetting or didn't care to. Given the likelihood of a Democrat unseating Cotton in Arkansas, the party might have been satisfied just to have someone who could fog a mirror.
Neither Mahony nor the Democrats did the due diligence necessary to avoid what was an entirely avoidable embarrassment.
With the Mahony campaign dead, voters will still have choices next November. A Libertarian, Ricky Dale Harrington Jr. of Pine Bluff, and an independent, Dan Whitfield of Bella Vista, have also filed for the seat. If history is any gauge, Cotton will have little trouble surviving their candidacies. Most likely, he'll just ignore them.
Some Arkansas voters no doubt feel shafted in having any real choice wrangled from their hands. Others, probably the majority, haven't had their voting plans changed by this political drama at all. It's unfortunate voters won't have much of a choice, but it can easily be said they never did. Thanks to Mahony's actions and history, the Republicans had the upper hand all along and flexed it when it was most advantageous to their cause and candidate.
Commentary on 11/22/2019
Print Headline: Not Joshing at all
Sponsor Content
Comments