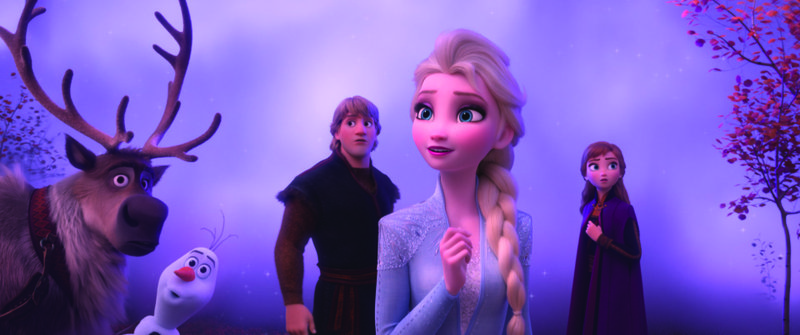 Queen Elsa of Arendelle (Idina Menzel) embarks on a journey of self-discovery in Frozen II, the sequel to the 2013 computer-animated musical fantasy.
You only have to hear Idina Mezel belt out "Let It Go" once for it to stick in your head forever. Screenwriter-co-director Jennifer Lee got so much right in her first try with Frozen that a sequel seems redundant, except maybe for Disney accountants
Lee and most of her collaborators like Menzel, composer Robert Lopez, lyricist Kristen Anderson-Lopez, Kristen Bell, director Chris Buck and Josh Gad are back, and they can be excused if they can't capture lightning or blasts of Arctic air in a bottle again. Frozen II has several delightful moments, but it seems unlikely that it will stay put in viewers' minds quite like the first installment did.
Frozen II
84 Cast: Kristen Bell, Jonathan Groff, Idina Menzel, Evan Rachel Wood, Sterling K. Brown, Jason Ritter, Alan Tudyk, Josh Gad, Santino Fontana, Jeremy Sisto, Martha Plimpton, Alfred Molina, Ciarán Hinds
Directors: Chris Buck, Jennifer Lee
Rating: PG, for action/peril and some thematic elements
Running time: 1 hour, 43 minutes
This time around Elsa (Menzel) is more comfortable with her royal status and her power to manipulate ice and snow. She and her less empowered sister Anna (Bell) have gotten closer, but Elsa hears a strangely beautiful melody that seems to bode poorly.
It turns out the two monarchs are actually from the ruling houses of two rival kingdoms. Their parents (Alfred Molina, Evan Rachel Wood) met in an enchanted forest and escaped the conflict. The mysterious voice is summoning Elsa back, and she has little choice but to respond because her subjects in Arendelle have been left homeless because the elements of earth, air, fire and water have all kicked them off of their land.
Before Elsa can reprise another chorus of "Let It Go," Anna and their friend Kristoff (Jonathan Groff), his reindeer Sven and the relentlessly cheery snowman Olaf (Gad) head off to the forest to find out how they can save Arendelle.
The forest has trapped the warring parties, including the valiant Arendelle soldier (Sterling K. Brown) and the queen (Martha Plimpton) of the rival tribe of Northuldra. The normally clueless Olaf explains that the reason for the curse may have something to do with the way water can preserve the people and events that have passed through it. As a snowman, he may be onto something.
This psychic homeopathy is a decent excuse to return the theater. The sight of icy ghosts reliving their actions is oddly mesmerizing, as is the aquatic horse that Else rides to learn about her kingdom's past.
If the story isn't quite as strong as it was last time, the eye candy is a lot tastier the second time around. Both kingdoms are beautifully rendered, and the action scenes are breathtaking, watching Elsa battle towering waves is awe-inspiring regardless of your age or gender.
Lee and Buck also know that Olaf is best when he's acting as comedy relief. Without his less naïve friends, he can get irritating quickly. There are several choice sight gags and even a clever nod to a popular Danish writer (Lee based her tale on Hans Christian Andersen's The Snow Queen).
The Lopezes churn out another batch of pleasant tunes, and Menzel, Bell and Groff can still deliver them. But they don't burrow their way into memory like the previous batch did. It's been a day since I've seen Frozen II, and already it is fading from memory like Elsa's spells after a hot day.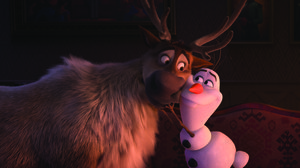 Reindeer Sven and not-always-clueless Olaf (voiced by Josh Gad) return for another putatively magical adventure in Disney's Frozen II.
MovieStyle on 11/22/2019
Print Headline: Frozen II
Sponsor Content
Comments