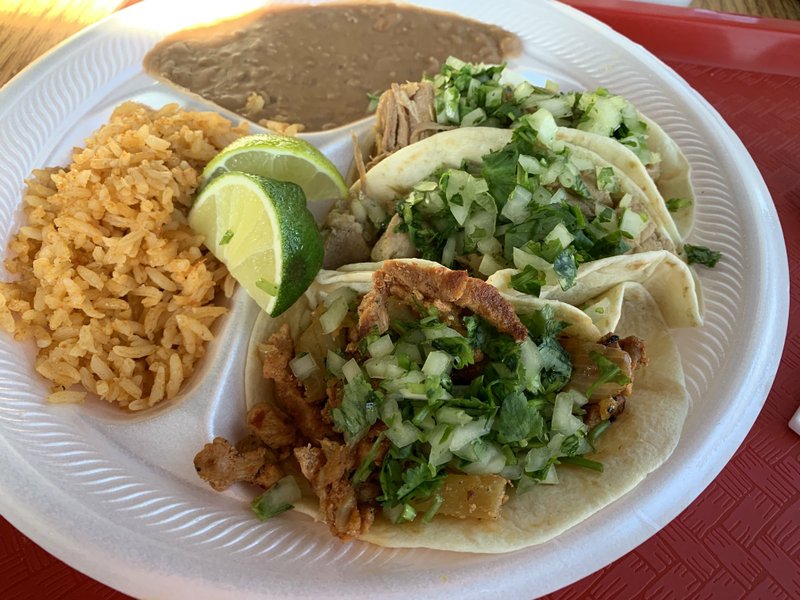 The Combo Street Taco combo includes three tacos -- (from left ) al pastor, chile verde and carnitas -- plus rice and beans at Taqueria Azteca. Arkansas Democrat-Gazette/Eric E. Harrison
You can easily mistake Taqueria Azteca Original Mexican Food, in the strip center storefront fronting the Walmart on Crystal Hill Road on the North Little Rock side of Maumelle, for part of a chain.
The employees wear smart uniforms, for example. The assembly-line setup looks like it has been field-tested in dozens of outlets across the county.
But no, the only other Taqueria Azteca we've managed to find is on Arkansas 5 North in Benton.
We can't quite verify that the Mexican food is "original," but it's authentic, it's fast and it's inexpensive for the quantities you get.
The taqueria moved into what had been a barbecue place — locally owned Smokey Joes BBQ had taken over a short-lived locally franchised outlet of Dallas-based Dickey's Barbecue Pit.
The new place has the same physical setup as did Dickey's — an open kitchen to the left of the front door occupies a large chunk of the available space. The composite-top tables in the L-shaped dining area and the wagon-wheel chandeliers are undoubtedly Dickey's holdovers. Flat-screen TVs offer daytime sports programming and presumably actual games when they occur. On the plank-board walls (another Dickey's vestige) are Mexican and Aztec accents, including framed vocabulary lessons and a large brightly colored artwork depicting a well-cut Aztec or Aztec god with a shapely but apparently unconscious young woman in his arms.
The assembly-line dining concept is similar to that at Chipotle:
• "Pick it/escoge" — decide if you want street tacos, burritos, "super nachos," tostadas, quesadillas or tortas.
• "Fill it/relleno" — choices are carne asada, ground beef, shredded chicken, shredded beef, chicharron en salsa, eggs with nopal cactus, eggs with potatoes and chorizo, chile rojo, chile verde, tongue, grilled chicken, pork al pastor, carnitas and shredded beef.
• "Top it/arriba" with cilantro, onions and cilantro, hot sauce, mild sauce, tomatillo/green sauce, sour cream.
You can also order pork tamales, salad bowls (two fillings with lettuce, tomatoes, cheese and sour cream), side items — rice, beans and avocado slices; chips, salsa, guacamole and cheese dip, and combinations thereof; and desserts. Beverages include soft drinks (fountain or Mexican-bottled) and aguas frescas.
Gallery: Taqueria Azteca
[Gallery not loading above? Click here for more photos » https://www.arkansasonline.com/galleries/27785/album/]
The difference between a taco ($1.95 per) and a quesadilla ($5.75) appears to be largely a matter of the size of the tortilla; the quesadilla also spends about 30 seconds crisping on a grill, so expect to wait on it just a little longer.
We mixed and matched for our Combo Street Taco (three for $8.95) — one al pastor, one chile verde, one carnitas — with sides of rice and beans. We topped all three with just cilantro and onions, the way Mexican street tacos are supposed to come.
The fillings were tasty and generously applied. If we had to pick a favorite, it would be the chile verde, chunks of pork lightly tossed in a zippy green salsa. The pork chunks in the carnitas were a bit large to be considered bite-size, though, and we had to cut a few of them in half. The al pastor was nicely spiced but was a little short on pineapple sweetness
The tortillas were firm and just a little rubbery, which was fine because it helped hold the contents instead of having them fall onto the plate. The tacos were large enough that handling them by hand was a bit of a challenge, and we had to make sure we ate them in the right order so we could access the last one without needing to employ plasticware.
Taqueria Azteca Original Mexican Food
Address: 13503 Crystal Hill Road, North Little Rock.
Hours: 10 a.m.-9 p.m. Monday-Saturday
Cuisine: "Original Mexican Food"
Credit cards: V, MC, AE, D
Alcoholic beverages: No
Carry-out: Yes (drive-thru window, too)
Reservations: No
(501) 800-1088
The al pastor filling in our quesadilla, however, was a little gristly and we had to abandon a few pieces on the plate. We added just cilantro, no onions, and some grated cheese (not listed among the top-it options but available). Be guided — it was bigger than we anticipated and we had trouble finishing it.
The portion of Taqueria Azteca's thick, delicious white cheese dip ($4.95) was also bigger than we could handle on site; so was the bag of crisp, unsalted corn tortilla chips, so we ended up taking most of both away with us.
Everything except the plastic tray is disposable, making clearing your own table pretty much a snap.
The staff was helpful and considerate, including the folks who assembled our food and the ones helping with our subsequent needs (providing a plastic lid for our foam cheese dip container and a plastic bag so we didn't have to juggle that and the bag of chips on our way out the door).
Weekend on 11/21/2019
Print Headline: CHEAP EATS: Taqueria Azteca in North Little Rock offers a fiesta of flavors
Sponsor Content
Comments