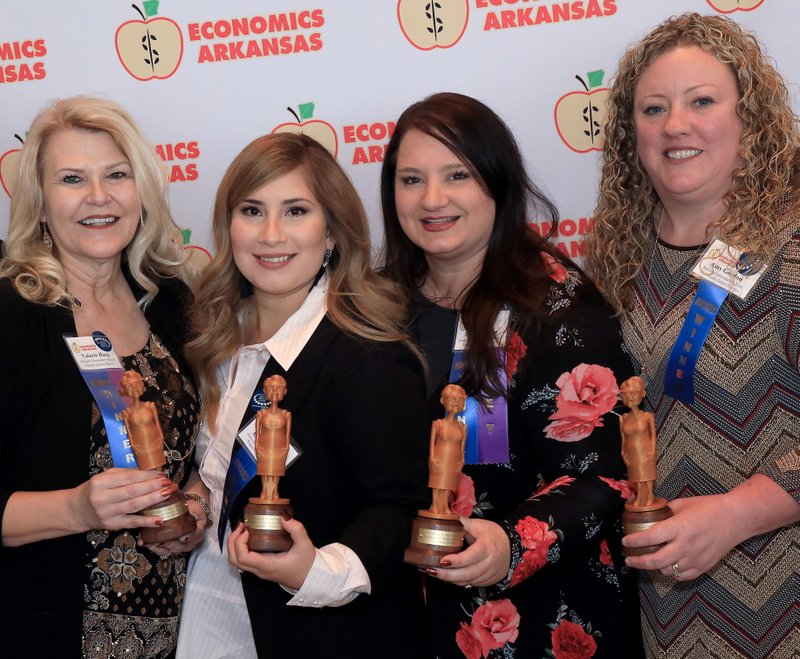 (left to right) Valarie Harp, Anna Badders, Amy Mileham, Amy Nicole Gordon
"There is the proof that economic education works," Amy Mileham said while accepting her award.
Mileham pointed out that she had taught fellow award recipient Anna Badders years ago, when Badders was one of Mileham's fifth grade students.
The Rogers teachers, now colleagues at Grace Hill Elementary School, were two of four Arkansas teachers honored Wednesday as winners of the Bessie B. Moore Award for Excellence in Teaching Economics and Personal Finance, according to a news release.
Amy Nicole Gordon of Barling Elementary in Fort Smith and Valarie Harp of Hackett Elementary in Hackett were also recognized at the luncheon in the Great Hall of the Clinton Presidential Center in Little Rock.
Sheila Humphrey, a retired teacher of J.P. Woods Elementary in Fort Smith, accepted a Lifetime Achievement award for nearly 30 years of teaching, according to the release.
The keynote address was given by Sarah-Catherine Gutierrez, founder and CEO of Aptus Financial Services and the Save10 campaign.
The nonprofit Economics Arkansas began the awards in 1995 to honor teachers at independent and public schools in Arkansas.
NW News on 11/15/2019
Print Headline: Rogers teacher, former student awarded for excellence in teaching
Sponsor Content
Comments