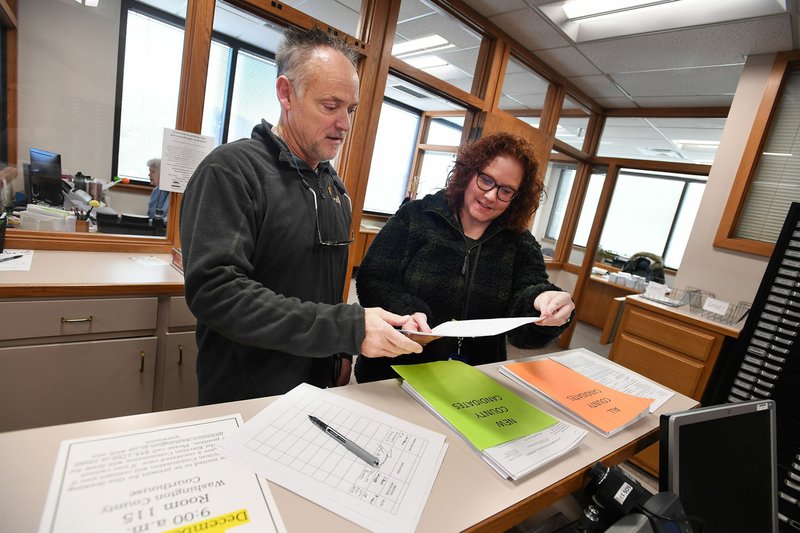 NWA Democrat-Gazette/J.T. WAMPLER Jennifer Sharpshair, deputy county clerk, helps John Brooks (left) of Fayetteville on Tuesday file to run for District 2 constable at the Washington County Courthouse in Fayetteville. Tuesday was the last to file the paperwork to run for public office.
FAYETTEVILLE -- Democrats won't contest as many Republican-held legislative seats in Northwest Arkansas as they did in 2018, but GOP candidates face plenty of competition from their own side, candidate filings show.
Three House members bowed out of reelection bids in 2020, all Republicans. Six Republicans are running to replace them, according to filings, which ended Tuesday.
Each winner of those contests will have a Democratic opponent in November, filings show.
A fourth GOP representative who barely won her 2018 primary faces two primary challengers in March. The winner of that contest will face a Democrat in the fall.
Filing for primaries, judicial positions and some school board seats closed Tuesday at the Arkansas Secretary of State's Office and county clerks' offices.
In county races, Democrats fielded candidates for eight of 15 seats on the all-Republican Benton County Quorum Court.
Democrats filed as candidates in all 15 Washington County Quorum Court districts while Republican candidates filed in 13 of the 15 districts.
State Legislature
Benton and Washington counties have 16 House districts containing at least some part of the two counties. All but four of those seats are held by Republicans. All House seats come up for election every two years.
This election cycle will have a primary, a general election contest or both in 13 districts.
No competing primary contestants filed for any of the three state Senate seats in Benton and Washington counties up for election in 2020. Two of the three incumbent senators running for reelection will face general election opponents.
Two more state Senate seats in the region aren't up for election this year. State senators serve four-year terms.
Sen. Bart Hester, R-Cave Springs, faces Democrat Ronetta Francis of Bentonville in District 1. Sen. Jim Hendren, R-Sulphur Springs, will face Democrat Ryan Craig of Prairie Grove. Sen. Lance Eads, R-Springdale, didn't draw an opponent.
Arkansas is holding its candidate filing several months early because the primaries are March 3, along with 13 other states participating in the "Super Tuesday" presidential primaries. A runoff for party primaries, if needed, will be March 31. The general election is Nov. 3.
Arkansas holds its primaries in May, with a filing period in late February, in nonpresidential election years.
On the Democratic side, the party hopes to build on gains from 2018 when two Democratic challengers in the region toppled their incumbent Republican opponents.
"We learned some good lessons in the last election," said Jacob Kauffman, state Democratic Party spokesman, about running in Northwest Arkansas. The Democrats fielded a candidate in all but two of the House districts in 2018 and, according to Kauffman, learned where to try again this year.
The Democrats are running in 13 House races, but are on defense this time in three of those.
Stephen Houseman, Kauffman's state Republican counterpart, said the voters learned lessons from the last election, too.
"The last legislative session really put things into perspective for the voters of Northwest Arkansas," he said. "While many of the Democrat elected officials tried to campaign as 'moderates' in the 2018 election, they overwhelmingly voted for liberal policies when they arrived in Little Rock. This has energized our base in NWA," he said.
Rep. Rebecca Petty, R-Rogers, didn't seek reelection and said she supports John P. Carr. Carr faces GOP primary opposition from Adrienne Woods. The winner will face Democrat Jene Huffman-Gilreath in November.
The House District 96 seat being left open by Rep. Grant Hodges, R-Rogers, drew no primary opposition for Benton County Justice of the Peace Joshua Bryant. Bryant will face former Benton County Circuit Judge John Comstock, a Democrat, in the fall.
Rep. Dan Douglas, R-Bentonville, decided not to run for reelection in District 91. Douglas survived a 2018 GOP primary challenge by first-time candidate Scott Richardson by 12 votes. Richardson is running again and faces Republican primary opposition. Delia Haak and Jorge Becker have both announced. The winner will face Democrat Nick Jones.
Incumbent Rep. Jana Della Rosa, R-Rogers, is running for reelection in District 90. First-time candidate Kendon Underwood came within three votes of beating her in 2018's GOP contest. Underwood is running again and Chris Latimer filed for his first race. The winner of the primary will face Democrat Kelly Ross Kraut in the general election.
Incumbent Rep. David Whitaker, D-Fayetteville of District 85, drew Republican opponent Brian Hester on the last day of filing.
Rep. Nicole Clowney, D-Fayetteville of District 86, also drew a Republican opponent, former Fayetteville City Councilman John S. LaTour.
Republican incumbent Rep. Robin Lundstrum, R-Elm Springs of District 87, will face Michael Bennett-Spears, a Democrat from Siloam Springs.
A rematch developed in District 80 with Lou Reed Sharp, a Democrat from Tontitown, challenging incumbent Rep. Charlene Fite, R-Van Buren. In District 97, incumbent Harlan Breaux, R-Holiday Island, faces Democrat Suzie Bell.
The following members of Northwest Arkansas' House delegation have no major party opposition in either the primary or the general election: Reps. Gayla McKenzie, R-Gravette of District 92; Austin McCollum, R-Bentonville of District 95; Bruce Coleman, R-Mountainburg of District 81, and Denise Garner, D-Fayetteville of District 84.
Garner faces no challenger after winning her seat in the most expensive, hardest-fought legislative race in the region in 2018. She defeated GOP incumbent Rep. Charlie Collins, R-Fayetteville.
Benton County JPs
A majority of seats on the all-Republican Benton County Quorum Court has a Democratic challenger in November, according to filings with the county Clerk's Office.
Four seats will have a Republican primary and one seat, District 10, will see a Democratic primary.
Democrats Kelley Boyd and Lonn Cross filed in District 10. The winner will face Republican Renona Crowden.
Other contested primary races include Republicans Ken Farmer and Glynda M. Caldwell in District 2. Democrat Elizabeth Cisneros also filed for the seat.
Republican incumbent Carrie Perrien Smith and Republican Mike D. Jeffcoat will compete in District 5. Democrat Shey Bland also filed in that race.
Republicans Brian Armas and Jim Kibat will seek to represent District 6, and Republicans Doug Farner and Joseph Bollinger will face each other in District 7.
Contested general election races include Democrat Lupe Martinez against Republican Richard McKeehan in District 3; incumbent Republican Tom Allen and Democrat Jennifer Smith in District 4, Republican Joel Jones and Democrat Sam Slaton in District 8, incumbent Republican Kurt S. Moore and Democrat Haley Emerick in District 13 and incumbent Republican Joel Edwards and Democrat Julia K. Bailey in District 15.
Uncontested races are incumbent Republicans Mike McKenzie in District 1, Susan R. Anglin in District 9, Dustin Todd in District 11, Ron Homeyer in District 12 and Brent Meyers in District 14.
Justices of the peace serve two-year terms. Benton County justices of the peace are paid $237 for each Committee of the Whole meeting and Quorum Court meeting they attend, and $148 for each meeting of another committee they serve on.
Washington County JPs
Democrats filed as candidates in all 15 Washington County Quorum Court districts while Republican candidates filed for 13 of the 15 seats.
Voters will chose replacements for five incumbents who chose not to run for reelection.
Susan Cunningham, the Republican incumbent, will vacate her seat in District 2 in Springdale. Harvey Bowman, also a Republican, is not seeking another term in District 3 in Springdale.
Democrat Sue Madison didn't file for reelection in District 12 in Fayetteville. Ann Harbison, a Democrat and one of the longest serving justices of the peace, didn't file for reelection in District 14 covering most of the southern part of the county. Judith Yanez, a Democrat, didn't file for another term in District 4 in Springdale.
A pair of Democratic Party incumbents will be running unopposed in two Fayetteville districts. Shawndra Washington will be unopposed in District 8 and Suki Lin Highers has no opponent in District 11.
There will be primary election contests for voters in both parties.
Democratic Party voters in District 7, west of Fayetteville and Farmington, will choose between Stephen M. Ritterbush and Janelle Bradford Smiley.
Republican Party voters in District 4, in Springdale, will choose between Frederick W. Anderson and Bill Ussery.
Casey Copeland, a Libertarian Party candidate, filed for District 13 that covers much of western Washington County. Copeland's name will appear on the Nov. 3 general election ballot.
Justices of the peace serve two-year terms and are paid $200 per meeting in Washington County.
Candidates
The following candidates in Benton and Washington counties filed for office Tuesday for the party primaries, nonpartisan general and school board elections March 3. Filing closed Tuesday. The deadline to register to vote in the March elections is Feb. 3. Early voting begins Feb. 17. The general election is Nov. 3.
BENTON COUNTY
Justice of the Peace
District 4
• Tom Allen (R)*
• Jennifer Smith (D)
District 10
• Kelley Boyd (D)
• Lonn Cross (D)
District 15
• Julia K. Bailey (D)
School Board
Gravette Position 4
• Tim Craig
Pea Ridge Position 5
• John R. Dye
WASHINGTON COUNTY
Justice of the Peace
District 4
• Kenny Arredondo Loyola (D)
District 7
• Janele Bradford Smiley (D)
Constable
District 2
• John M. Brooks
• Nickel Potter*
School Board
Farmington Position 3
• Josh Petree
• Mark Vaughn
Fayetteville
Zone 2
• Tracey Pomeroy
Zone 4 (two-year unexpired)
• Justin Jones
• Katrina Osborne
• Garrett Richardson
Greenland Zone 2
• Paula Schoonover
Lincoln Zone 2
• Kenneth Albright
West Fork Position 3
• Mark Findahl
*denotes incumbent
Source: Staff report
NW News on 11/13/2019
Print Headline: Plenty of legislative contests set in Northwest Arkansas
Sponsor Content
Comments