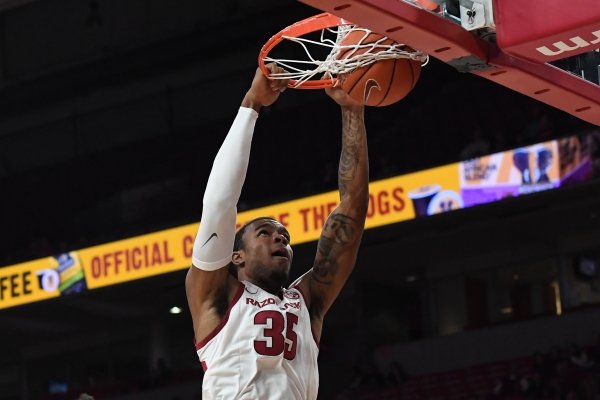 Reggie Chaney dunks in Arkansas' 78-51 win over Southwestern Oklahoma State on Friday, Oct. 25, 2019 at Bud Walton Arena. - Photo by J.T. Wampler
FAYETTEVILLE -- University of Arkansas sophomore forward Reggie Chaney is practicing with the Razorbacks while he's on an indefinite disciplinary suspension.
"He's practicing hard," Coach Eric Musselman said Thursday. "He's doing what he's supposed to do, which is be focused and getting his reps in.
"He bounces back and forth between the scout team and the second group. He's learning our new plays that we're adding. He's been great. He's really working hard."
Musselman announced before Arkansas' 91-43 victory over Rice on Tuesday night that Chaney had been suspended for a violation of rules. Asked after the game, Musselman declined to disclose the specific reason for Chaney's suspension.
[Video not showing up above? Click here to watch » https://www.youtube.com/watch?v=cG7lvOw6FOs]
"We put out the statement," Musselman said. "I'd like to just keep it at that.
"Great kid, and we've had a lot of conversations with him. He and I are talking all the time."
Musselman said he expects Arkansas will have a news release when Chaney is no longer on suspension.
Sports on 11/08/2019
Print Headline: Musselman: Chaney is practicing hard
Sponsor Content
Comments