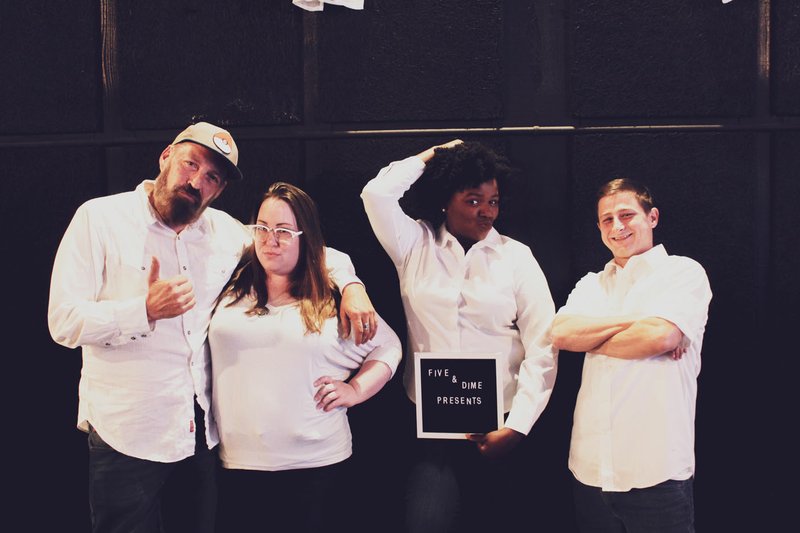 Photo courtesy: Sophia Caroline Photography The Five and Dime Drama Collective hosts its third annual fall performance in Eureka Springs this weekend. The showcase features six micro plays, each around 10 minutes long.
The Five and Dime Drama Collective was established in Eureka Springs three years ago as a nonprofit in the spirit of artist collaboration and development. The collective prepares for its third annual fall performance this weekend, which showcases micro plays from Northwest Arkansas authors, as well as international creators.
"For the people who live here locally, it's an opportunity to experience cutting edge, relevant theatrical works," explains artistic director Kenn Woodard. "I think it's just an absolutely fantastic venue for people to come and discuss art at any kind of level."
FAQ
Five and Dime Drama Collective:
Fall Performance
'SHIFT'
WHEN — 7 p.m. today; 7 p.m. Saturday; 2 p.m. Sunday
WHERE — The Center Stage Event Venue in Eureka Springs
COST — $15
INFO — fiveanddimedramacollective.org
FYI
2019 Fall Shows
Last Call at the Dairy Freeze
by Talya Tate Boerner
Directed by Larry Horn
After Doug's funeral, three friends begin digging into his truth over dipped cones and French fries. A dark comedy about relationships and a**holes.
Must Love Pit Bulls
by Jennie Mead
Directed by Elise Buchmann
What happens in the dog park doesn't always stay in the dog park.
Loveseat
by Suzanne Bailie
Directed by Janet Alexander
Disposing of their dead mother's loveseat forces two brothers, Matthew and Justin, to confront the secrets long hidden in its cushions.
The Ultimate Pursuit of Maximum Bliss
by Ken Preuss
Directed by Justine Ryan
A female researcher, Elle, and her wealthy benefactor, Max, feeling lost in their current lives, explore multiple timelines to find the feasibility of 100% happiness.
Catamitus
by Frank J Avello
Directed by Chris Ritthaler
Tanner, a fairly successful TV actor, visits his former mentor and lover, Dylan, to confront him about their past relationship. Dylan is a famous film director now caught up in a host of sexual misconduct allegations while Tanner has demons linked directly to his past with Dylan.
Sunlight Man
by Michael G. Hilton
Directed by Kenn Woodard
Holly and Redford have unfinished business. What they have failed to do in life might be every bit as important as what they have done.
And that includes art beyond the stage. In its third year, the fall performance is being presented in collaboration with the 2019 Plein Air of Eureka Springs Open Competition. The competition offered artists the opportunity to paint Eureka Springs between Nov. 5 and 8, and the art will be displayed at the fall performance.
"My first original concept this year was very much 'Sunday in the Park with George' -- basically where art, in some representation, sort of is part of the character of each of the pieces," Woodard shares. "So it's sort of bringing this whole community together, artistically, from our humanitarian perspective, but also to expand it globally. Our whole goal is to bring people in the future to a place like Eureka where they can develop their creative works and be supported by a vibrant community."
Such was the case with the six plays that will be presented this weekend. Nearly 150 submissions from playwrights across the globe were received, and those chosen for the showcase had the opportunity to develop their pieces. Woodard reveals that three of the plays presented in last year's event went on to be produced at larger festivals. So the Five and Dime Drama Collective has created a win-win situation where the authors get to cultivate their works, and Eureka Springs gets that exposure when the plays go on to other events -- not to mention the pool of local talent that gets to participate in brand new pieces of theater.
"We didn't choose a theme this year; we basically chose the plays we loved and then we found a thing that was throughout," Woodard says. "And so we called this SHIFT, as in shifting perspective.
"And one of the quotes that I thought about in terms of the overall creative design of this was that, 'The ability to change perspective is the genesis of evolution.'
"That came from an ability to look at plays and what the language of plays does for us," he muses, "which is to somehow stimulate a memory or project us forward from a very personal level to feel our way through something. We might can absorb it better from afar than directly in a personal way in your own life. So we tried to choose things that we felt we want it to have open dialogue about in terms of each of these plays."
NAN What's Up on 11/08/2019
Print Headline: A Collaborative Shift
Sponsor Content
Comments