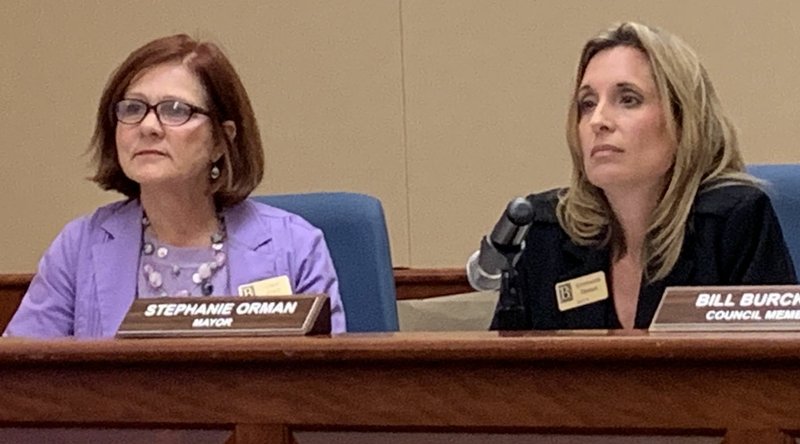 Cindy Acree, council member, (left) and Mayor Stephanie Orman listen to public comments Tuesday at a Bentonville City Council Meeting.
BENTONVILLE -- The City Council voted 7-0 Tuesday to approve the first pay increase in a decade for city paramedics and those attending paramedic certification classes.
The $10,000 annual raise per paramedic will go into effect July 1, said Ed Wheeler, Bentonville Human Resources manager.
Other business
The City Council also approved:
• A proclamation to recognize National Drug Court Month in Bentonville.
• Recognizing Legacy National Bank, 2904 S. Walton Blvd., as the first commercial development recipient of the city's Grow with Trees Award.
• Setting a June 11 public hearing date for ingress and egress easement vacation at Tract 2 of 411 S.E. Walton Blvd.
• Committing to partner with the U.S. Census Bureau and the state of Arkansas to strive for a complete and accurate count of all people in Bentonville for the 2020 Census.
• Establishing the Bentonville Complete Count Committee for the 2020 Census.
• Establishing the Bentonville Great Neighborhoods Partnership and the Neighborhood Advisory Committee.
• Adjusting the budget by $10,000 to establish programs that support the Bentonville Great Neighborhoods Partnership.
• Declaring a foundation at 1800 N.W. Mystic Ave. to be a nuisance and setting a public hearing for condemnation of the foundation.
• Waiving the competitive bidding requirements for a one-year service package renewal with Mission Communications LLC for the alarm systems on all 61 wastewater lift stations within the city in an amount not to exceed $25,000.
• Awarding the bid to Carpet One for about $22,201 to purchase and complete the installation of ceramic tile in the Wastewater Administration building.
• Revising the Bentonville Electric Utility Department construction specifications to be used by developers and contractors performing electric utility work within the city.
• Purchasing one aerial device, one digger derrick and two cab and chassis for about $539,455 plus tax.
• Awarding the bid for a two-year backhoe lease to Stribling Equipment for $246,936 in support of the Water, Sewer and Electric departments.
• Adopting the updated Quality Management Plan to be used for Environmental Protection Association-funded projects.
• Authorizing the mayor and city clerk to enter into a cost share agreement with Benton County for the repair of Anglin Road.
• Adjusting the budget to approve $90,000 for the city's cost share for the repair of Anglin Road.
• Adjusting the budget by $7,500 to reflect the use of District Court Technology funds for the purchase of desk and computer equipment.
• Approving $2,002 for the Citizens Park Tennis Complex to fund 1,381 square yards of Bermuda sod to complete the project.
• Recognizing revenue from various sources and allocating funding for the Citizens Park Playground.
• Awarding the bid to Ozark Ballfields for the reconstruction of Phillips Park Fields 1-3 for $47,000.
• Accepting the annexation of a certain territory to the city of Bentonville and assigning it to wards as petitioned by SS Properties LLC.
• Changing 2910 SE. J St. from agricultural and medium-density residential to general commercial for Judith Basco Revocable Trust and Louise Bishop Revocable Trust.
• Rezoning The Bluffs Subdivision, Palisades Circle, from agricultural to single family residential for The Bluffs Property Owner Association.
• Splitting Lot 66 of the Wildwood Subdivision, Southwest Joshua Avenue, to create Lots 33-43 and Lots 64-65 for Dreamstructures Residential LLC.
Source: Staff report
The pay increase will cost the city about $78,312 for the remainder of 2019 and will affect 47 members of Bentonville's firefighting staff, according to supporting documents.
"The city looks at the fire department paramedic pay annually and conducts regional paramedic pay surveys of those local fire departments that have paramedics to determine rates and trends," Wheeler said. "This increase in paramedic [pay] for the city of Bentonville will allow our fire department to continue to keep pace and also attract and retain those certified paramedics."
He said all Bentonville fire departments with ambulances are required to have paramedics on staff every shift.
"Over the past few years, local fire departments with ambulance services have raised their paramedic certification pay to be able to attract and retain certified paramedics," Wheeler said of surrounding towns. "In this competitive job market in Northwest Arkansas, having adequate pay and compensation is critical to maintain those highly trained first responders that provide emergency, life-saving care."
Capt. James Cooper of Centerton is assigned to Station 1 and has been with the department for 26 years. He said being a paramedic was a significant factor for getting hired when he first began his career.
"I got my EMT, got on the fire department and really liked helping people, and I wanted to take it to the next level," Cooper said.
The pay increase would improve the quality of life for his family of six, as well as the conditions for the department, he said.
"It would be wonderful. It would greatly help," Cooper said of his family. "For the fire department, it's about getting the right people to work for our department, and the raise will bring us more in line with Bella Vista and with all the neighboring fire departments along the I-49 Corridor."
The base pay for firefighters with just emergency medical technician training is currently $37,764-$56,541 annually, Wheeler said. The newly approved pay increase will change the base pay for firefighters with paramedic training and those attending paramedic training certification to $47,764-$66,541 per year.
"Paramedics are more highly trained than EMTs and have the ability to provide more specialized medical care than EMTs," he said. "Because of this requirement, the city needs to ensure that they are adequately staffed with paramedics."
Completing paramedic training and maintaining the required certification aren't small tasks, he said.
"Paramedic training takes a minimum of 12 months [of] specialized education and several years of hands-on experience," Wheeler said. "Additionally, there's annual recertification and continuing education that paramedics have to get to maintain their certification."
While Cooper said the increase in pay will help make sure pay for city paramedics is competitive with surrounding communities, it will also contribute to employee retention and recruitment.
"We're doing more stuff every year," Cooper said of the scope of paramedics' responsibilities. "It will help keep paramedics here from leaving to go somewhere else for more money."
NW News on 05/29/2019
Print Headline: Bentonville approves paramedic pay increase
Sponsor Content
Comments