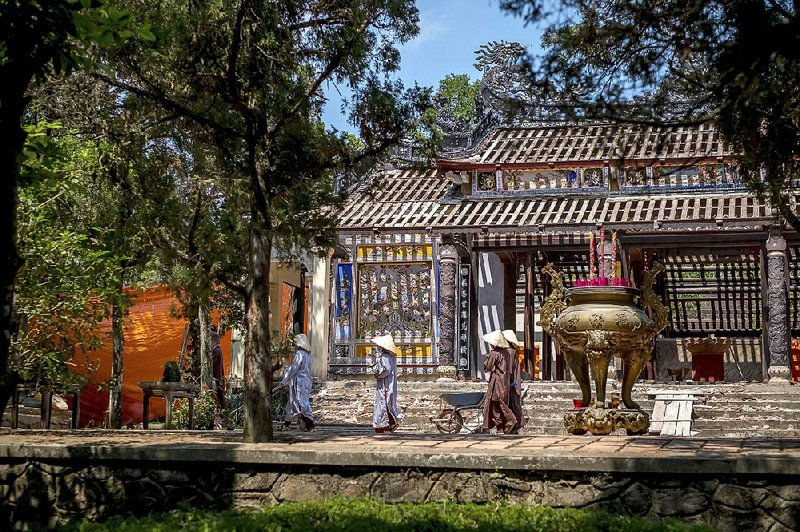 The Tu Hieu Temple in Hue, Vietnam, where Thich Nhat Hanh became a novice monk at 16, is once again home to the Buddhist monk after he was recently granted permission to return and live in the country.
HUE, Vietnam -- Long denied the right to return to his native Vietnam, Buddhist monk Thich Nhat Hanh lived abroad for more than five decades, campaigning against war and teaching the practice of mindfulness.
The Rev. Martin Luther King Jr. called him a friend and recommended him for the 1967 Nobel Peace Prize. Years later, leaders of major tech companies embraced the Zen master's teachings. Oprah Winfrey interviewed him. President Barack Obama quoted him during his 2016 visit to Vietnam.
Now 92 and suffering the effects of a major stroke, Nhat Hanh has quietly returned home to the city of Hue in central Vietnam to live out his final days at the monastery where he became a novice monk at 16.
"It was the South Vietnamese government that kicked him out," said Sister True Dedication, a monastic disciple of Nhat Hanh and a former BBC journalist. "It was his wish for a long time to come back."
Nhat Hanh has done as much as anyone in recent decades to spread the concept of mindfulness throughout the world. His teachings have been embraced in such unlikely arenas as Silicon Valley, the World Bank, Congress and the U.S. Army.
Since his return to the Tu Hieu Temple in late October, Nhat Hanh's presence has attracted hundreds of followers, who sometimes wait for days hoping to get a glimpse of him being pushed around the grounds in his wheelchair.
Once fluent in seven languages, his stroke in 2014 left him partially paralyzed and unable to speak.
Vietnam's Communist government has made no public comment on his return, but several top officials have come to see him privately and pay their respects. The U.S. ambassador to Vietnam, Daniel Kritenbrink, visited soon after his return and called it an honor to see him in person.
And last month, nine U.S. senators visited Nhat Hanh, in what some of them described later as a very emotional meeting.
"It was way beyond a political experience," said Sen. Patrick Leahy, D-Vt., who led the delegation. "It was very much a religious experience."
The Vietnamese government first allowed Nhat Hanh to visit the country in 2005, 39 years after he left, but only recently granted him permission to move back.
Internationally, he is one of Vietnam's best known and most revered figures. He and the Dalai Lama are often mentioned together as the two most influential Buddhist monks of the modern era.
During his life in exile, Nhat Hanh established 10 monasteries and practice centers in half a dozen countries, including the United States, France and Thailand. He has written more than 100 books, which have sold millions of copies in the United States alone. His followers number in the hundreds of thousands.
Many Americans know him as the foremost proponent of mindfulness, a mental state achieved by focusing one's awareness on the present moment. He coined the term "engaged Buddhism" and encouraged Buddhists to take action to improve the lives of the disadvantaged and promote peace.
"This idea of engaged Buddhism is now widespread," said John Powers, a research professor and expert on Buddhism at Deakin University in Australia.
Nhat Hanh left what was then South Vietnam for the United States in 1960, teaching religion at Princeton University and Columbia University. He returned home in 1963 to take a leading role in the Buddhist movement against the war there.
He traveled again to the United States in 1966 and met King in Chicago, where they appeared together. While he was there, South Vietnam barred him from returning home.
His friendship with King had begun a year earlier, when he wrote to explain why Buddhist monks and a nun -- his friends and colleagues -- had set themselves on fire in South Vietnam to protest the war.
"I said that this is not a suicide," he told Winfrey in their 2010 interview. "Sometimes we have to burn ourselves in order to be heard. It is out of compassion that you do that. It is the act of love and not of despair."
He encouraged King to take a stand against the war, which he did in 1967. King urged the Nobel Institute to award Nhat Hanh that year's Peace Prize.
"Here is an apostle of peace and nonviolence, cruelly separated from his own people while they are oppressed by a vicious war which has grown to threaten the sanity and security of the entire world," King wrote.
In his later years, Nhat Hanh devoted his life to teaching mindfulness and engaged Buddhism.
In 2013, at the age of 87, he visited the United States and held mindfulness events at the World Bank headquarters in Washington and at tech companies in the San Francisco Bay Area.
After he had a stroke a year later, he was invited back to San Francisco by a prominent follower, billionaire Marc Benioff, who founded cloud computing company Salesforce.
Benioff arranged for him to undergo rehabilitation treatment at the University of California San Francisco Medical Center, which is noted for treating stroke survivors. He stayed at Benioff's home for six months, along with an unexpected entourage of about 50 followers.
"We opened our house to them and they moved in," Benioff said. "Suddenly our home turned into a spiritual center."
At the core of Nhat Hanh's teaching is the idea that people should strive to "become peace" and, through practice, overcome their anger and negative emotions.
"Our enemies are not man," he wrote King in 1966, but "intolerance, fanaticism, dictatorship, cupidity, hatred and discrimination which lie within the heart of man."
Photo by The New York Times/LINH PHAM
Thich Nhat Hanh with a child of one of his followers at Tu Hieu Temple in Hue, Vietnam. Long denied the right to return to his native Vietnam and after half a century abroad, the influential Buddhist teacher, now 92, is living in the Hue monastery where he became a novice monk at 16.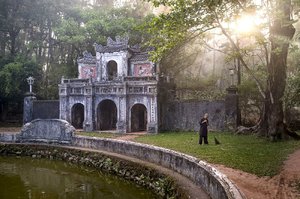 Photo by The New York Times/LINH PHAM
The entrance to the Tu Hieu Temple, where Thich Nhat Hanh is now living, in Hue, Vietnam.
Religion on 05/25/2019
Print Headline: Renown monk goes home to Vietnam
Sponsor Content
Comments