FAYETTEVILLE -- Population growth in Northwest Arkansas continues to lead the state, with Bentonville's jump to more than 50,000 residents making it one of 10 cities in the country to reach the milestone in 2018.
The U.S. Census Bureau released its most recent population estimates Wednesday, which show the South and the West with the fastest-growing cities.
Eight cities with the largest numeric gains between 2017 and 2018 were in the South. The West had six among the top 15 growing cities and towns while the Midwest had one.
Only 4% of all U.S. cities had a population of 50,000 or more in 2018, accounting for 127.1 million people or 39% of the U.S. population, according to the Census Bureau.
Of the 19,495 incorporated places in the U.S., 14,768, or about 76%, had fewer than 5,000 people, according to the Census Bureau.
Bentonville's population increased from 49,341 in 2017 to 51,111, according to the Census estimates, growing by 3.6%. Bentonville's population in 2010 was 35,301, growing by about 45 percent from 2010 to 2018.
The growth will bring changes to Bentonville's city government after the next full census in 2020, with the mayor and city clerk gaining two years on their current terms in office, according to George Spence, city attorney. Spence said state law will require the mayor and city clerk run for re-election in 2024 rather than in 2022.
Bentonville's growth will mean other benefits and challenges, according to Shelli Kerr, the city's planning manager. Kerr said the population growth will increase revenue from federal, state and local sources, with the amount varying by program. She said the population as reported by the Census Bureau is in line with projections the city uses to plan for infrastructure and services.
The other three largest cities in Northwest Arkansas all showed substantial growth, although not as rapid as Bentonville.
Fayetteville saw its population increase from 73,580 in 2010 to 86,751 in 2018, growing by about 18%. The city added 1,150 people or 1.3% from 2017 to 2018.
Mayor Lioneld Jordan said Fayetteville's planning process has helped deal with the increase. He pointed to the recently approved $226 million bond program with provisions for improvements in police and fire services; streets, sidewalks and trails; recycling and trash pickup; drainage improvements and other improvements.
"It's always a challenge when you grow nearly 18% in eight years," Jordan said.
Springdale grew from 69,797 in 2010 to 81,029 in 2018, about 16%. The city added 1,159 residents, or 1.6%, from 2017 to 2018.
Mayor Doug Sprouse said the 2018 estimates are in line with the city's projection. He said Springdale is already preparing for the full census in 2020.
"There's a lot of funding tied to population and a lot of funding tied to specific demographics," Sprouse said of federal programs. "You just want everybody to be counted."
Rogers grew from 55,964 in 2010 to 67,600 in 2018, about 21%. The city added 1,118 residents, or 1.7%, from 2017 to 2018.
Casey Wilhelm, city director of finance, said Rogers will see increasing revenue from the federal Community Development Block Grant Program as a direct result of the population increase. She said state turnback money is distributed to cities on a per capita basis, so that should also increase, as will the city's share of the countywide 1% sales tax revenue.
"We're going to have a lot of work to do on our budget process," Wilhelm said.
Tontitown grew by more than 63% from 2,460 people in 2010 to 4,003 in 2018, according to the Census Bureau estimates. Mayor Paul Colvin said he thinks that may be too low, based on what he sees happening.
Colvin said several subdivisions are being built, and three apartment complexes planned with 500 to 600 units in the first phases. He said the city's residential building permits increased about 75 percent in the past two years. The city is planning some street construction that will open up more areas to residential and commercial development.
"Its been absolutely crazy," the mayor said of the growth in Tontitown. "I would say I'm fearful, but excited, to see the actual numbers."

City growth in Benton and Washington counties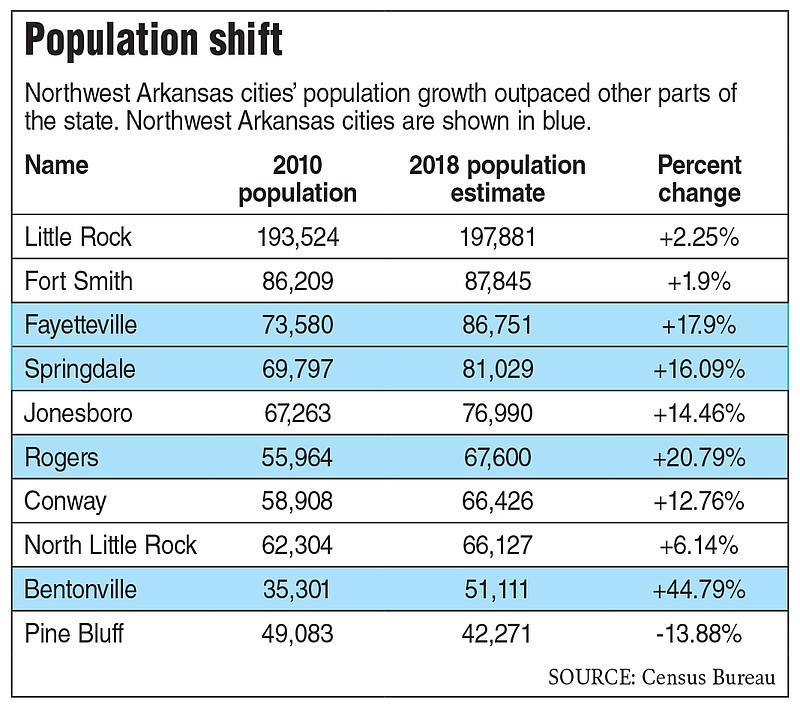 NW News on 05/23/2019