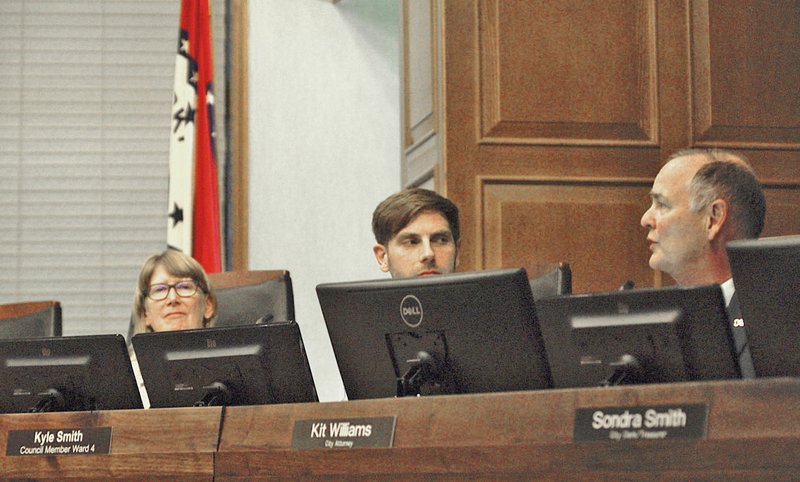 NWA Democrat-Gazette/STACY RYBURN Teresa Turk (from left) and Kyle Smith, both Fayetteville City Council members, look on as Kit Williams, city attorney, speaks Tuesday during a council meeting at City Hall. The council passed an ordinance prohibiting the city from buying expanded polystyrene foam products.
FAYETTEVILLE -- The city will not buy products made of expanded polystyrene foam, nor will any vendors operating on city property be allowed to use the material, effective in November.
The City Council on Tuesday unanimously passed prohibiting the city from purchasing the foam, commonly known as Styrofoam. Food trucks, vendors and concessionaires on city property such as parks or off-street parking lots also will be subject to the ban.
Other items
Fayetteville's City Council met Tuesday and approved:
• Rezoning 509 W. Prairie St. to a district allowing live music as a conditional use. A representative of the business said the applicant intends to apply for a permit later with the Planning Commission.
• Rezoning 1372 S. College Ave., across the street from Walker Park, to a district allowing food trucks.
• An agreement with the Arkansas State Highway Commission to move water and sewer lines along 15th Street between South College Avenue and Huntsville Road to make room for the state's widening project.
• Developing a city-sponsored digital inclusion and equity plan.
Source: Staff report
The ban, which makes an exception for construction material, will take effect Nov. 1.
Council member Teresa Turk sponsored the ordinance, saying she wanted to start off small before looking into a possible citywide ban. She thanked her fellow council members and the public for voicing their support. The city's resident-led Environmental Action Committee also helped craft the ordinance.
"This is just the first step. We do want to be successful, we want to make sure everybody knows. We want to get as many people on board as we can," Turk said. "Let's make it the most successful program in the country."
City Attorney Kit Williams said his office brought the ordinance forward after the state Legislature adjourned for the year. He said he wants to research a potential citywide ban thoroughly, and it might be possible to present something to the council within a few months.
The Legislature will hold a fiscal session next year, and won't reconvene until a year after that. By then, the city could become a model for other cities in the state to adopt similar measures, Williams said.
"I'm not in favor of going slow; I'm in favor of going deliberately, and getting the best product we can and making it work," he said. "I think if that works, and other cities do it, when the Legislature comes around we're not going to be the boogeyman."
Nine people spoke in favor of the ordinance, most of whom urged the council to take the measure citywide and not just apply it to city purchases.
Andrew Ragland said other cities have adopted such a ban, and products that typically have a useful life of minutes can take up to 1,000 years to break down.
"I just feel like we're having to play catch up at this point," he said. "Being called the 'natural state,' we should be setting an example."
Council member Mark Kinion said he walked into Tuesday's meeting wanting to support an outright ban on polystyrene foam. However, he said he trusted Williams' assessment it would be better for the city to be deliberate, rather than aggressive.
"I really wanted to just go for it and do the whole thing. I think there are a lot of us up here who feel that way," Kinion said. "Bear with us, and I think you'll see some action with urgency but also with deliberate contemplation."
Council member Matthew Petty said he was encouraged to see the council unified in making advancements on the issue.
Williams said he plans to bring an item soon to the council allowing city staff to speak with business owners and other relevant groups to gauge responses to a citywide regulation on polystyrene foam.
Mayor Lioneld Jordan said he's taken part in city cleanups where he will fill a 55-gallon bag with polystyrene cups and plastic bottles and see plastic bags hanging like tinsel from trees.
"When I go to one of these cleanups and I see that, I always sort of shake my head and think we're a better community than that," he said. "It's going to take all of us working together on keeping our planet clean."
NW News on 05/22/2019
Print Headline: City prohibits self from buying polystyrene foam
Sponsor Content
Comments