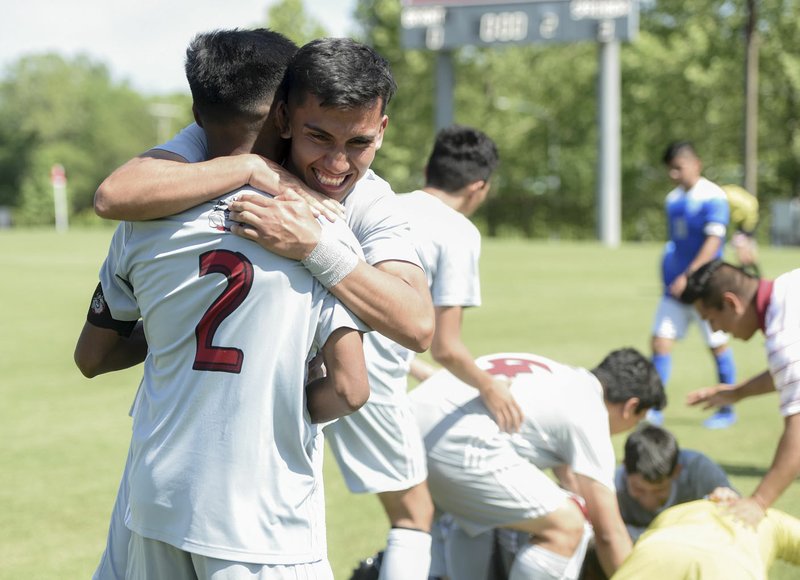 NWA Democrat-Gazette/CHARLIE KAIJO Springdale High School players react after winning the Class 6A State Soccer Tournament championship, Friday, May 18, 2019 at Razorback Field in Fayetteville. Springdale High School defeated Bryant High School 3-0
FAYETTEVILLE -- Irvin Sotero was serenaded with an enthusiastic roar from the Springdale High cheering section Friday as he and his Bulldogs teammates raced across the field.
Several players ripped off their jerseys and celebrated a 3-0 win against Bryant in the Class 6A boys state soccer championship at Razorback Field on a sun-soaked afternoon.
What a difference a year makes.
Last season the Bulldogs lost in stunning fashion in the state semifinals. Using the sting from that loss as motivation, Springdale played this season with a chip on its shoulder, said coach D.J. Beeler.
Sotero scored a first-half goal to give the Bulldogs (18-2) a halftime lead, then Springdale punctuated the win with two more goals in the second half.
"This has been a dream for me ever since I was a little kid," Sotero, the championship match Most Valuable Player, said. "We had some doubters, and it just made us work hard and all that hard work paid off."
Springdale, ranked No. 10 nationally by MaxPreps, was relentless in its attack the entire 80 minutes. The Bulldogs contested every Bryant possession and fired relentlessly at the Hornets'++ goal.
In the first half, Springdale had 19 shots on goal to Bryant's five, but Hornets keeper Codi Kirby was stellar for most of the match.
"We knew what we were getting into," said Bryant coach Richard Friday. "I think we gave them a heck of a game. We had three or four chances in the first half, but it didn't get out of hand until the last 15 minutes."
Friday said the speed of play was a big factor. Springdale's speed and pressing was something Friday said his team had not seen this season.
Beeler said it was frustrating to see so many scoring chances come up empty, but his team never lost its focus.
"The shots weren't falling and that gets a little frustrating," Beeler said. "It can be hard in a game like this to get the kids to relax, but we just kept pressing, kept working and eventually the goals came."
Sotero, who had the initials of his brother and late grandmother written on his taped wrists, worked his way open on the right side and powered a kick just past Kirby in the 39th minute for a 1-0 lead.
At first, the goal was wiped off on an offside infraction, but the penalty was waved when officials ruled the ball had deflected off a Bryant (16-3-2) player and the goal stood.
The Bulldogs missed what looked to be a certain scoring opportunity midway through the second half when leading scorer Jose Vega beat a Bryant defender and found basically an open net, but his shot banged off the top bar.
Danny Maldonado finally gave Springdale the breathing room it was looking for in the 77th minute, powering a shot past the Bryant keeper, and the Bulldogs knew the title was theirs. Rene Ricinos assisted on the Maldonado goal, then added goal of his own late.
Springdale sophomore keeper Abram Cordero was stellar in goal for the Bulldogs with four saves. Cordero was injured in the second half on a collision in the box with Bryant's Martin Ramirez and had to leave the match for a period. Cordero was able to return and finish the match.
"This is amazing," said Springdale senior midfielder Nelson Barroso. "Ending my school year as a state champion, I mean there can't be anything better than that.
"I feel really proud for my school and my community and I know they are proud for us."
Sports on 05/18/2019
Print Headline: 6A BOYS SOCCER Season of redemption ends in title for Springdale
Sponsor Content
Comments