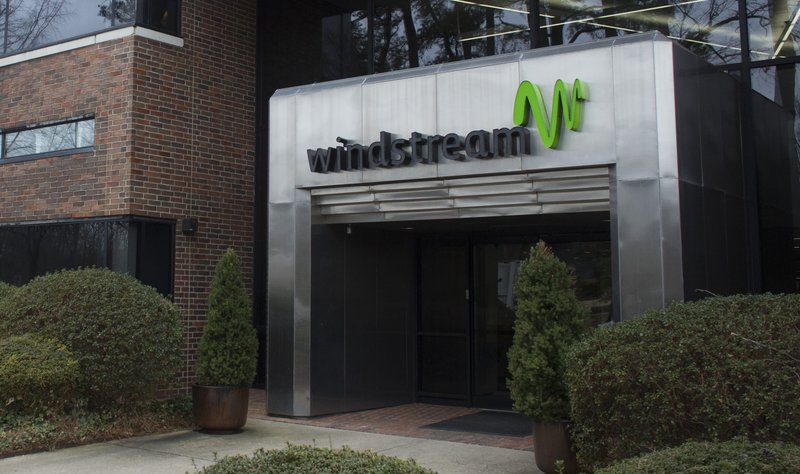 FILE — Windstream Corporate headquarters at 4001 N Rodney Parham Road is shown in this February 19, 2014 photo.
Windstream Holdings, Inc. on Wednesday reported a net loss of $2.3 billion in its first quarter, a period weighted by Chapter 11 bankruptcy proceedings.
The Little Rock telecommunications company posted a loss of $54.26 per share in the three months that ended March 31, compared with a loss of $3.25 per share, or a $121 million net loss, a year ago.
Revenue was $1.32 billion for the quarter, down from $1.45 billion a year ago.
The quarter's results noted a $2.3 billion "non-cash goodwill impairment" charge related to the adoption of a new lease accounting standard with spinoff company Uniti Group and the filing for Chapter 11 reorganization.
"Windstream's operations are continuing the momentum we saw in 2018," Tony Thomas, Windstream's president and chief executive officer, said in a morning teleconference. The company began the year with a solid quarter marked by record consumer broadband growth, adding over 11,400 subscribers.
"We stand alone among major U.S. telecom service providers with 14 consecutive months of consumer broadband subscriber growth through April, as well as our strongest quarterly broadband growth since 2011," Thomas said.
Also on Wednesday, a bankruptcy judge in New York approved Windstream's request to pay as much as $24 million in bonuses to top-tier executives and "non-insider employees," court filings show.
INCENTIVE PLAN
Judge Robert Drain approved the use of up to $18.9 million under the company's proposed executive incentive plan, and up to $5 million under a separate "non-insider" employee retention plan.
In court filings, Windstream argued these plans were vital to the company's performance and employees -- "who may be motivated to leave ... due to, among other things, uncertainty" -- as it undergoes Chapter 11 reorganization.
Under the executive plan, five Windstream employees are eligible for bonuses: Thomas; Robert Gunderman, chief financial officer and treasurer; Kristi Moody, executive vice president, general counsel and corporate secretary; Layne Levine, president of enterprise and wholesale; and Jeffery Small, president of Kinetic.
Under the retention plan, certain "non-insider" employees can earn bonuses as high as $200,000 or as low as $1,000, depending on average salary.
Windstream filed for bankruptcy protection and reorganization in February after New York hedge fund Aurelius Capital Management prevailed in a lawsuit that claimed Windstream Services defaulted on its bonds through its leasing practices with Uniti Group.
Thomas gave a few updates to shareholders in the teleconference on the proceedings, including a judge's recent approval of $1 billion in debtor-in-possession financing for Windstream. In a news release, the company said this approval combined with its generated cash will ensure that Windstream continues operating as usual "while it works with creditors to negotiate a mutually agreeable resolution."
Adjusted for one-time impairment costs, Windstream beat Wall Street analyst estimates for the quarter.
Windstream posted adjusted earnings of 65 cents per share, beating an estimated loss of $1.82 per share, according to a Zacks Investment Research consensus of analysts.
Looking ahead, Windstream is evaluating whether it wants to continue its lease with Uniti Group, which owns Windstream's copper cable assets. To match growing demand for faster broadband speeds, such as 5G, Windstream is pursuing other materials and technologies.
"As a result, Windstream believes the current Uniti master lease rate is significantly above market," Thomas said in the call. Given the assets' current valuation, he said the lease payment could be reduced by 80% or more if the lease were to be renewed in 2030, "because of the significant decline in the value of copper facilities."
"In the context of its Chapter 11 cases, Windstream is evaluating all options regarding the Uniti lease, including renegotiation, recharacterization, unwinding the lease, as well as an outright rejection of the lease," Thomas said. "More details will emerge as the Chapter 11 process evolves."
When Windstream entered the lease agreement with Uniti, the assets had a fair market value of $7.5 billion, Thomas said. Windstream's copper cable assets comprised 54% of the value of those assets. Fiber optic lines represented 27% of those assets.
In response to Windstream's bankruptcy proceedings, Uniti Group also adopted a payment structure that accounts for Windstream's revenue from the master lease on a cash basis, according to its quarterly filing last week with the U.S. Securities and Exchange Commission.
Windstream created Uniti Group in 2015 and Uniti bought Windstream's telecom assets and formed an agreement to lease them back to Windstream. This practice came under scrutiny in a recent lawsuit filed in the Southern District Court of New York, which led to Windstream's bankruptcy.
In closing remarks, Thomas said he was "pleased" with the progress of the bankruptcy reorganization thus far, and remains confident that "Windstream will emerge from our current restructuring a healthier and stronger company."
"More than ever, we are excited about the opportunities that lie ahead," he said.
Windstream shares rose less than 1 cent on Wednesday to close at 30 cents.
Business on 05/16/2019
Print Headline: Windstream's net loss in quarter hits $2.3B
Sponsor Content
Comments