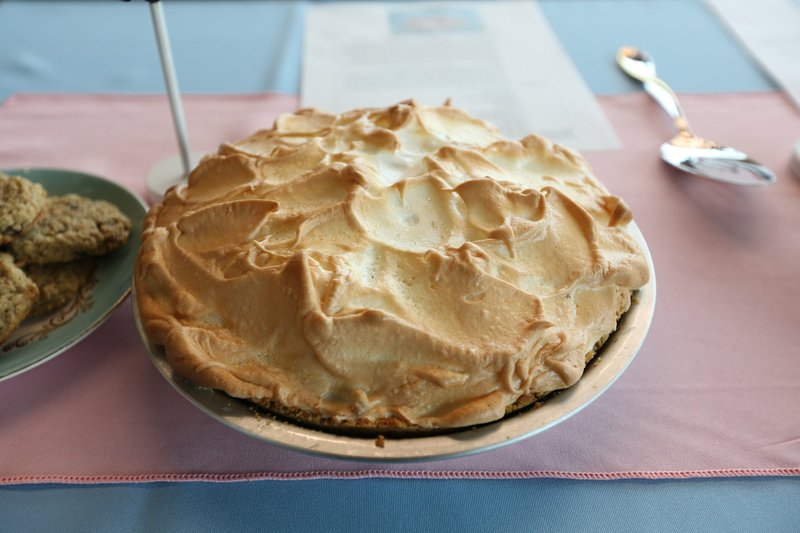 Boppy's Knee-Slappin',Mouth Smackin, Eyes Roll Back in your Head It's So Good Sour Cream Raisin Pie Democrat-Gazette file photo/DAVID GOTTSCHALK
Recipes that appear in Idea Alley have not been tested by the Arkansas Democrat-Gazette.
I was thrilled when an email from Diane Russell Knight of Diane's Gourmet arrived in my inbox after printing Mary Green's request for the shop's orzo.
"Here is a smaller version of the one we make using 8 pounds of pasta," Knight writes.
Diane's Greek Orzo
Salt
1 pound Italian orzo pasta
½ cup diced red bell pepper
½ cup diced green bell pepper
½ cup diced green onion
½ cup diced Kalamata olives
½ cup olive oil
2 tablespoons freshly squeezed lemon juice
1 teaspoon grated lemon zest
½ teaspoon freshly ground pepper
1 tablespoon chopped fresh oregano
1 tablespoon chopped fresh dill weed
1 ½ teaspoons chopped fresh Italian (flat-leaf) parsley
¾ cup cubed feta cheese
Bring a large pot of salted water to a boil. Add pasta and cook according to package directions. Drain and cool.
Meanwhile, in a bowl combine the red and green peppers, green onion and Kalamata olives.
In a small bowl, whisk together the olive oil, lemon juice and zest, 1 teaspoon salt, black pepper, oregano, dill and parsley.
Add the cooled pasta to the bowl with the bell peppers along with the dressing and mix well. Top with feta cheese.
"This is another recipe for Chocolate Syrup (inspired by the Idea Alley recipe for April 24),'' Steve Long writes.
"This is a recipe we have made in my family for over 50 years. Once cooled, it is stored in the refrigerator and is yummy on ice cream, in milk, and I have been known to eat it from the spoon."
Chocolate Syrup
1 ¾ cups granulated sugar
½ cup cocoa powder
Dash of salt
In a large (4- to 5- quart) saucepan combine the sugar, cocoa, 1 cup water and salt. Bring to a rolling boil. Boil for exactly 3 minutes without stirring. Boiling longer or stirring makes a crystallized syrup.
This recipe is for Cora Ward. It was originally published in the Northwest Arkansas Democrat-Gazette on April 4. The recipe entered by Kay Weiderhaft was a finalist in the Walton Arts Center's "Baked From the Heart" pie contest held on Pi Day, March 14. It has been edited for style and space.
Boppy's Knee-Slappin', Mouth Smackin', Eyes Roll Back in Your Head It's So Good Sour Cream Raisin Pie
Crust:
9 tablespoons unsalted butter, softened, divided use
6 tablespoons lightly packed light brown sugar, divided use
3 tablespoons granulated sugar
1 egg
½ cup all-purpose flour
¾ cup PLUS 2 tablespoons quick cooking rolled oats
⅛ teaspoon baking powder
⅛ teaspoon baking soda
¼ heaping teaspoon coarse kosher salt
Filling and meringue:
1 cup raisins
½ cup PLUS 5 tablespoons granulated sugar, divided use
3 tablespoons cornstarch
⅛ teaspoon salt
⅛ teaspoon ground cloves
½ teaspoon ground cinnamon
1 cup sour cream
½ cup whole milk
3 egg separated PLUS 1 or 2 egg whites, divided use
About ½ teaspoon cream of tartar (⅛ teaspoon per egg white)
Heat oven to 350 degrees. Line a cookie sheet with parchment paper or a nonstick baking mat.
Cream 6 tablespoons butter, 5 tablespoons brown sugar and the granulated sugar with an electric mixer in medium-size bowl for about 2 minutes, scraping down the sides as needed until light and fluffy. Add egg and continue to beat until pale and fluffy. Add oats, flour, baking powder, baking soda and salt and beat until all mixed together, about 1 minute. Turn oat mixture out onto a prepared cookie sheet and press out until you have an even layer about ¼ to ⅓ inch thick.
Bake just lightly golden on top, about 15 to 18 minutes. Let cool completely on rack.
Once your "cookie" is completely cool, crumble it up with your hands into a big bowl.
Add the remaining butter and tablespoon light brown sugar and mix until it sticks together to form a crust.
Press half the mixture into a 9-inch pie pan. Work the mixture from the bottom up the sides until you have a full solid covering of crust in the pie pan interior. Just be sure to bring the sides up to the top edge of the pan. Freeze the remaining crumb mixture for another day.
For the filling:
In a small saucepan, combine raisins and enough water to just cover and heat to a boil. Immediately remove from heat and set aside.
In a large saucepan, combine ½ cup sugar, the cornstarch, salt, cloves and cinnamon. Stir in sour cream and milk until mixture is nice and smooth. Cook slow over medium heat until just thickened and bubbly. Reduce heat to low; cook and stir for 2 minutes longer. Remove from the heat.
Beat egg yolks in a small bowl. Whisking constantly, add a small amount of the hot filling to the egg yolks to temper, then add the egg mixture to the rest of the cooked filling, stirring constantly.
Return pan to heat and bring mixture to a gentle boil. Cook, stirring constantly, for a couple more minutes.Remove from the heat.
Drain raisins, but reserve about 1/2 cup of the water you cooked them in and gently stir that in to your filling mixture. Then add raisins and mix it all together. Pour this filling into your Oat Cookie Crust.
Heat oven to 350 degrees.
In a clean bowl with clean beaters, whip egg whites with an electric mixer on medium speed until frothy. Increase speed to high, sprinkle in a little cream of tartar and slowly add the remaining sugar, until you reach stiff peak consistency.
Spread meringue over hot filling, sealing the meringue edges to the crust.
Bake 15 minutes or until meringue is golden and browned on the peaks. Let cool for at least 1 hour before serving. Refrigerate any leftovers.
Make 1 pie.
Send recipe contributions, requests and culinary questions to Kelly Brant, Idea Alley, Arkansas Democrat-Gazette, P.O. Box 2221, Little Rock, AR 72203; email:
Please include a daytime phone number.
Food on 05/15/2019
Print Headline: Orzo, chocolate syrup, raisin pie to fill Kats' stomachs
Sponsor Content
Comments