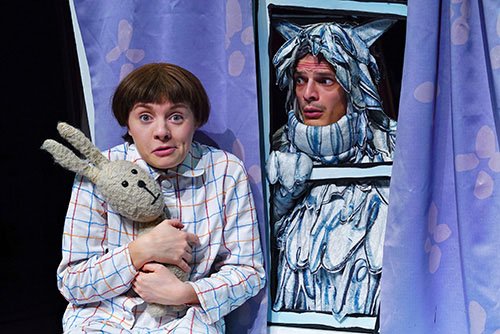 Courtesy Photo The Edinburgh Guide called "Emily Brown" "a brilliant show: funny, touching, and completely satisfying."
Cressida Cowell's popular children's book "Emily Brown and the Thing" tells a story both kids and parents will find familiar -- the myriad ways a child can attempt to avoid his or her bedtime. The London-based children's theater troupe Tall Stories thought Cowell's tale was powerful enough to transfer to the stage and is bringing its version to the Walton Arts Center tonight.
Actress Sophie Alice plays Emily Brown. She says the theater company took care to transfer the story to the stage in a way that should please its fans.
FAQ
'Emily Brown and the Thing'
WHEN — 6:30 p.m. today
WHERE — Walton Arts Center, 495 W. Dickson St. in Fayetteville
COST — $9-$16
INFO — 443-5600
"I fully enjoy having the opportunity to play the strong, adventurous and kind-hearted Emily Brown," she says. "As actors, we do have a responsibility to portray these much loved characters in their fullest, most articulate way. Through exploring the book thoroughly in rehearsals, we slowly build and create our own perception of these fantastic characters. I hope that all audiences enjoy watching this wonderful book come to life."
Reviews of previous performances of the show indicate that the adaptation created by Tall Stories co-founders Olivia Jacobs and Toby Mitchell is a crowd pleaser. The Edinburgh Guide said, "I hardly know which element to rave about first: an excellent story celebrating a young girl's wild imagination and plucky spirit [or] actors whose wonderful physicality, expressive faces and pitch-perfect delivery bring life to our heroine, her bunny best friend and the woeful Thing." London's theater blog The Stage wrote that "this beautifully crafted show constantly amuses, delights and enthralls."
Although Tall Stories produces theater for children, Alice says that its shows are actually designed for audiences of all ages.
"At Tall Stories, we tailor our performances to be appropriate for family audiences, appealing to both children and their grandparents," she says. "I suppose the only real difference I have personally found [between adult audiences and audiences of primarily children] is that children are a lot more honest and are really open to being immersed in the show and worlds we create. You can never really predict how children will react show to show. It's very exciting."
The company uses simple but fanciful sets, costumes and lighting designs that help establish a whimsical tone as the story unfolds.
"'Emily Brown and The Thing' is a story full of adventure," says Alice. "Travelling to three different worlds and meeting lots of different characters makes it a thrilling challenge to re-create on stage and bring to life. The illustrations by Neal Layton are also so fantastic that having the opportunity to pull them outside of the book in life size is a lot of fun."
In the end, says Alice, Emily Brown learns a thing or two along the way of her adventures.
"'Emily Brown and the Thing' is full of little lessons; however, I would say some of the most special ones are that it's OK to be scared of things and the importance of friendship and kindness."
NAN What's Up on 05/10/2019
Print Headline: Page To Stage
Sponsor Content
Comments