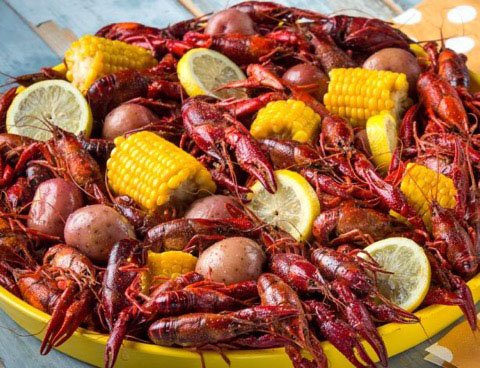 Courtesy Photo The annual Ales & Tails crawfish boil returns to Northwest Arkansas for two events in its fifth year: April 6 in Fayetteville and April 13 in Bentonville.
Between the months of March and May, Maudie Schmitt, owner of Cafe Rue Orleans in Fayetteville, has a "crawdad guy" who makes the trip between Fayetteville and New Orleans each week to bring thousands of pounds of fresh, live crawfish to her restaurant and others. During the first two weeks in April, he'll be bringing a few hundred pounds more as the annual crawfish festival Ales and Tails returns to Northwest Arkansas for its fifth year.
"Crawfish was not really done up here as far as a real, Cajun boil, and we said, 'Everybody loves crawfish'," Schmitt recalls of the founding of the event with business partner, Jammin' Java owner Brandon Karn. "People are going to get authentically cooked N'awlins crawfish."
FAQ
Ales & Tails
Crawfish Boil
WHEN & WHERE — 2-5 p.m. April 6 at the Washington County Fairgrounds in Fayetteville; 2-5 p.m. April 13 at the 8th Street Market in Bentonville
COST — $45
INFO — alesandtails.org
FYI — Rain or shine event. Please leave four-legged friends safe at home.
Ales and Tails LLC was created as a platform to enable the two business owners to put on events whose proceeds benefit local nonprofits. This year, as with the past three, the Ales and Tails festival will benefit the Lib Horn Animal Shelter of Fayetteville, the Humane Society of the Ozarks and Ranger's Pantry, which provides pet food and supplies to individuals in need so they are able to keep their pets.
"We're focused on smaller nonprofits that really can benefit from little events like ours, something local where the money would go a long way," Schmitt offers. "I'm excited that it looks like we're going to have good weather, and I'm excited to show people what real New Orleans boiled crawfish and gumbo tastes like. We're bringing authentic stuff to Northwest Arkansas."
Just make sure to get your tickets ahead of time, Schmitt warns. She makes the crawfish order on Wednesday ahead of each event based on the number of tickets that have been purchased, so only a very limited number will be available at the door.
Beer and wine will be available for purchase at the Fayetteville event, which will also include the annual Fayetteville Gumbo Cookoff. Bentonville's event is co-hosted by Bike Rack Brewing Co. and includes one beer from the brewery in the ticket price.
-- Jocelyn Murphy
NAN What's Up on 03/31/2019
Print Headline: Mudbugs Make A Comeback
Sponsor Content
Comments