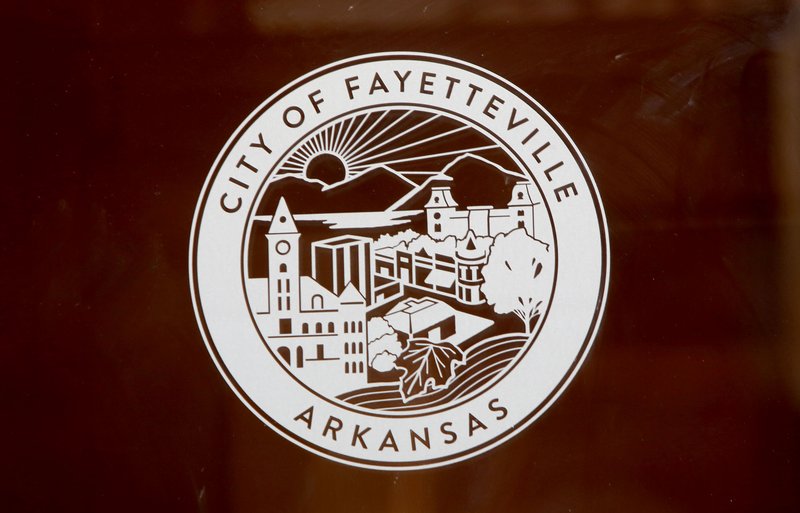 FILE PHOTO The city of Fayetteville logo is seen at City Hall on Feb. 14, 2017.
FAYETTEVILLE -- Expect a bill to raise state taxes on tobacco by about 80 cents a pack for cigarettes, the state Senate president told a community forum in Fayetteville on Friday.
Sen. Jim Hendren, R-Gravette, said he will file such a bill as early as next week, with proportionate increases on e-cigarettes and other tobacco products. The bill will contain tax relief provisions for lower-income Arkansans but will raise a net amount of about $100 million. State Medicaid costs and other taxpayer expense to deal with tobacco-related conditions cost about three times what the bill would raise, the senator said. The bill is intended to help pay some of those costs and he expects heavy opposition, Hendren said.
The proposed tax measure was among a variety of issues discussed at the 4 p.m. forum hosted by the Fayetteville Chamber of Commerce and held at the Fayetteville Public Library. At least 30 people attended and asked questions of the participating lawmakers: Hendren; Sen. Greg Leding, D-Fayetteville; Rep. Nicole Clowney, D-Fayetteville; and Rep. Megan Godfrey, D-Springdale.
At least two audience members asked Leding and Hendren to oppose any effort to censure Sen. Stephanie Flowers, D-Pine Bluff, who angrily berated Senate Bill 484 at a Senate Judiciary Committee on Wednesday. The bill, which would remove the requirement that someone retreat if possible before using deadly force if threatened, was defeated in committee by a narrow vote. Flowers cursed during her broadside against the bill and the motives behind it. Video of the harangue gained national social media attention.
Leding will not support any censure motion, he said. After the forum, he said the bill could still come back up for another vote and many of Flowers' new-found supporters apparently do not realize that, thinking Flowers stopped the bill. "Nothing is dead until we leave town," Leding said of the current legislative session.
Hendren as president of the Senate said he is talking with all senators involved including Flowers but does not yet know if demands for some kind of censure will result in a Senate vote. "I don't know, but right now we're talking and working through it," he said.
"This is why I went to the House [committee] and testified for the Martin Luther King holiday bill in the last session," Hendren said. That measure removed the state holiday celebrating Confederate general Robert E. Lee on the same day. "I have life experiences completely different from Sen. Flowers, and we all have to recognize differences like that."
Flowers feared for the life of young black men such as her son in her remarks Wednesday. "I understand I've never been concerned about my kid getting pulled over and shot," Hendren said.
In other issues, Godfrey drew applause from the crowd when she mentioned that her House Bill 1552, which allows children who grew up in Arkansas to receive a nursing license here even if their citizenship status is unresolved, gained approval of the House Public Health committee. The measure will come to a House vote soon, Godfrey said.
NW News on 03/09/2019
Print Headline: Tobacco tax bill expected
Sponsor Content
Comments