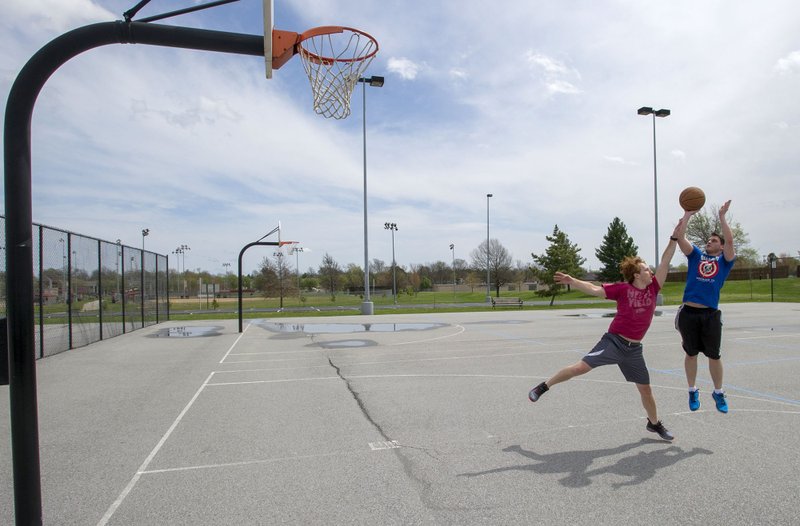 File Photo/NWA Democrat-Gazette/J.T. WAMPLER Zach Sjogren of Bella Vista (right) and Austin Walker of Rogers play some 1 on 1 basketball at Memorial Park in Bentonville in March 2017.
BENTONVILLE -- A public art project is designed to bring some color to Memorial Park's 16 basketball courts.
The project is a collaborative effort between the Parks and Recreation Department, Bentonville Public Schools' Ignite students and Runway NWA, a Bentonville-based group focused on community enrichment.
The district's Ignite program immerses high school students in a professional environment with support from a facilitating teacher and professional mentors.
Mike Abb, creative director at Runway NWA, presented an overview of the project at the Parks Advisory Board meeting Monday.
It will include painting decade-themed designs on each of the courts, he said while showing some other courts that have been painted.
Runway NWA has worked on other courts in the region, including the outside courts at The Jones Center in Springdale, those at Olive Street Park in Rogers and also at Jefferson Park in Fayetteville.
The group also worked with Ignite students to paint the skate park in Memorial Park about two years ago.
"We've learned a lot about the materials used to make this happen," Abb said, explaining a slip-resistant stain, rather than paint, is used.
The art should last between five and 10 years, officials said.
It'll likely have to be redone or a new design take its place when the court needs to be resealed, said David Wright, parks and recreation director.
The courts typically need to be sealed every 10 years. They were last sealed between three and five years ago, Wright said.
Courtney Carlson, board member, said she'd like to see some signs telling visitors students designed and implemented the project.
"I just think that's really neat," she said.
The board approved the project as a concept, which allows Abb and Ignite students to develop a design to present to the Public Art Committee for approval, Wright said.
That will allow the design to come before the Parks Advisory Board, which will then pass it along to the City Council for approval.
The schedule has work beginning on the courts in April and completed in May, according to meeting documents.
"We hope to build toward a nice launch event" with food, music, giveaways and maybe a friendly basketball game between Bentonville's two high schools, Abb said.
Lee Farmer, recreation services manager, also updated the board on the Bentonville Half Marathon, which will be March 30.
There are 2,337 participants registered, of which 2,073 are for the half marathon, 138 are for the 5K and 126 are for the half marathon relay where two people each run just more than 6 miles.
He said he expected registration numbers to near 3,000 before the event.
NW News on 03/05/2019
Print Headline: Public art to bounce to basketball courts
Sponsor Content
Comments