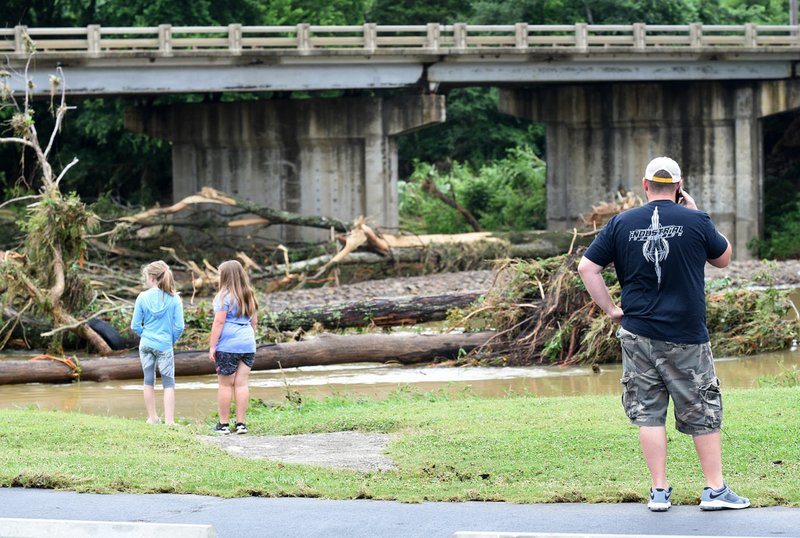 NWA Democrat-Gazette/DAVID GOTTSCHALK Washington County residents look Monday at debris washed into Riverside Park from the West Fork of the White River in West Fork. Heavy rain caused flooding in areas of Northwest Arkansas over the weekend.
FAYETTEVILLE -- Officials got to work Monday assessing damage and lingering issues from the weekend's storms and flooding.
The Washington Water Authority is asking its customers south of Farmington and Fayetteville to conserve water, according to a news release.
The request is for the area between Farmington and Prairie Grove, south of Prairie Grove; Hogeye; Strickler; Evansville; south, east and west of West Fork; and all customers in the Sunset and Winslow areas, according to the Washington Water Authority's website.
Flooding along the Illinois River washed out a water main, said Josh Moore, authority general manager. Crews were working Monday afternoon to create a temporary connection, according to Lauren Redfern at the authority.
The authority is asking customers to limit water use to human and animal consumption.
"We've been telling our customers the boil order is still effective and we're asking everyone to conserve water. I know they're still out there working on that," Redfern said Monday afternoon. "I know the boil order could last for several days if not longer, right now it's just a precautionary measure."
The National Weather Service in Tulsa, Okla., reported as much as 7 inches of rain fell in the southern parts of Washington County. Fayetteville's gauge recorded 4.6 inches from 1 a.m. Saturday to 1 a.m. Monday, said Karen Hatfield, meteorologist.
"There was a definite gradient from north to south across the county," she said. "Except for that very far southern part, most of the county saw 3-5 inches over the last couple of days."
Benton County weekend rain total varied, including 2.49 inches in Rogers and 1.87 inches in Decatur, according to the weather service.
The Washington County Sheriff's Office posted to its Facebook page about three dozen road and bridge closings Sunday. By Monday afternoon, the list was down to six.
Dye Creek Bridge in West Fork was damaged from flooding. Hidden Valley Road in Winslow south of Arkansas 74 and Strickler Road/Arkansas 220 south of Devil's Den were washed out. South Mally Wagnon and Snake Branch bridge near Fayetteville also were impassable. Jackson Highway at Lincoln Lake was closed.
Hazel Valley Road, south of Elkins, cracked open, leaving about an 8-foot drop into flowing water.
By Monday, most of the flooding had receded, with a few isolated issues in certain areas, said John Luther, county emergency manager.
"I'm just not getting very many bad reports, thankfully," he said. "We had a few water calls early because people were getting some water in their homes down in the Winslow area, but none of those turned out to be major rescue efforts."
Winslow Mayor Chuck Dwyer said the ballfield next to City Hall had significant damage. The concession stands, playground equipment, fences and parking lot all were destroyed, he said.
"Winslow's kind of the high point of Northwest Arkansas," Dwyer said. "All the rivers either run north to the White River or they run south to Lake Fort Smith. Where the ballpark is, is the headwaters of the West Fork of the White River."
There were six closed roads in Benton County as of late Monday afternoon, according to a post on the county's Twitter page.
The closings included Bill Young Road, Bill Billings Road, Fisher Ford Road, Old Prairie Creek Road, Butler Creek Road and Fuller Road.
Bill Young Road will be closed for the rest of week because of damage, said Jay Frasier, administrator who oversees the Benton County Road Department. The other closed roads should open soon, he said.
"We're just waiting for the water to go down so we can get in there and clean them up," Frasier said.
The Corps of Engineers opened the spillway gates at Beaver Lake just before noon Sunday, and all seven gates were open at 2 feet, 6 inches as of Monday afternoon. The lake was 9.8 feet above its normal pool of 1,121.43 feet. The level rose 2 feet in 24 hours, said Jay Woods with the corps office in Little Rock.
NW News on 06/25/2019
Print Headline: Flooding assessed throughout region
Sponsor Content
Comments