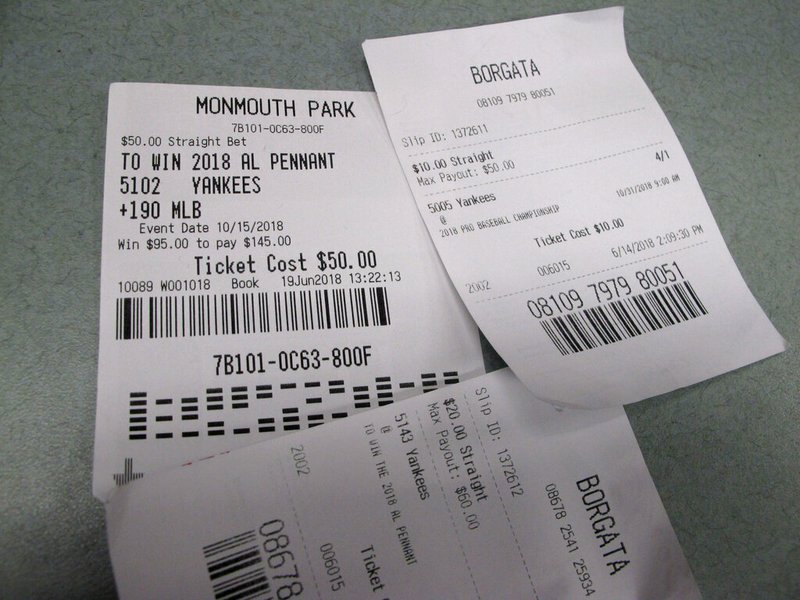 In this Oct, 12, 2018, photo, losing betting slips in Atlantic City, N.J. that had predicted the New York Yankees to either reach the World Series or win it. NBA and MLB executives staunchly believe their leagues deserve a cut of sports betting revenue. But their problem has been convincing anyone else in the sports betting world. (AP Photo/Wayne Parry, File)
ATLANTIC CITY, N.J. -- At least $9 billion has been bet -- legally -- on sports in the U.S. in the year since New Jersey's Supreme Court victory cleared the way for other states to do it.
Figures released Wednesday by the New Jersey Division of Gaming Enforcement show gamblers bet $319 million on sports in May.
New Jersey took its first sports bets last June. Since then, the state's casinos and racetracks have taken in $2.94 billion.
Together with Nevada, Delaware, Mississippi, West Virginia, Rhode Island, Pennsylvania, the total so far is $8.9 billion, not counting figures from those states for last month.
New Mexico allows sports bets under a tribal compact, but does not publicly report its betting statistics.
NW News on 06/13/2019
Print Headline: US sports bets hit $9 billion a year after court ruling
Sponsor Content
Comments