S'mores Ice Cream Photo by John Sykes Jr.
No one knows the name of the genius who first thought to combine a fire-roasted marshmallow, a chocolate bar and a graham cracker.
But we sure are grateful.
The combination of marshmallow, graham cracker and chocolate — think Moon Pies, scooter pies, Mallomars — has been an American staple for at least 100 years, according to food historians at foodtimeline.org.
S'mores, popularized by the Girl Scouts of America, take the combo to the next level with the introduction of fire.
Skewering a marshmallow onto the tip of a stick (or straightened wire coat hanger as was the method in my family) and slowly rotating it over a fire to achieve the perfect crust without creating a sugar inferno that blackens to an inedible blob is practically a rite of passage for American kids.
Early recipes for S'mores called the treat Some More or Some Mores and appeared in Girl Scouts of America recipe booklets as early as 1927.
The classic recipe remains the same today:
Some More
8 sticks [for toasting the marshmallows]
16 graham crackers
8 bars plain chocolate
16 marshmallows
Toast two marshmallows over the coals to a crisp gooey state and then put them inside a graham cracker and chocolate bar sandwich. The heat of the marshmallow between the halves of chocolate bar will melt the chocolate a bit. Though it tastes like "some more" one is really enough.
Recipe from Tramping and Trailing with the Girl Scouts [Girl Scouts, Inc: New York City] 1927 via Foodtimeline.org
But there's more than one way to enjoy the gooey deliciousness of s'mores. The following take the classic flavors, deconstruct them and turn them into something new, yet familiar. Campfire optional.
This recipe has all of the flavors of s'mores — even the toasted marshmallow — in a scoop.
S'mores Ice Cream
2 cups miniature marshmallows
½ gallon vanilla ice cream, softened (we like Blue Bell Natural Vanilla Bean)
Fudge sauce, chilled (recipe follows)
1 ½ cups lightly crushed chocolate covered graham cracker cookies such as Keebler Deluxe Grahams
Heat broiler.
Line a rimmed baking sheet with parchment paper. Scatter the mini marshmallows over the parchment. Broil 1 to 2 minutes, watching carefully and rotating pan as necessary, or until marshmallows are light golden brown. Set aside to cool.
Line a large loaf pan with parchment paper. Spoon a third of the ice cream into the bottom of the pan. Top ice cream with a generous drizzle of fudge sauce, half of the crushed cookies and half of the marshmallows — you will have to scrape the marshmallows from the parchment using a metal spatula; it will be sticky! Repeat layers. Top with the remaining ice cream and another drizzle of fudge sauce. You will likely have some fudge sauce left over. You may have a cup or so of ice cream left over depending on the size of your loaf pan. Press a piece of parchment paper to the surface and freeze until solid, 3 to 4 hours.
Makes ½ gallon.
Fudge Sauce
½ cup granulated sugar
⅓ cup corn syrup
6 tablespoons unsweetened cocoa powder
Salt
½ teaspoon vanilla extract
In a heavy saucepan, combine the sugar, corn syrup, cocoa powder, a pinch of salt and ½ cup water. Stirring constantly, bring mixture to a boil; simmer, stirring, for 1 minute. Remove from heat and stir in the vanilla extract. Let cool slightly, then transfer sauce to a bowl or squeeze bottle and refrigerate until well chilled.
Makes about 1 ½ cups.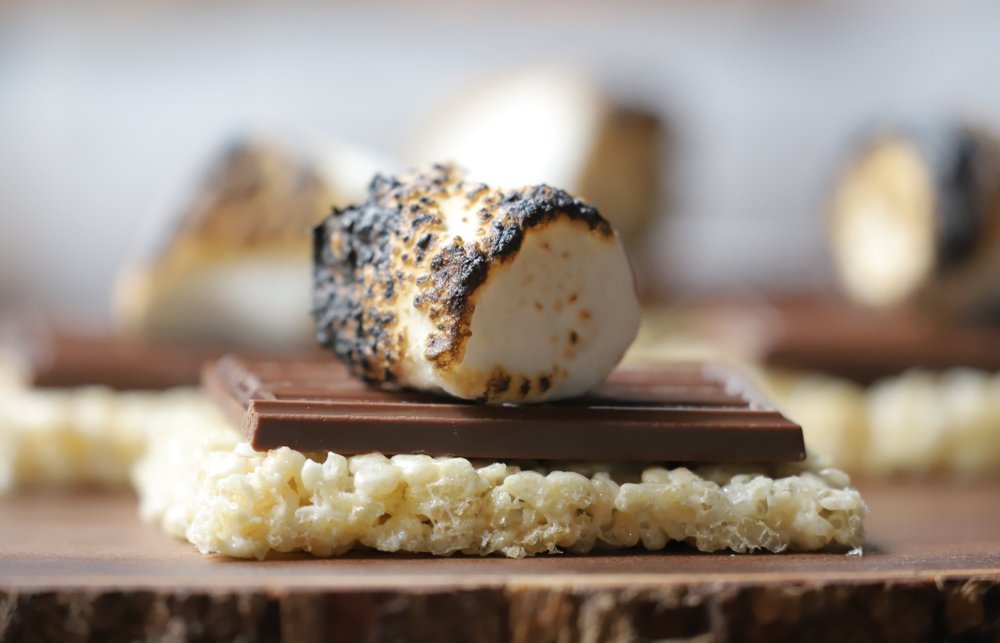 Crisped Rice S'mores Photo by John Sykes Jr.
Here rice crispy squares stand in for the graham crackers, making these a gluten-free option everyone can enjoy.
Crisped Rice S'mores
2 tablespoons butter, plus more for coating
32 regular marshmallows, divided use
3 cups crisped rice cereal
6 (1.55-ounce) milk chocolate bars, each broken in half to create a square
Line the bottom of a 9-by-13-by-1-inch pan with parchment paper. Generously coat paper with butter; set aside.
In a medium saucepan, melt the butter over medium heat. Stir in 20 of the marshmallows; cook, stirring constantly, until marshmallows are melted and mixture is smooth. Stir in cereal and mix until thoroughly coated. Turn mixture out onto the prepared pan. Generously butter your hands and press mixture into an even layer in the pan.
Arrange chocolate bars in a single layer over the crisped rice.
Using a skewer, toast the 12 remaining marshmallows to desired stage of charred gooey. Top each square of chocolate with a toasted marshmallow.
Serve immediately.
Makes 12 servings.
Recipe inspired by S'mores: Gooey, Melty, Crunchy Riffs on the Campfire Classic by Dan Whalen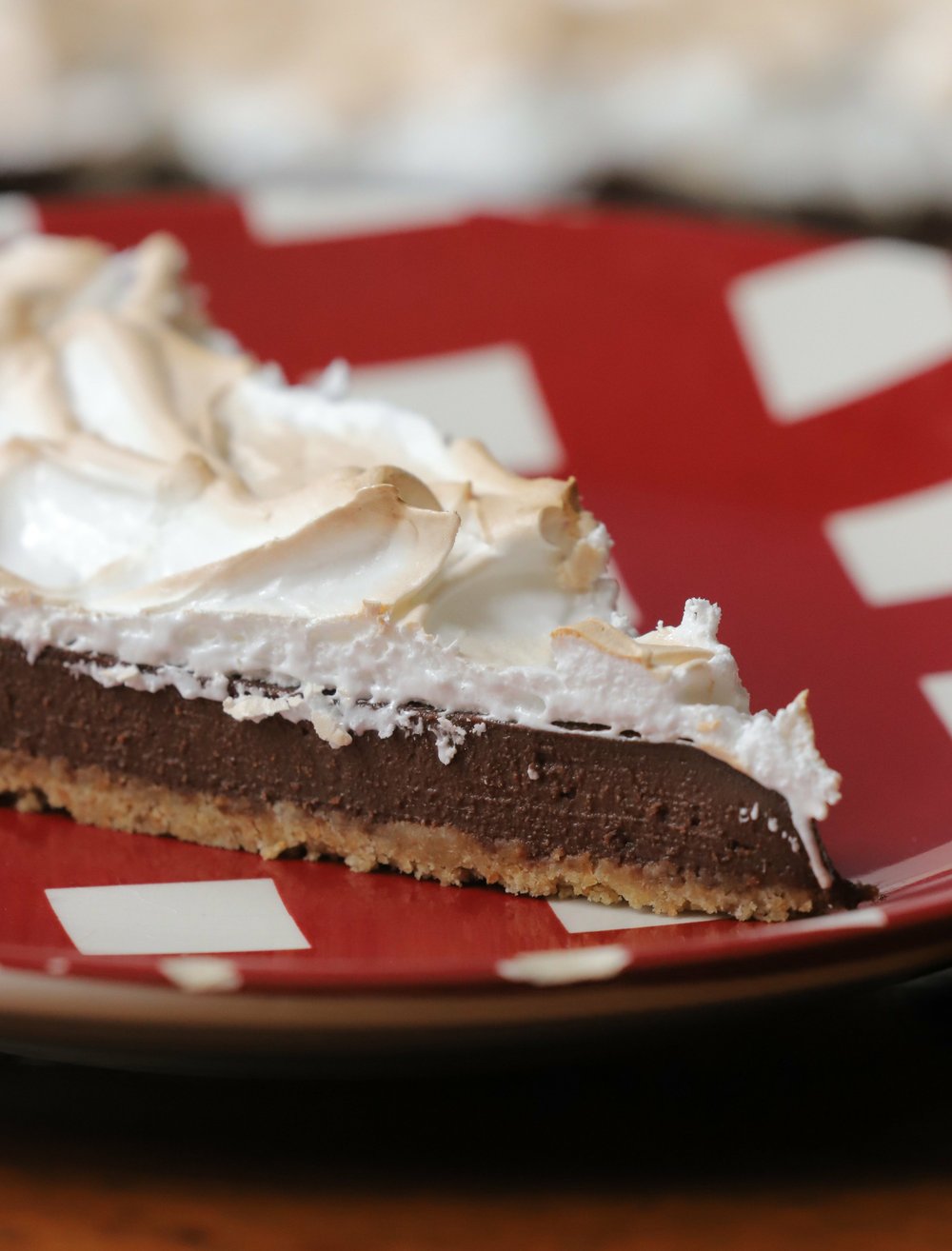 S'mores Tart Photo by John Sykes Jr.
This sophisticated twist on the classic combines a rich, dark chocolate ganache with a graham cracker crust and toasted meringue.
S'mores Tart
Crust:
9 whole graham crackers (one third of a 14.4-ounce box)
4 tablespoons butter, melted
Filling:
1 ¼ cups heavy cream
2 teaspoons espresso powder dissolved in 2 tablespoons hot water
Pinch salt
12 ounces finely chopped milk, semisweet or bittersweet chocolate (60% cacao or less)
2 tablespoons butter, softened
Meringue:
2 egg whites
¼ teaspoon cream of tartar
½ cup superfine sugar (see note)
In a food processor, pulse graham crackers to fine crumbs.
In a medium bowl, stir together the graham cracker crumbs and melted butter until crumbs are evenly moistened. Press mixture in an even layer in a 10-inch tart pan or a 9-inch pie plate. Refrigerate until firm, 30 minutes to 1 hour.
For the filling: In a small saucepan over medium low heat, or in the microwave dish, heat the cream until steaming.
Meanwhile, combine the chocolate and butter in a medium bowl.
Pour the hot cream and dissolved espresso over the chocolate and butter; add a pinch of salt and stir until chocolate is melted and smooth. Pour mixture over the chilled crust. Chill until filling is set, at least 1 hour.
Heat broiler or have ready a kitchen torch.
In a large bowl, beat egg whites with an electric mixer until frothy; add cream of tartar and continue beating until foamy. Gradually add the sugar, 1 tablespoon at a time, beating for 1 minute between each addition. Beat until mixture is glossy and forms stiff peaks. Spoon meringue over chilled filling, using the back of a spoon or an offset spatula to swirl meringue into decorative peaks. Using a kitchen torch or broiler, toast meringue until lightly browned, about 1 to 2 minutes under a broiler. If toasting meringue under the broiler, return the tart to the refrigerator for about 30 minutes before serving.
Makes 8 to 12 servings.
Note: If you don't have superfine sugar, make your own by whirling granulated sugar in a blender or food processor.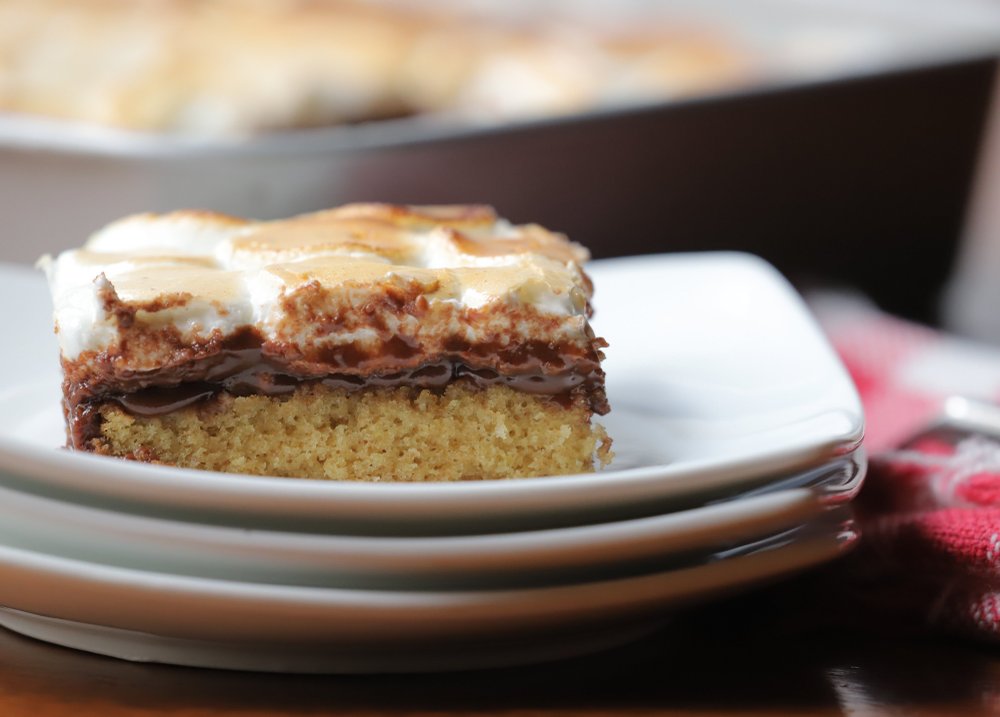 S'mores Cake Photo by John Sykes Jr.
Here graham cracker-flavored cake is topped with fudgy frosting and toasted marshmallows for a ridiculously sweet treat ideal for a potluck or other gathering.
S'mores Cake
Graham Cracker Cake:
½ cup all-purpose flour
9 whole graham crackers, finely crushed (one third of a 14.4-ounce box)
2 ½ teaspoons baking powder
½ cup salted butter, softened
¾ cup granulated sugar
2 eggs
1 teaspoon vanilla extract
¾ cup milk
Frosting and topping:
½ cup butter
¼ cup milk
4 tablespoons cocoa
2 to 3 cups confectioners' sugar
1 teaspoon vanilla extract
35 to 40 regular size marshmallows
Heat oven to 350 degrees. Coat a 9-by-13-inch pan with baking spray or coat with butter and then dust lightly with flour; set aside.
In a bowl, whisk together the flour, graham cracker crumbs, and baking powder; set aside.
In a mixing bowl, using an electric mixer, cream butter and sugar until pale and fluffy. Add the eggs, one at a time, beating between each addition. Beat in the vanilla.
Alternating between each addition, add the flour mixture and the milk a little bit at a time. Mix just until combined.
Pour batter into the prepared pan; shaking or tapping pan on counter to spread batter evenly. Bake 25 minutes or until golden brown, rotating pan halfway through.
For the frosting:
In a saucepan, combine butter, milk and cocoa; heat to boiling, stirring constantly. Remove from heat and stir in confectioners' sugar and vanilla. Mix until smooth. Immediately spread over cake.
Heat broiler or have ready a kitchen torch.
Using oiled scissors, cut each marshmallow in half and arrange them, cut side up, in a single layer over the frosting.
Place cake under broiler, or use a kitchen torch, to toast marshmallows. Our cake took about 1 ½ minutes, rotating every 30 seconds.
Makes about 16 to 24 servings.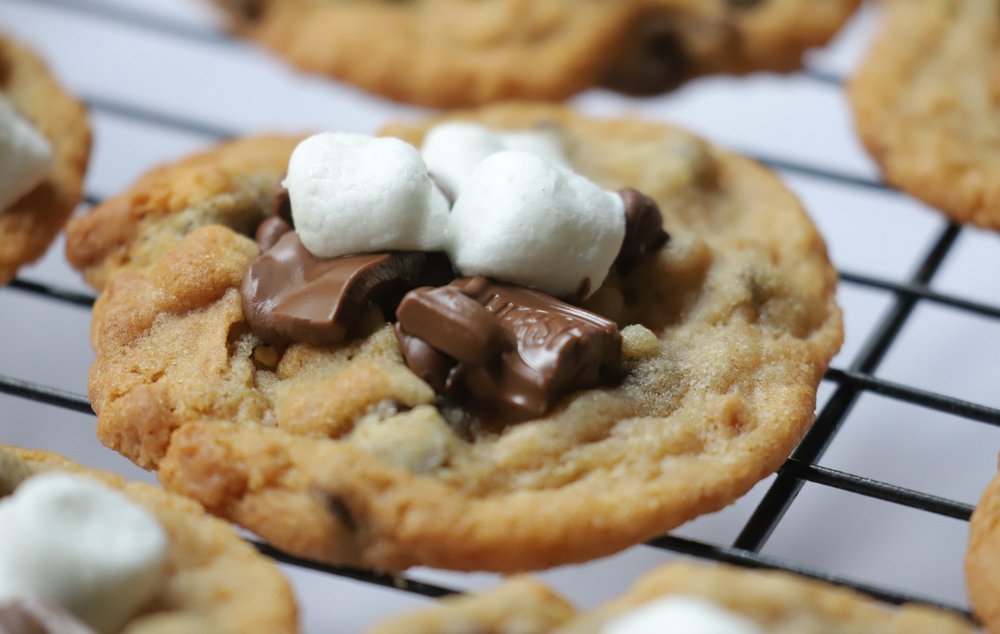 S'mores Cookies Photo by John Sykes Jr.
Part chocolate chip cookie, part s'more. What's not to love?
S'mores Cookies
1 ½ cups all-purpose flour
9 whole graham crackers (one third of a 14.4-ounce box), coarsely crushed
¼ teaspoon baking powder
½ teaspoon baking soda
½ teaspoon salt
1 cup butter or shortening
¾ cup lightly packed light brown sugar
¾ cup granulated sugar
1 teaspoon vanilla extract
2 eggs
1 heaping cup chocolate chips, plus more for topping cookies
About 2 cups mini marshmallows
8 (1.55-ounce) chocolate bars, broken into small pieces
Heat oven to 350 degrees. Line several cookie sheets with parchment paper.
Stir together the flour, crushed graham crackers, baking powder, baking soda and salt; set aside.
In a large bowl, beat butter or shortening and sugars with an electric mixer until light and fluffy. Add vanilla and eggs and beat well. Add the flour mixture and beat on low speed to combine. Stir in chocolate chips.
Drop dough by generous tablespoons spaced about 3 inches apart onto the prepared baking sheets. Bake 8 minutes, remove cookies from oven, top each cookie with about 3 marshmallows and 3 pieces of chocolate. Return baking sheet to oven and bake 2 to 3 minutes more.
Cool cookies on baking sheets for about 10 minutes, then transfer cookies to wire racks to cool completely.
Makes about 32 cookies.
Recipe adapted from Sweet Paul Magazine
Food on 06/12/2019
Print Headline: More, more, more!
Sponsor Content
Comments