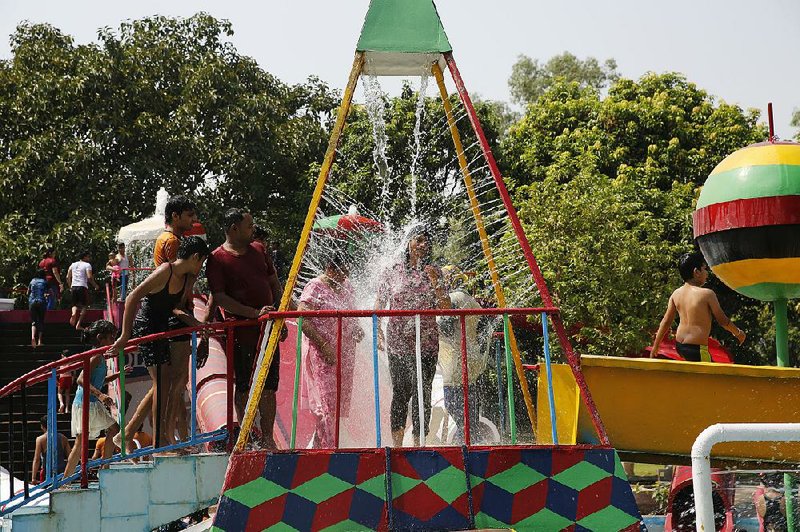 People cool off at a water park Monday on a hot summer day in Lucknow, India.
Iran announces release of U.S. prisoner
TEHRAN, Iran -- A U.S. permanent resident held for years in Iran after his conviction on disputed spying charges "will be released in the coming hours," Iranian state television reported Monday.
Nizar Zakka, a Lebanese-born Internet freedom advocate, is one of several prisoners with either dual nationality or links to the West held in Iran.
The report Monday on state TV's website mirrored a report earlier carried by the semi-official Fars news agency about Zakka, who was arrested in September 2015 while trying to fly out of Tehran. He had just attended a conference there at the invitation of one of the country's vice presidents.
In 2016, Iran sentenced Zakka to 10 years in prison. Authorities accused him of being an American spy, allegations vigorously rejected by his family and associates. Zakka, who lives in Washington and holds resident status in the U.S., leads the Arab ICT Organization, or IJMA3, an industry consortium from 13 countries that advocates for information technology in the region.
Zakka's IJMA3 organization had received at least $730,000 in contracts and grants since 2009 from both the State Department and USAID, the lead American government agency fighting poverty and promoting democracy across the world.
New Zealand withdraws troops in Iraq
WELLINGTON, New Zealand -- New Zealand announced Monday that it will withdraw all of its troops from Iraq by next June.
New Zealand has a small contingent of 95 so-called noncombat personnel deployed at the Taji Military Complex northwest of Baghdad, where they are tasked with training Iraqi security forces.
The training mission is a joint operation with Australia, which has about 300 troops stationed at Taji. Australia had not made any formal announcements about its plans by Monday afternoon.
New Zealand Prime Minister Jacinda Ardern said it would reduce the number of troops to 75 by July and then to 45 by January before they were all withdrawn. She said the troops had made a big contribution at Taji, where more than 40,000 Iraqi security forces had been trained since New Zealand's deployment began in 2015.
"When it comes to Iraq, it's time to go," Ardern said.
India convicts 3 in rape, murder of girl
SRINAGAR, India -- A court on Monday sentenced three Hindu men, including a police officer, to life imprisonment for kidnapping, raping and murdering an 8-year-old Muslim girl in Indian-controlled Kashmir, in a case that has exacerbated tensions in the disputed region.
Judge Tejwinder Singh sentenced three other policemen to five years in prison for destroying evidence, prosecutor Santokh Singh told reporters. The judge acquitted another defendant, citing insufficient evidence.
An eighth suspect, a minor, will be tried separately by a juvenile court, Santokh Singh said.
The girl, who was a member of a nomadic tribe, was grazing her family's ponies in the forests of the Himalayan foothills when she was kidnapped in January 2018. Her mutilated body was found in the woods a week later. The prosecution said the girl was raped in a small village temple in Kathua district after having been kept sedated for four days, and was then bludgeoned to death.
The case sparked protests across Kashmir, a Muslim-majority region where rebels have been fighting for years for independence or unification with Pakistan and there is great distrust of the government.
Pakistan ex-president held in graft case
ISLAMABAD -- Pakistan's anti-graft body on Monday arrested former President Asif Ali Zardari, widower of assassinated ex-Premier Benazir Bhutto, in a multimillion dollar money laundering case that has shaken the country.
The development came hours after a court in Islamabad rejected a request by Zardari and his sister Faryal Talpur for an extension of their bail that would have allowed them to remain free pending trial in the case.
The court's decision paved the way for the National Accountability Bureau to arrest the two. However, the anti-graft body did not arrest Zardari's sister; no explanation was given.
Zardari, a lawmaker in the lower house of Parliament, and his sister, also a politician, have been accused of having dozens of bogus bank accounts. Earlier on Monday, the two attended the court hearing amid tight security where their bail extensions were denied.
Zardari has previously been jailed for eight years after being found guilty of corruption.
In recent weeks, Zardari's party had accused Prime Minister Imran Khan's government of intentionally targeting political opponents.
Zardari became president in 2008 and served for five years after Pakistan's former military dictator Pervez Musharraf was forced to resign.
--COMPILED BY DEMOCRAT-GAZETTE STAFF FROM WIRE REPORTS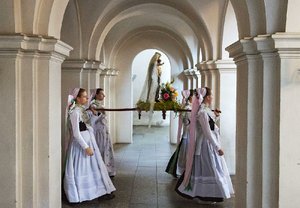 Photo by AP/JENS MEYER
Women carry a statue of the Virgin Mary during a procession in Rosenthal, Germany, to mark White Monday, the day after Pentecost. The town's Catholic Sorbs, a Slavic minority, traditionally end their procession by celebrating an open-air Mass.
A Section on 06/11/2019
Print Headline: 2-18-1 Iran announces release of U.S. prisoner New Zealand withdraws troops in Iraq India convicts 3 in rape, murder of girl Pakistan ex-president held in graft case
Sponsor Content
Comments