When a church internship fell through in January 1981, Tony Hilliard was crushed, in every sense of the word.
Tony, then a member of Lakeside United Methodist Church in Pine Bluff, had been singing in the choir loft when he first saw his future wife, Mary, seated in a pew in the back of the sanctuary.
The first time I saw my future spouse:
She says: "I realized he was the crazy guy my friend John told me about. John and I had classes together at SMU and he was the intern before I was to be the intern and he and Tony had become friends."
He says: "I thought, 'She's the one.'"
On our wedding day:
She says: "Once I got to the church I was calm. This was the man that God had given me and I was all good with that."
He says: "One of my groomsmen lived in Washington, D.C., and he had flown down there for the bachelor party. He thought we were getting married on Saturday; we were getting married on Sunday afternoon. So on Sunday morning, I was up getting ready for the wedding and we had to get him to the airport so he could fly home."
My advice for a long happy marriage:
She says: "You have to know when to give each other some reflective space, whether it's to cool down, calm down or reflect. You can either let emotions rule or you can let common sense rule."
He says: "Don't sweat the small stuff. And just about everything is small stuff. Try to make sure to keep your mind on what's important."
"I remember thinking to myself, 'She's the one.' I just was in love with her. Now, I did stop and say a prayer. I said, 'Oh, God, if she's the one you want me to marry, your will be done. But please, God, please -- not a preacher, anything but that,'" says Tony, the son of a Methodist minister.
Mary was there to meet the congregation that day, ahead of starting an internship as a requirement for her seminary degree.
After the service, Tony invited her to join the church's singles group for lunch, and she happily accepted.
He was devastated to learn after her trip that the senior pastor who was to oversee her internship was being appointed to a church in Texas and the incoming one wouldn't take on an intern. Instead of moving to Pine Bluff, Mary returned to Southern Methodist University Perkins School of Theology in Dallas.
Tony had said if she was ever back in Arkansas to give him a call, and as she headed home to Camden for spring break, she did.
"I was kind of bold and I looked him up and we went out to eat," she says.
On their second date they went to a disco place in Little Rock and on their third they canoed on Cadron Creek.
"I had never been canoeing before, and he wasn't going to be interested in somebody who didn't like to canoe," she says. "And I wasn't going to be interested in someone who didn't like to fish."
That summer, Mary was hired as youth minister at First Methodist Church in Pine Bluff.
As Mary and Tony got to know each other they realized they were both in the All State Choir in 1973, although they don't remember seeing each other.
That Christmas, Mary's father was hospitalized and she was sad that the family wouldn't be together for the holiday. On Christmas Eve, she requested that Tony say anything that would make her happy. He asked if she would be his wife.
They exchanged their vows June 6, 1982, in the First United Methodist Church in Camden.
In 1983, Mary commuted from Pine Bluff to Dallas to finish her master's degree at SMU. Tony got her a CB radio, so she could summon help if her car broke down.
"I got to know these truckers," says Mary, aka Preacher Lady. "I started just talking about what I knew and kind of preaching to them. I believe I converted one or two."
Mary had to wait two and a half years after she finished her degree for a senior pastor to hire a female associate pastor.
"They always wanted a male. I felt like a doctor without a practice. I had all my credentials but I had just been waiting and waiting, so we just started our family and had both of our daughters in that time," she says.
She had a baby on each hip when she answered a call about an interim position serving three churches around Junction City, each 30 minutes from El Dorado, where she and Tony were living at the time.
Tony had wanted to go to law school after graduating from Hendrix College in Conway but opted to take the CPA exam instead of the LSAT so he could start working immediately. He had also witnessed Mary's struggles as a female in a male-dominated career field. After he called the bluff of a bishop who thought Mary's career should take a backseat to his, telling that man that if a post opened for Mary in central Arkansas to let them know, Tony applied to law school.
Mary pastored a church in England, supporting the family while Tony finished his juris doctor. He is a partner with Ramsay, Bridgforth, Robinson and Raley LLP in Pine Bluff.
Mary is preparing to retire as senior pastor at Asbury United Methodist Church. A reception in her honor is scheduled for 9:30 a.m. today at the church.
It wasn't until she arrived at Asbury that Mary discovered her grandfather once pastored that same church. She and Tony later learned his grandparents were members of the church then, and that it's likely Mary's grandfather baptized Tony's father in 1928.
"It's really interesting to us how these stories intertwine," Mary says.
Mary and Tony have two daughters, Katie Tacito and Kara Willis, both of Fayetteville. They also have two grandchildren.
The Scripture Mary and Tony chose for their wedding ceremony was 1 Corinthians 11.
"It was kind of our way of saying God brought us together equally, fully, and that's what our marriage covenant will be, equal and fully," she says. "That's how 37 years of marriage have worked, just being there for each other, loving each other through whatever and just being unified."
If you have an interesting how-we-met story or if you know someone who does, please call (501) 425-7228 or email: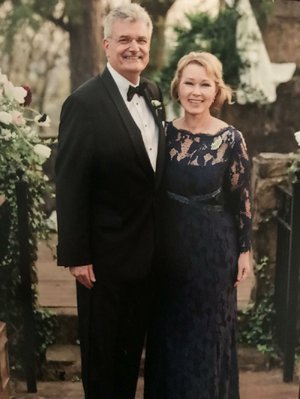 Photo by Special to the Democrat-Gazette
Tony and Mary Hilliard just celebrated their 37th wedding anniversary. "I knew from the beginning that she was the one," he says.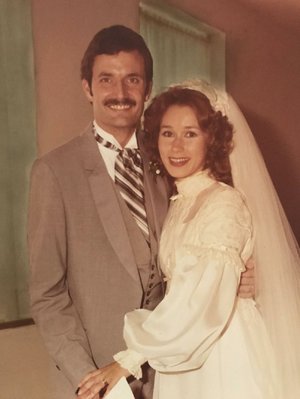 Photo by Special to the Democrat-Gazette
Tony and Mary Hilliard were married on June 6, 1982. "God has always brought us together," says Mary, who is retiring as senior pastor at Asbury United Methodist Church in Little Rock. "We're a ministry team. God's hand is in all of this and it's just been almost miraculous. It's been wonderful."
High Profile on 06/09/2019
Print Headline: She was the minister and the answer to his prayer
Sponsor Content
Comments