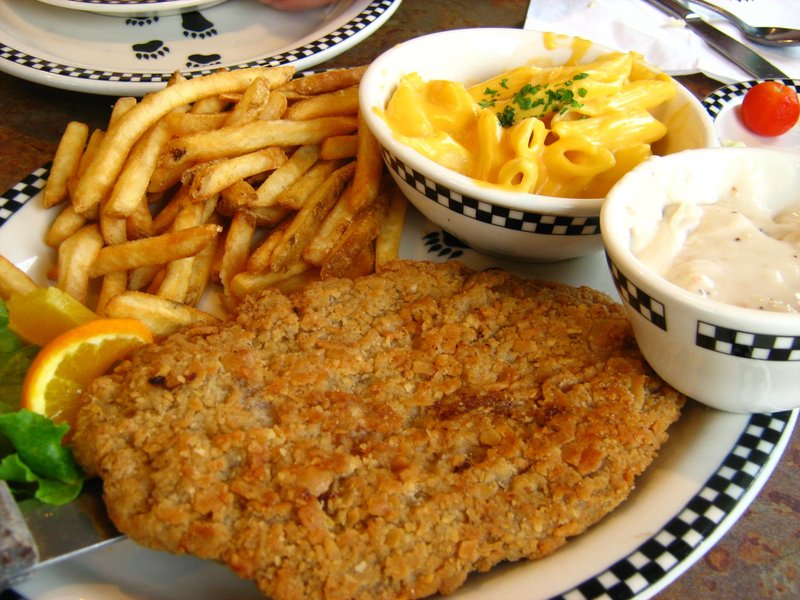 The Bigfoot Chicken Fried Steak Full-Course Dinner comes with two sides, soup or salad and a corn muffin. Arkansas Democrat-Gazette/Rosemary Boggs
There was much wailing and gnashing of teeth at the news that Dixie Cafe was closing. And that was just my family.
The building in Lakewood Village sat empty for a while, but with the expectation that something would eventually fill that space.
Black Bear Diner
Address: 2724 Lakewood Village Drive, North Little Rock
Hours: 6 a.m.-10 p.m. daily
Cuisine: American comfort food
Alcohol: No
Carryout: Yes
Wheelchair accessible: Yes
Credit cards: V, MC, D, AE
Phone: (501) 812-0393
BlackBearDiner.com
After a few months a sign promised that a restaurant named Black Bear Diner was coming. The first thrill came when we went to the company website and saw that they serve breakfast all day — one check in the positive column.
The menu, with comfort food offerings so familiar in the South, was another positive.
Black Bear Diner is a chain with locations mostly in the West, the first opening in Mount Shasta, Calif., in 1995. There are now locations in Oregon, Arizona, Utah, Washington state, Idaho, Nevada, Texas and Oklahoma.
We had no trouble finding a parking space and pretty much sailed in the door on a late weekday afternoon visit. Upon discovering a 45-minute wait on a Saturday afternoon, we went elsewhere.
The former Dixie Cafe building hasn't changed much on the outside, except for the family of carved wooden bears out front. They're cute and welcoming and set the tone for what we would see inside, including a single bear standing sentinel in the foyer holding a chalk board with the inscription, "Don't feed the bears." The trim and door handles are made of what looks like carved wood. It may not be real, but it looks authentic. The place is now more open and airy, with an outdoor vibe. It wouldn't be out of place in Yellowstone Park — there are carved bears everywhere. The kitchen, now open, looks like a true diner kitchen.
To the left of the interior door are shelves with merchandise including honey, hot sauces, bear-feet house shoes and bear-paw retractable back scratchers, and a dessert display case. The relaxing and comfortable dining area has an abundant selection of tables and booths. The main color scheme is green and brown with tan accents.
Black Bear's menu, titled The Black Bear Gazette, is done up like a newspaper, laid out in readable fonts with a pleasant layout and design and interesting tidbits diners can read while they wait for their food and drinks. The two inside pages and the back are the breakfast, lunch and dinner menus.
As we planned to share several things, we were drawn to the Bigfoot Chicken Fried Steak ($14.99), a "Full-Course Dinner" that comes with soup or salad, a corn muffin, two sides, gravy and a breaded, deep-fried slab of meat probably not quite as big as a Bigfoot's foot, but close. We chose fries and macaroni and cheese for the sides.
The salad, which came out first with the corn muffin, is basic iceberg with some cabbage and tomatoes. The honey-mustard dressing was tart and sweet. The corn muffin was large, sweet and flaky. The fries were, or they looked to be, hand-cut and fried just right. I was pleasantly surprised by the pasta dish, not quite "Mac" and cheese— the pasta is large and tubular, similar to ziti, thicker and more toothsome than elbow macaroni, in a mild creamy cheese sauce that surprisingly coated the outside and inside of the pasta. It was a real comfort food.
The thin chicken-fried steak was beef breaded with what seemed to be cracker crumbs. It was fried crisp and brown and the meat was tender, with no gristle or fat, and well seasoned. Although we had asked for the gravy on the side so the breading did not get soggy, the kitchen put gravy on it. Our friendly server insisted on taking the plate back and getting the order correct. It didn't take long, either. The white peppered gravy was a nice sidekick for the steak.
Gallery: Black Bear Diner
My mother is a pancake lover so she chose the Bear's Choice from the Pancakes, Waffles & French Toast section. For $9.99 she got two fried eggs (over medium), two pancakes and two slices of bacon. The menu says "thick cut" but I'm not sold on that. The eggs were perfectly done with a firm white and runny yolk. The pancakes were large, tender and slightly sweet and sprinkled with a light dusting of powdered sugar, with a little container of warm syrup on the side. Somehow that just kicked it up a notch. It went perfectly, she said, with a small milk ($2.49).
My son and I wanted just a hint of breakfast, so we chose the biscuit and gravy ($7.49) from the menu's "A Little Less" section. It comes with sausage or bacon, but we were allowed to substitute ham. It was impressive: Two biscuits, bigger than any I've ever seen, topped with a white peppered gravy. They were tender and moist. The thick ham slice was a bit salty but had a nice smoky flavor.
Sounds like a lot of food. And it is. We ended up with several to-go boxes. Our reuben sandwich and side order of sweet potato fries ($10.99) came in a vented plastic container, which helps keep the food from getting soggy. The sandwich is the traditional version with corned beef on rye with Swiss cheese, sauerkraut and Thousand Island dressing. The kraut was tangy, the meat tender, the bread toasted, and the dressing had a hint of sweetness. It just seemed "authentic." The fries where thick-cut but not crisp. They were lightly breaded and the inside was creamy with a hint of sweetness.
Intriguing for a later visit: the Carving Station dinners, with beef or turkey carved fresh to order, available after 4 p.m. Also after-4 specials: an all-you-can-eat fish dinner ($11.99) on Friday and prime rib (check with your server for pricing) Friday and Saturday.
Weekend on 06/06/2019
Print Headline: RESTAURANT REVIEW: Black Bear Diner is big on servings
Sponsor Content
Comments