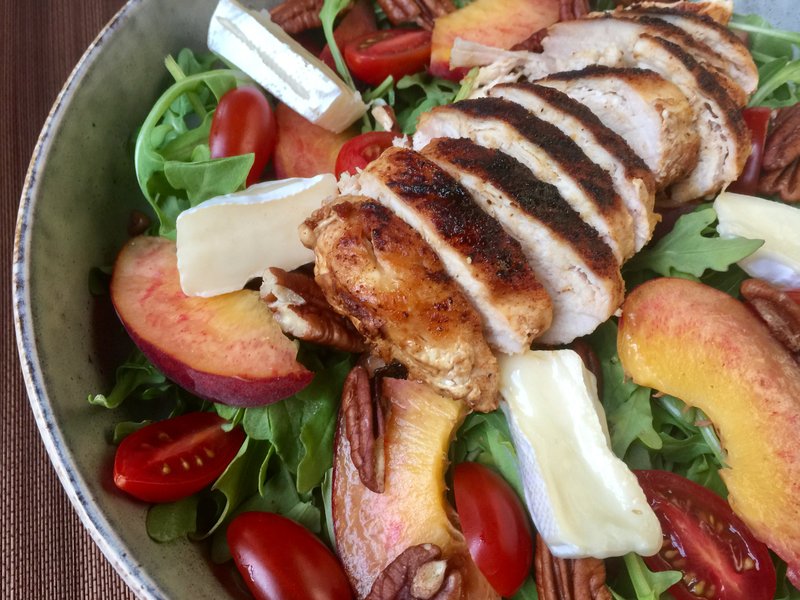 Summer Peach and Tomato Salad With Chicken and Pecans Photo by Kelly Brant
This salad contains some of my favorite pairings:
Peaches and chicken
Peaches and pecans
Peaches and tomatoes
Peaches and brie
Did I mention it stars peaches?
It is perfect for summer and as summer produce — I'm looking at you, peaches and tomatoes — really come into season, it'll only get better.
I used arugula as a base, but any salad greens will do.
I whisked together a honey and white balsamic vinaigrette, but any dressing you really like will do. You could even put ranch on it. I won't judge.
Fresh mozzarella or burrata would be excellent.
Did I mention it's versatile?
I've written the recipe to make four servings, but it can easily be adapted for one or two or multiplied for a crowd: just use 1 small chicken breast, 1 peach, a handful of cherry tomatoes, a handful of pecans, an ounce of brie and about 2 cups of salad greens per serving.
Summer Peach and Tomato Salad With Chicken and Pecans
1 pound boneless, skinless chicken breasts
Salt and ground black pepper
Garlic powder, to taste
Paprika, to taste
1 tablespoon vegetable oil
8 cups arugula, baby spinach or other salad greens
4 small peaches, pitted and thinly sliced
1 cup cherry or grape tomatoes, halved
1 cup pecan halves
4 ounces brie, sliced
4 tablespoons olive oil
2 tablespoons white balsamic vinegar
1 tablespoon honey
½ to 1 teaspoon Dijon-style mustard
Season chicken to taste with salt, pepper, garlic powder and paprika.
Heat the oil in a large skillet or grill pan. Add chicken breasts and cook 5 minutes on each side or until internal temperature reaches 165 degrees. Remove chicken to a cutting board to rest while you prepare the rest of the salad.
Divide arugula or other salad greens among 4 salad plates. Top greens with sliced peaches, tomatoes, pecans and brie.
Thinly slice each chicken breast and lay the pieces over the salad in each bowl.
In a blender or mini food processor, combine 2 tablespoons water, the olive oil, balsamic vinegar, honey, mustard and a generous pinch of salt and pepper. Blend until smooth. Taste and adjust flavors as needed.
Drizzle each salad with 2 tablespoons of the dressing, passing any remaining dressing at the table.
Makes 4 servings.
Food on 06/05/2019
Print Headline: Peaches get star billing on the plate
Sponsor Content
Comments