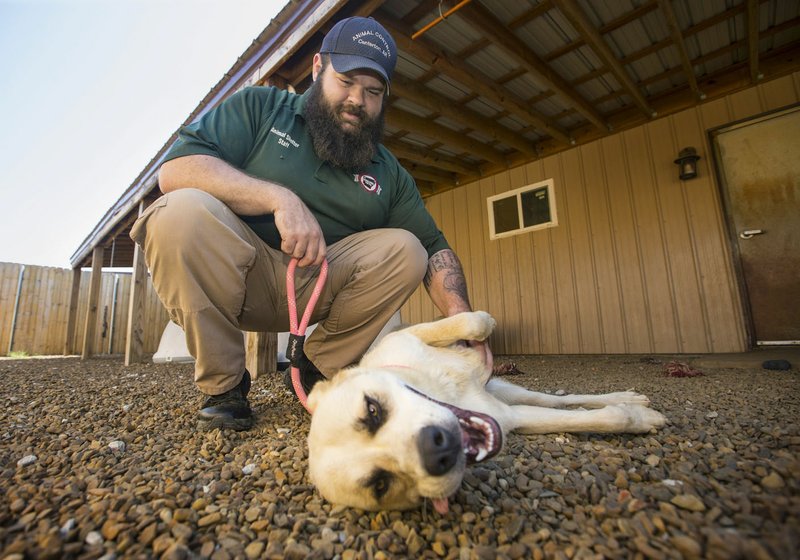 NWA Democrat-Gazette/BEN GOFF @NWABENGOFF Kelton Knipmeyer, kennel technician with Centerton City Animal Control, gives Willie, a dog up for adoption, a belly rub Friday at the Centerton Animal Shelter. Bentonville animal control currently takes dogs to the Centerton facility.
BENTONVILLE -- Plans for an animal shelter are at a standstill after the mayor said the city shouldn't pursue an agreement with a third party to operate it.
The City Council in April voted to support a public-private model for the shelter.
Area shelter
Fayetteville, Springdale and Rogers own and operate their own animal shelters.
Source: Staff report
"When the staff was challenged to get the operational agreement, there were some roadblocks that were brought to my attention," Mayor Stephanie Orman said at Monday's Pet Resource and Services Steering Committee meeting. "A lot of those have to do with lawsuits that are out there with private entities, and how would the city protect itself in those instances?"
Bentonville is the only one of Northwest Arkansas' four largest cities without an animal shelter. Some of the smaller towns have shelters as well. Bentonville takes stray dogs to the Centerton shelter.
The Pet Resource and Services Steering Committee spent more than a year working on plans for a shelter in Bentonville and proposed Best Friends Animal Society, a national nonprofit organization, operate the shelter.
Orman mentioned lawsuits against Best Friends involving dog bites.
Brent Toellner, senior director of national programs for Best Friends, said he wasn't at liberty to comment on ongoing lawsuits.
The Arkansas Municipal League advised Orman not to partner with a third party and instead have a city-owned and operated shelter, she said. Her next step is to continue to work with the committee, she said.
"It's really frustrating that they already voted on doing this and are now backtracking and actually regressing," said Emily Enslow, a Centerton resident who regularly fosters stray animals.
Enlsow referred to the City Council's previous vote to move forward with a private ownership model.
The committee wants a building estimated to cost about $8 million to $10 million to construct, committee and City Council member Tim Robinson said. The Walton Family Foundation paid for a study assessing the animal welfare needs in the area. The tentative plan was for Walton Family Foundation, Best Friends, the city and public fundraising to pay for the construction, although no entity has committed any money.
The city doesn't have a contract with the foundation nor with Best Friends.
Best Friends would have provided the staff to operate the shelter, although Bentonville animal control officers would have brought the animals, Robinson said. Bentonville would have paid roughly $500,000 a year to take animals to the shelter, which would put the city on par with how much other cities in Northwest Arkansas pay to run animal shelters in terms of the percentage of their overall budgets, he said.
Bentonville's contract with Centerton has a $300,000 base fee plus $100 for each dog the city takes to the shelter. The city spends about $130,000 a year taking dogs to the Centerton shelter, Robinson said.
The committee discussed having grooming, bathing, animal behavior and training services, emergency animal services, education space, retail and a community dog park. Those amenities would be in addition to adoption and spay/neuter services typically offered at animal shelters.
"This isn't a dog pound. This is a pet resource center," Robinson said at Monday's committee meeting about the planned building.
The committee would also like the shelter to include animal-inspired artwork by local artists, a neonatal unit for kittens, a "rest stop" for dogs who are being transported, spaces intended to make animals feel less stressed and "profoundly progressive" architecture integrating well with Bentonville, said Romaine Kobilsek, a committee member and representative of Spay Arkansas.
"If you looked at this building from the outside, would you say it's an animal resource center or would you say it's something that's relatable to Crystal Bridges?" she said, referring to architectural renderings of the proposed building.
Committee members said they likely won't be able to have the kind of facility they want without a partnership with Best Friends Animal Society.
Becca Hazelwood of the Walton Family Foundation is on the Animal Shelter Task Force. The task force has been considering 4 to 5 acres off of Southwest Eighth and I streets owned by Walmart. Robinson said Walmart is open to some of its land being used for an animal shelter.
Leeth Harper, committee member and representative of Village Pet Hospital, said working with Best Friends is off the table if the foundation doesn't want to move forward with the project with Best Friends because the foundation is one of the main entities paying for the project.
The foundation has been investigating Best Friends and doesn't have final report, Hazelwood said.
"As a potential funder, we also like to do our own due diligence," she said.
A community survey showed 80% of residents agreed public and private organizations should share pet sheltering responsibilities, the foundation's spokesman, Luis Gonzalez, wrote in an email. The foundation initiated the report to help the city gain information on a potential partner.
"During the process, the city informed us they were no longer interested in partnering with third-party providers, so we stopped pursuing additional information as it was no longer needed," he wrote.
Best Friends partners with cities, such as Los Angeles, to run animal shelters, Toellner said.
The organization's goal is to stop shelters from killing animals, he said.
Best Friends would still like to work with Bentonville, Toellner said. Best Friends can offer full-time staff including veterinarians, trainers and adoption staff. Generally, cities the organization partners with pay a recurring fee, such as on an annual or per animal fee, and Best Friends is responsible for daily operations and unexpected costs.
Some committee members argued the lawsuits against Best Friends are irrelevant because any entity, including the city, can get sued if a dog in its care bites someone. They said the money and expertise from an organization such as Best Friends outweighs that risk.
No clear-cut way exists as to how to run an animal shelter, said Adam Riccy, vice president at the National Animal Care and Control Association.
"It really comes down to the administration they have, the policies they have and what the needs of their community are," he said.
Kobilsek said she doubted another entity would help pay for the shelter, because animal services are usually considered a city responsibility.
"Why would any company want to come to the city of Bentonville and support a municipal shelter like this when the city, by all standards, is one of the richest cities in the state of Arkansas?" she said.
NW News on 07/28/2019
Print Headline: Bentonville animal shelter plans hit rough patch
Sponsor Content
Comments