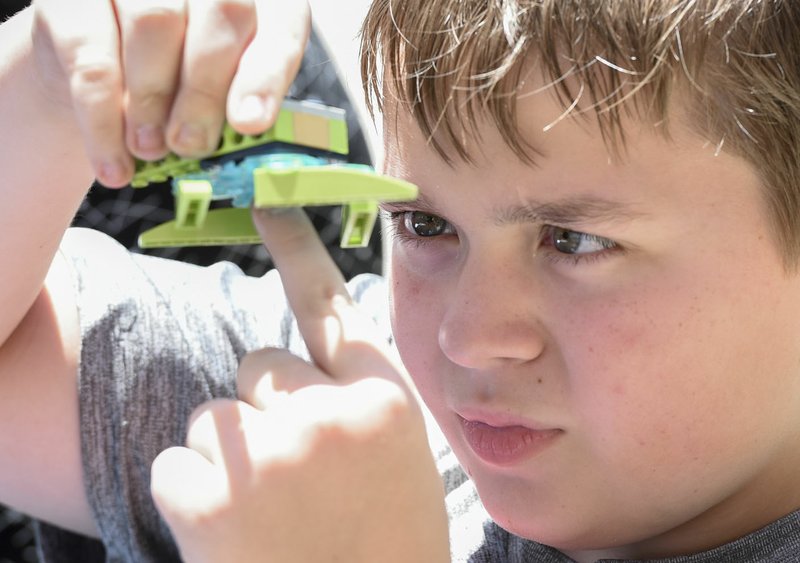 NWA Democrat-Gazette/CHARLIE KAIJO Connor Merideth, 10, of Oppelo builds a mini rover using Legos on Saturday at the Amazeum in Bentonville. The activity called "Lego We Do 2.0" allows kids to program their own rovers using an application and Legos. The Amazeum celebrated the 50th anniversary of the Apollo 11 moon landing. Activities featured included a robotics team with a rover and kids making their own mini rovers to test.
BENTONVILLE -- Families experienced some of the innovation that went into the Apollo 11 moon landing at the Scott Family Amazeum on Saturday without all the hassles of space travel.
About 1,200 people attended Moon Day at the museum, which celebrated the 50th anniversary of the first moon landing and some of the elements of science, technology, engineering, art and math that went into making the historical event a reality, said Paul Stolt, Amazeum marketing manager.
Priceless Nights at the Scott Family Amazeum
Priceless Nights at the Scott Family Amazeum offer families the opportunity to explore the Amazeum for a reduced price 4-7:30 p.m. Wednesdays.
Attendees pay as they wish for admission on Priceless Nights, which are a great way to check out the museum and its hands-on, family exhibits and activities.
Guests will experience the same quality of programs and learning opportunities as any other time the Amazeum is open, to include the Hershey's Lab and the 3M Tinkering Hub, which features tinkering activities for guests 7 and older. Outdoor areas will be available as weather allows.
Source: Staff report
"If they had an acronym for STEAM, they certainly would have used it during the moon landing," he said. "It couldn't have happened without those things."
The event featured moon-themed activities, including robotics; creating moon craters and lunar salt drawing stations; a green screen for participants to take photos of themselves on the moon or in space; gyroscopes to teach about orbiting; and a scale so attendees could see how much they'd weigh on the moon, said Katherine McDaniel, guest experience manager.
"We just want kids to come away embracing that sense of innovation and imagination and creativity," McDaniel said of the elements that made landing on the moon a reality.
Elizabeth and Andrew Cook of Grove, Okla., attended Moon Day with their daughter, Adelaide, 6, and son, Boyd, 5. Boyd donned his Neil Armstrong astronaut costume to attend the event, and Adelaide was dressed as a member of Mission Control, complete with a NASA ball cap and headset.
"He woke up and told us this was his day, and he can do whatever he wants, because he is Neil Armstrong and it is Moon Day," Elizabeth Cook said of Boyd. "Boyd loves space, and he wants to be an astronaut when he grows up."
Adelaide has more varied goals, on the other hand, and said she aspires to be both an astronaut and a ballerina some day.
Of all the activities featured at Moon Day, the home-schooler said the robotics station was her favorite because she was able to build a robot herself.
The Team Root Negative One competitive robotics team from the Don Tyson School of Innovation in Springdale worked with guests at the station, said Richard Cassady, volunteer coach. The teens gave demonstrations using the same robot they used to qualify to compete in the For Inspiration and Recognition of Science and Technology Global Challenge in Dubai next October.
"Our robot is kind of like a lander, like a rover," said Catalina Peterson, 17, of Fayetteville.
The team also worked with attendees to help them build their own robotic LEGO rovers.
"The kids come and they start looking at our robot and they think that's cool," said Sara Manos, 16, of Springdale. "Then they see that they have the opportunity to do something similar themselves, and they get really excited to make something move that's all their own."
Peterson said they wanted children experiencing the station to understand that exploring robotics isn't beyond their reach.
"We're really just trying to emphasize that everyone is capable of doing this," she said. "We want to get them in the mindset that they are capable and they can thrive at anything they set their mind to."
Stolt said he hopes the event allows participants to understand the significance of what it took to make the decision to land on the moon a reality.
"As somebody who was alive and did wake up in the middle of the night to see Neil Armstrong step onto the surface of the moon, I think at the time, there was worldwide recognition that this was something that was incredible," he said.
NW News on 07/21/2019
Print Headline: Families take a giant leap for fun, exploration at Moon Day
Sponsor Content
Comments