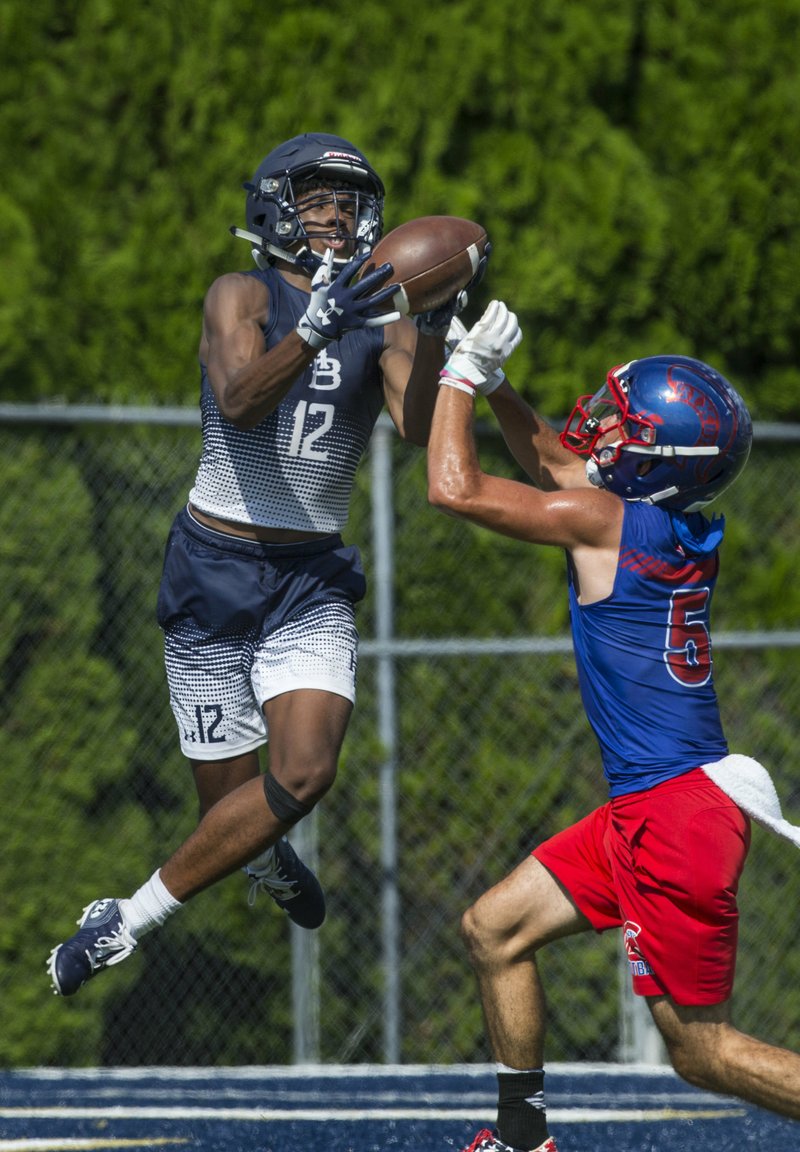 NWA Democrat-Gazette/BEN GOFF @NWABENGOFF Micah Seawood (12), Springdale Har-Ber wide receiver, makes a touchdown catch as Trevon Holt, Bixby (Okla.) defensive back, defends in the first game Saturday, July 13, 2019, during the championship round of the Southwest Elite 7-on-7 tournament at Shiloh Christian's Champions Stadium in Springdale.
SPRINGDALE -- There are athletes who can jump, and then there is Micah Seawood.
The Springdale Har-Ber rising senior is not getting the recruiting attention he deserves, said Wildcats coach Chris Wood. After Saturday's eye-popping performance in the Southwest Elite 7on7 tournament at Shiloh Christian, that oversight is likely to change.
Southwest Elite 7on7
At Shiloh Christian
Saturday Scores
Derby 44, Siloam Springs 3
Rejoice Christian 26, FS Northside 10
Bishop Kelley 29, Tuttle 17
Ozark 21, Jenks 19
Fayetteville 31, Glendale JV 2
Shiloh Christian 20, Mill Valley 18
Glendale 20, Springdale High 13
Stillwater 32, Ada 9
Gibson Southern 21, Aurora Christian 10
Heritage Hall 18, Lincoln Christian 16
Russellville 22, Choctaw 19
Springdale Har-Ber 36, Rejoice Christian 8
Bentonville 20, Derby 11
Owasso 33, Russellville 9
Broken Arrow 22, Gibson Southern 13
Fayetteville 41, Stillwater 23
Bixby 27, Bishop Kelley 25
Heritage Hall 20, Shiloh Christian 14
Glendale 18, Ozark 17
Stillwater 13, Choctaw 4
Shiloh Christian 27, Tuttle 19
Lincoln Christian 30, Mill Valley 12
Jenks 36, Springdale 8
FS Northside 35, Gibson Southern 24
Ada 30, Glendale JV 5
Ozark 22, Siloam Springs 11
Aurora Christian 20, Rejoice Christian 19
Derby 20, Jenks 16
Bentonville 26, Heritage Hall 10
Russellville 20, Ada 13
Lincoln Christian 20, Bishop Kelley 10
Bixby 35, Glendale 25
Broken Arrow 25, Owasso 20
Springdale Har-Ber 22, Fayetteville 21
FS Northside 20, Russellville 17
Lincoln Christian 26, Ozark 10
Stillwater 25, Aurora Christian 0
Derby 25, Shiloh Christian 11
FS Northside 21, Heritage Hall 12
Glendale 29, Stillwater 24
Derby 26, Owasso 15
Fayetteville 29, Lincoln Christian 20
Bixby 23, Bentonville 11
Broken Arrow 18, Springdale Har-Ber 17
Glendale 31, FS Northside 6
Fayetteville 17, Derby 8
Bentonville 29, Fayetteville 20
Springdale Har-Ber 34, Glendale 13
Springdale Har-Ber 21, Bentonville 20 (OT)
Bixby 20, Broken Arrow 4
Springdale Har-Ber 30, Broken Arrow 13
Springdale Har-Ber 22, Bixby 19
Springdale Har-Ber 26, Bixby 14
"He's the best receiver in the state, and he's not getting the respect he deserves," Wood said as his team collected championship hardware on the other side of the field after winning the tournament championship. "If you watched him today, how he high-points the ball, his route-running, the way he out-jumps people. He's one of the best in the state, and nobody is talking about him."
The defensive backs from two defending Oklahoma state champion teams will be talking about him for a long time.
The 6-foot, 170-pound Seawood time and again blew past, jumped over or simply shook them off with his quickness. Against defending 6A-1 champion Broken Arrow, Seawood punctuated Har-Ber's 30-13 win by going up high over Oregon commit Myles Slusher for a clinching touchdown.
Against defending 6A-2 state champion Bixby in the championship, Seawood scored on the first play of the game, blowing past the Spartans' defenders and pulling in a throw from Blaise Wittschen that spurred a 22-19 win, forcing a second championship game.
The Wildcats, who went 14-2 over the two days of the tournament, dominated Bixby in the second game 26-14 behind the play of their defense. Har-Ber led 24-6 at one point with Jujuan Boyd, J.B. Brown, Cole Bowen and Liem Taylor leading the way. Brown and Bowen had point-producing interceptions, and Boyd and Taylor each had big pass-breakups in both games.
"I'm extremely excited about how we played coming off the dead period," Wood said. "I thought the kids really fought through and were resilient. We had some kids get banged up. We lost one of our receivers, one of our secondary guys, and all they did is keep stepping up. We had defensive kids playing offense, and offensive kids playing defense, so just really proud of the way they played together and fought together.
"I think our defense only gave up about 12 points per game in the tournament, which is unheard of in 7-on-7. Our staff did a tremendous job coaching the defense and putting them in position to make plays and they made the plays."
Har-Ber rising senior quarterback Wittschen was solid the entire tournament, Wood said, citing the two-year starter's improved arm strength since last season. Several of Wittschen's throws Saturday came in tight windows, none smaller than the laser he threw to Seawood on a gutsy overtime play against Bentonville.
The two teams were tied at 18-18 at the end of regulation. In overtime, Bentonville opted to go for one point and Andrew Edwards hit Trenton Kolb in the end zone for a 19-18 lead. Wood opted to go for two points and the win, and Wittschen zipped a pass to Seawood just inside the goal line for two points and the win.
"That was a tough one, but that was a fun game to be a part of," Bentonville coach Jody Grant said. "But we played a lot of games over the past two days and had a lot of success. We got a lot of reps. We had a few guys go down with some injuries, so we got some young guys and some guys who haven't got a lot of opportunities some reps, which is always good."
Seawood stopped short of calling the 2019 season a year of redemption after the Wildcats missed the playoffs in 2018 in a season that saw numerous players transfer and the team being forced to forfeit games for playing an ineligible player.
But he was clear that the Wildcats have a renewed focus while putting the 2018 season as far behind them as possible.
"Last year was a down year for us," said Seawood. "This year we want to flip things around. The coaches have been on us, and we've been on each other to turn things around and get a ring. Last year we were just all disconnected, but this year we are all on one path and we're trying to play as a team."
Wood said the Wildcats will spend the next two weeks running and lifting weights ahead of the start of fall workouts. Har-Ber will open the regular season at Pulaski Academy on Aug. 29.
Sports on 07/14/2019
Print Headline: SOUTHWEST ELITE Har-Ber locks down tourney title
Sponsor Content
Comments