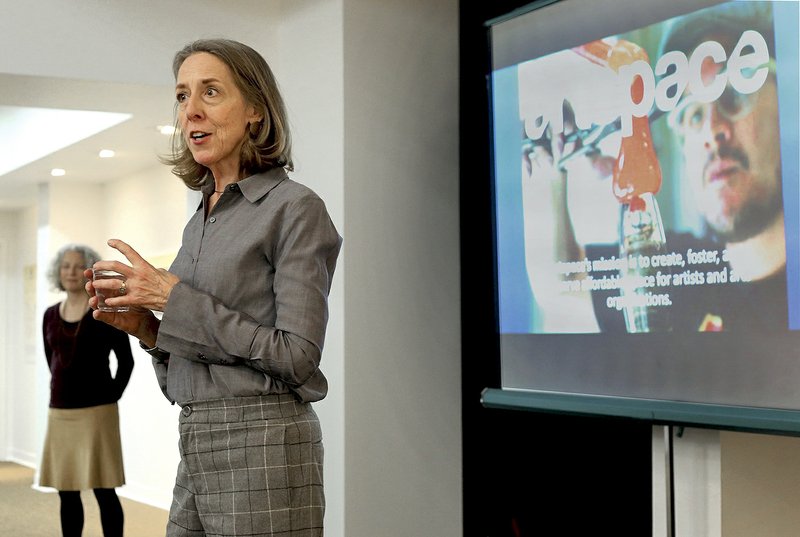 WENDY HOLMES WITH ARTSPACE presents the Artspace findings Tuesday for Springdale, Bentonville, Rogers and Fayetteville officials at the Arts Center of the Ozarks in Springdale. After a year of engagement with the arts communities in Northwest Arkansas and a grant from the Walton Family Foundation, Artspace is making a series of recommendations and presentations in the four cities. - Photo by David Gottschalk
SPRINGDALE — Bentonville is set to be the first Northwest Arkansas city to see new artist studio and living space following a yearlong study by a national nonprofit organization, according to a report released Tuesday.
Artspace, a Minneapolis-based nonprofit organization, used a $400,000 grant from the Walton Family Foundation to study the need for artist space over the past year. The 210-page report recommends developing affordable places for artists to live and work in the region's four largest cities.
Wendy Holmes, senior vice president for Artspace, said housing prices are going up as Northwest Arkansas grows, making it harder for artists who bring vitality and vibrancy to the area to live in the area.
"Affordability will become more and more of a challenge. It's very timely," she said before a presentation of the report Tuesday in Springdale. Artspace leaders also presented the report in Bentonville on Tuesday and will be in Fayetteville and Rogers today.
Holmes said the project would begin in Bentonville because the Walton Family Foundation has an interest in Bentonville. She added the foundation also has an interest in Northwest Arkansas as a whole.
"We supported Artspace's research to help each community identify their specific needs for spaces where artists can live and work and to provide information that can be used to identify possible opportunities," the foundation's home region program director, Karen Minkel, said in an email.
Holmes estimates all the projects, which will be developed simultaneously, should be completed in five to seven years. However, this is the first time the organization has done a regional report spanning several cities. Single projects typically take three to five years, she said. All developments would include more than 100 units.
Shay Holloway, 24, of Fayetteville is a painter and photographer. She also works full time at the JCPenney portrait studio in the Northwest Arkansas Mall.
"It's needed. Photography is the side hustle type-thing because I don't make enough right now to be able to sustain myself, so the second job is definitely what I need to get me over the hump a lot of times," she said.
Holloway said she could see herself living in an Artspace unit.
"I'm very interested in the live/work aspect of it," she said.
Affording a studio on top of housing can be expensive, while an Artspace unit is designed for artists to live and have space to work on their art so they don't have to also rent a studio, she said.
Holloway credits the region for her interest in photography.
"The area really inspired me to want to do photography because it's just so pretty and it changes a lot," she said.
Artspace was established in 1979 and has completed 52 projects in 32 cities and 22 states. These would be the first Artspace projects in Arkansas, Holmes said.
The report states creating and stabilizing affordable spaces for artists will encourage creative sector growth and retain people and organizations contributing to the region.
"Rapidly rising rents inhibit artists and creative entrepreneurs from finding attainable housing options. Market pressure is felt in Bentonville in particular, followed by Fayetteville, Rogers, then Springdale," according to the report.
The recommendation for Bentonville is to build 50 affordable live/work artist housing units; 10 artist-in-residency spaces programmed by the Momentary; and an innovation space.
The site would be next to the Momentary, an arts and performance venue expected to be complete in 2020. Crystal Bridges Museum of American Art is developing the Momentary.
Document
NWA Arts Space
View
Artspace recommends in Springdale a live/work housing development with possible studio spaces with a Marshallese cultural center as its anchor tenant, according to the report. The proposed site is next to the Arts Center of the Ozarks, 214 S. Main St.
Artspace plans to focus more on space for creative businesses in Rogers' downtown and less on housing units than in other cities, according to the report. The downtown site is to be determined.
A classic mixed-used development with 35 live/work housing units and 15-20 private working studios is recommended for a site next to the Fayetteville Public Library, 401 W. Mountain St., according to the report.
The report lists several public and private entities that could help pay for the developments. Holmes said the next step in the process is to meet with city officials in all four cities and discuss the possible locations for the developments.
PUBLIC MEETINGS
Artspace will host two meetings today:
5 p.m., Roots Festival headquarters, 15 W. Mountain St., Fayetteville 7 p.m., Rogers Experimental House, 121 W. Walnut St., Rogers
Alex Golden can be reached by email at [email protected] or on Twitter @NWAalexgolden.
Print Headline: Nonprofit organization recommends art spaces
Sponsor Content
Comments