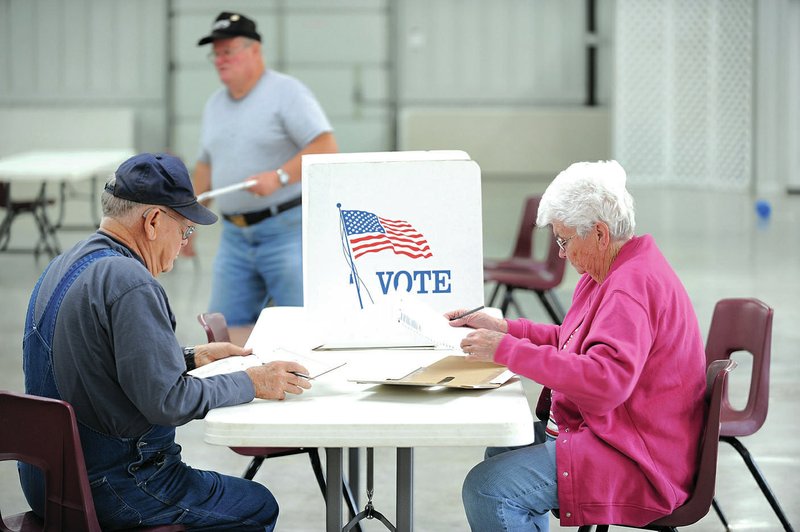 FILE PHOTO ANDY SHUPE Mitch McCorkle, longtime fire chief for West Fork, and his wife, Henryetta, vote in a special election to decide the mayor of West Fork at The Frank Wenzel Community Center. - Photo by Andy Shupe
BENTONVILLE -- Benton County voters will have more locations and more time to decide on a proposed sales tax increase to build a courthouse.
Early voting for special elections is usually held at the County Clerk's offices in Bentonville, Rogers and Siloam Springs, County Clerk Betsy Harrell said. The Benton County Election Commission gave the go-ahead Jan. 17 for a plan to add four sites.
Early voting sites
Early voting locations for the March 12 special election are:
• County Clerk's Office: 215 E. Central Ave., Suite 217, Bentonville
• County Clerk's Office: 2109 W. Walnut St., Rogers
• County Clerk's Office: 707 S. Lincoln, Siloam Springs
• First Landmark Baptist Church: 206 S.E. 28h St., Bentonville
• Riordan Hall, 3 Riordan Road, Bella Vista
• Rogers/Lowell Area Chamber of Commerce, 506 Enterprise Drive, Lowell
• Reach Church, 900 W. Centerton Blvd., Centerton
Hours will be from 8 a.m. to 4:30 p.m. March 5-8 and March 11.
Source: Benton County Election Commission
Voting reminders
The deadline to register to vote is Feb 11. Voters can use vote.bentoncountyar.gov for early voting locations and times, absentee applications and information and election day vote centers.
Source: Benton County Clerk's Office
Town halls
Benton County Judge Barry Moehring has set a series meetings to discuss the election and proposed sales tax.
• Feb. 5: Gravette Civic Center, 401 Charlotte St. SE, 6 p.m.
• Feb. 6: Northeast Benton County Fire Department, 14639 S. Wimpy Jones Road, Garfield, 6 p.m.
• Feb. 13: Prairie Creek, 14432 Arkansas 12 East, 6 p.m.
• Feb. 15: Bella Vista, Riordan Hall, 3 Riordan Drive, 10 a.m.
• Feb. 20: Bella Vista District Court, 612 W. Lancashire Blvd., 6 p.m.
• Feb. 21: Pea Ridge City Hall, 977 Weston St., 6 p.m.
• Feb. 25: Lowell City Hall, 216 N. Lincoln St., 6 p.m.
• Feb. 26: Centerton City Hall, 290 N. Main St., 6 p.m.
• Feb. 27: Bentonville, Judge Robin Green's courtroom, 6 p.m.
• March 4: Siloam Springs Library, 205 E. Jefferson St., 6 p.m.
• March 5: Rogers, Rogers Annex, 2111 W. Walnut St., 6 p.m.
Source: Benton County
It's rare for a special election to have additional early voting sites, said Kim Dennison, election coordinator. Dennison, who has been with the Election Commission since 2012, could only remember one time when a special election had off-site voting. That was a Bella Vista special election in September 2014, she said. The city requested an off-site early voting location and Riordan Hall was used, she said.
Another change for March 12 election will be the use of off-site voting locations the Monday before the Tuesday election. In other elections, voting done the day before an election was only available at the County Clerk's offices in Bentonville, Rogers and Siloam Springs, Harrell said.
"This gives the voters a better opportunity to vote," Russell Anzalone, Election Commission chairman, said of the changes. "And that is what it is all about, as far as I am concerned."
The election is for a one-eighth-cent sales tax increase for a proposed $30 million courthouse. The tax would be for 54 months if approved, according to documents. The county has approved a building design and site on Northeast Second Street in downtown Bentonville. The one-eighth-cent tax would equal $1.25 on every $1,000 in sales, County Judge Barry Moehring said.
There will be seven early voting sites: the three County Clerk offices and off-site locations at First Landmark Church in Bentonville, Riordan Hall in Bella Vista, the Rogers/Lowell Area Chamber of Commerce in Lowell and Reach Church in Centerton.
Thirty-three vote center locations will be open election day.
Early voting will be held March 5-8 and March 11, Dennison said. Hours will be from 8 a.m. to 4:30 p.m.
The election is different from other elections for many reasons, Dennison said.
"When you are dealing with money, that seems to bring a turnout," she said. "There has been lots of media coverage about this issue. It's drawn a lot of attention. And this has been discussed for years, and now it's close."
Anzalone said he expects a good turnout.
"It's a vote for a tax increase," he said. "Some people are opposed to it and think the courts building should have gone out by the jail. There are people adamant about it being downtown. "
Paul James of Rogers said Thursday he's not against building a courthouse, but he opposes any tax increases for the project. James said his mind is made up, but he said would attend one of the town hall meetings hosted by Moehring, if possible.
James said the Quorum Court didn't consider cheaper options such as building near the Benton County Jail on Southwest 14th Street or renovating the main courthouse downtown.
"They did not want to consider the alternatives," James said. "That's ridiculous. It's another example of out-of-control government."
The election will cost the county about $30,000, Dennison said.
"As for all elections, we are happy to be part of the early voting process that makes voting more accessible and convenient for our voters," Harrell said. "The Election Commission's decision to conduct off-site early voting during the same time period that's required for the County Clerk's office will make it easier for us to communicate that information to the voters, and hopefully they'll consider it for future elections that only allow a five-day early voting period."
Other elections that would use a a five-day early voting period include runoffs and school elections.
The courts proposal will consolidate the courts, add an element of safety and make it more convenient for those who go to court, Moehring said.
The circuit court judges are spread among buildings close to the downtown square and the Juvenile Judicial Center near the jail. Judges Robin Green, John Scott and Xollie Duncan are in the main courthouse. Judge Brad Karren is across the street in the annex building, and Judge Doug Schrantz is in a building on Main Street. Judge Tom Smith is at the Juvenile Center.
Green, Scott, Duncan, Karren and Schrantz would hold court in the new building, while Smith would remain at the Juvenile Center.
There are 161,367 registered voters in the county, said Dana Caler, elections administrator for the Clerk's Office. Caler predicts a turnout of between 12 and 15 percent, or between 19,365 to 24,205 voters.
The new courts building would be 87,000 square feet in four stories and a basement. The top story would be finished later with two more courtrooms. There also would be a Sally port and secure holding area. Moehring said the building would have a 50- to 100-year lifespan. Work would start in the summer if voters pass the sales tax, he said.
Moehring will hold 11 town hall meetings across the county to discuss the issue. The first will be 6 p.m. Feb. 5 at the Gravette Civic Center. Moehring already has spoken to six civic groups or organizations about the election and sales tax, and will meet with the Siloam Springs Republican Women at 6:30 p.m. Monday.
NW News on 01/27/2019
Print Headline: Officials add locations for special election early voting
Sponsor Content
Comments