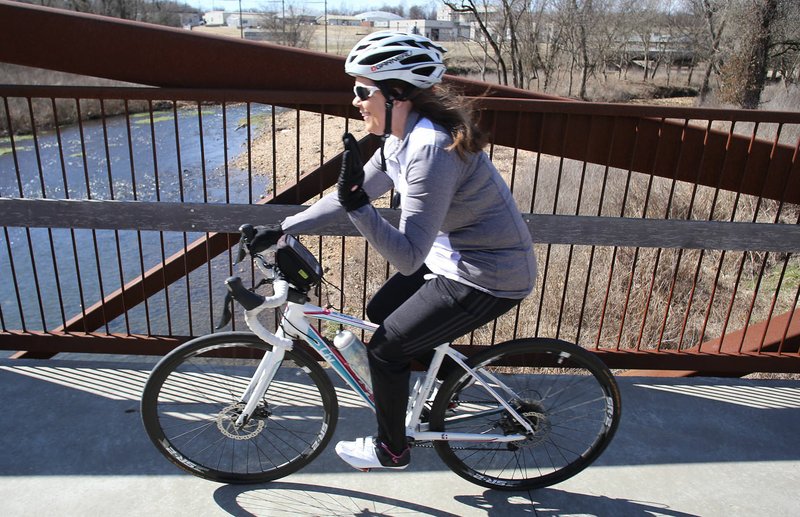 NWA Democrat-Gazette/DAVID GOTTSCHALK Melissa Peck passes a pedestrian Feb. 13 as she rides over the bridge on the Spring Creek Trail near the Lake Springdale Trailhead in Springdale. Springdale is contracting for an engineer to design an extension of Spring Creek Trail. The update runs from Lake Springdale trail head to the planned AG&F education center on 40th Street.
SPRINGDALE -- Bob Callier came unhappy to the city's trail committee meeting Wednesday.
He lives on Dick Smith Street. The construction crews building Dean's Trail in eastern Springdale recently installed protected bike lanes on both sides of the street. The lanes are marked with paint and short bollards to keep cars from crossing into the bike lanes.
The city opens a new trail this summer, and the City Council can pave the way for another during its meeting Tuesday. Reviews of the trails remain mixed.
Callier said he has an important anniversary to celebrate. He wants to invite friends and family to his home and wants to know where they will park.
"I am not against the trails, but I have lost some of my ability to enjoy my residence for some 'fair-weather' bikers," he said.
Callier also expressed concern about litter and graffiti on some areas of the yet unopened trail.
Kathy Jaycox, a member of the Springdale City Council attending the meeting, directed him to the city's code enforcement division, which will work with the Public Works department to get the graffiti removed immediately. Callier also had the opportunity to speak with a staff member of the Parks and Recreation Department about the litter.
Brad Baldwin, the city's director of engineering and public works, handed Callier a business card, encouraging him to set up a meeting.
Jaycox said she drove to Dick Smith Street later Wednesday evening and saw several cars parked in between the bollards and the sidewalk.
"I wanted to see if we had really impacted people's lives that much," she said of her trip. "We are making changes in people's day-to-day lives. I guess we have not done a great job of sharing information with those it impacts."
Lt. Jeff Watson, a spokesman for the Springdale Police Department, said it is illegal to park in any bike lane because they are considered to be traffic lanes.
DEFINED PATH
Springdale recently reorganized the way it handles trails. They now fall under the auspices of the city's Engineering and Public Works Department, which controls the budget and the resources for building trails.
"Now, from construction to engineering, we can treat a trail like a street," Baldwin said.
Members of the city's trail committee see a clearly defined budget as trails have been added as a line item to that department's budget, said Chris Weiser, chairman of Springdale's trail committee.
"We can see what money we have and, with that information, prioritize what we do with our money," he said.
The committee can make recommendations, but the City Council holds the final decision, Baldwin said. The council in 2018 made a commitment to put $1 million a year into the trail fund, he added.
"Now we can take that $1 million and parlay it into $2 million through grants and other funding sources," Weiser said.
Fayetteville has allocated $1.5 million from its capital improvement program to trail construction programs for more than 10 years, said Paul Becker, chief financial officer for Fayetteville.
Fayetteville residents will vote April 9 on a bond issue that would include $6.8 million for improving the city's trail system.
"They say a rule of thumb is $1 million to build one mile of trail," Weiser said. Many of the trails on the Springdale committee members' priority list are connector trails, shorter than a mile or just a bit longer, he said.
The extension of Spring Creek trail will run 2,100 linear feet, just under a half mile, Baldwin said.
PILOT PROJECT
In November, the city and BikeNWA installed bollards and created similar protected bike lanes along Holcomb Street and Maple Avenue in the city's downtown area. The lanes serve as a pilot project for BikeNWA, which collects survey information from the public on its website.
Anya Bruhin, community organizer for BikeNWA, said the group will have no updates until the yearlong survey closes in November.
The city held meetings and opened public comment periods before both Dean's Trail and the pilot project started, Jaycox said. But she added she has not heard one positive comment about the pilot project from constituents.
Kathi and Harry Blundell live on Maple Avenue. When the project was announced in November, the couple said they were cautiously optimistic. They changed their minds.
"We pretty much hate it," Kathi Blundell said Friday.
She noted an instance when an ambulance from Fire Station 1 on Holcomb tried to return to the station after a run to Northwest Medical Center. A fire truck in emergency mode was headed the other way.
"There was no way an ambulance and the fire truck could both get through there," she said. "The ambulance pulled over in the bike lane to let the engine pass, and we just followed the ambulance."
Blundell also told the story of "one little man" who has ridden his bicycle through the neighborhood for years who shuns the bike lane and rides on the sidewalk.
"I can't see how people think the bike riders are more important," she said. "They're putting people who don't exist first. There's never anybody riding in the bike lane."
A protected bike lane along Rolling Hills Drive in Fayetteville serves as another site for the BikeNWA survey. As of last month, the city had received about 100 comments from the public, said Susan Norton, communications director for the city. About three-quarters of responses were negative, she said. Some residents are concerned about the width of the car lanes, others don't like the way it looks and others worried about it bottlenecking traffic, she said.
"Protected bike lanes have their place," Baldwin said. "They are intended to protect families and commuters using the trails, not the 'road warriors.' We still have recreational trails, and the network plan includes commuter trails."
WARMING UP
Although concerned over Callier's comments about parking, trail committee members and staff members cited the safe connection Dean's Trail will provide for children from the neighborhood attending the two schools along the trail -- J.O. Kelly Middle School, Linda Childers Knapp Elementary and its prekindergarten center.
"We have to understand that it's an alternative transportation system that we've not seen in the area," Jaycox said.
Ben Cline, a spokesman for the city of Rogers, noted many road enhancements for the city also will consider alternative forms of transportation.
"We're now looking at the whole road," he said.
Regional efforts have put the spine of the Northwest Arkansas trail system in place, Jaycox said. And when connector trails are added, the system will provide safe connections between homes and schools, The Jones Center and businesses, and more people will use the trails, she predicted.
"With more users, we will change our way of thinking," she said.
"It takes a while for culture to change," Baldwin said. "People will say they can't stand them. Then, all of the sudden they will be taking trails to work."
Baldwin noted any approvals by the Arkansas Department of Transportation to cross a state or federal highway with a trail are about two years out. Although currently in development, no national standards for bike lanes exist for the state to follow, he said.
GOING TO TOWN
Claire Small of Fayetteville rides ahead of that curve. When the weather is nice, she rides her bicycle to and from her job as a science teacher at Springdale High School.
She leaves home at 6 a.m., catches the Razorback Greenway and rides to Emma Avenue. Until the Springdale Recreation Center moved away from the high school and to its new location last week, she showered there at 7 a.m. and was at school by 7:30 a.m.
She said the trip takes her about an hour in each direction, about 22 miles a day.
Small said she appreciates the Maple Avenue pilot project. The traffic lanes are smaller because of the protected bike lanes, and travelers drive slower, she said.
"Sure, bikes can be annoying, but cars can be annoying, too," Small said.
"I like that I feel better when I exercise," Small said. "I'm in a better mood. I go on autopilot, so a lot of that time is meditative. I have time to think about things at work I need to do, and when I'm going home, I can let it all go.
"And I use the car less and put less 'yucky' stuff into the air. I feel like I'm doing my little part."
Weiser agreed. An admitted jogger, he said he tries to run part of Dean's Trail each day during his lunch hour. Weiser works as the president of J.V. Manufacturing in Springdale.
He said he has several employees who ride bikes to work and six or seven joggers.
One employee takes a 5-mile jog each day. By the time he showers and is back on the job, his lunch has lasted longer than an hour.
But that's fine with Weiser. He said his employees are happier and more productive.
"You can sure tell it in the state of my business," he said.
YES OR NO
The Springdale Chamber of Commerce took an informal poll of several city issues during its annual meeting Jan. 25, with two questions addressing the trails.
One question asked how often a person had used the trails within the past year, with a choice of five answers, ranging from never to 50 times or more. Of 405 who participated in this vote, the highest numbers were never, with 199, and less than five times, with 117 respondents. Fifty people replied they used the trails more than 50 times last year.
"People don't realize it's the middle of winter. It's sub-freezing," Baldwin said. "There will be more people interested in the trails as the weather warms up."
The other question asked respondents to rank from most importance to least five areas on which funding should be spent, if available. Trails placed fourth. Voters at the meeting deemed current road projects, parks and public transportation more important than trails, while signage and streetscapes were last.
"When our residents are asked about trails, it's in the term of options for funds, under the context of you have X amount of dollars to use," said Bill Rogers, vice president of communications and special projects at the Springdale Chamber of Commerce. "They evaluate where they think the funds would be best spent at the time."
Most people drive cars, so they are going to think the streets is where the money should go, he said.
"Not wanting to use the dollars for trails isn't a reflection that they don't want trails," Rogers continued. "So we must work to find other sources of funding that can expand our trail system. Because more trails bring more use, and more use leads to economic development and a better quality of life."
Weiser said he was not surprised by the public's response, nor by decisions of elected officials to put the funding to other things.
"We'd like more money," he said. "But we're happy with everything we can get."
Web watch
Maple Avenue bike lane survey
pilotprojects.typeform.com/to/oBUych
bikenwa.org
Quality of Life
A 2016 quality of life survey commissioned by the Walton Family Foundation considered the role the Northwest Arkansas trail system plays in the lives of area residents.
Overall, trail usage rates were high as 69 percent of residents reported using the trails — an increase from 63 percent in 2012, according to the survey.
Trail usage was only second to park usage among all amenities — both natural and cultural, the report reads.
Wealthier residents typically were more likely to report using the local trail system, but there were high rates of trail use reported among all income levels.
The survey also found a difference in trail use among the residents of the region's various cities: Bentonville, 81 percent used trails; Fayetteville, 71 percent; Rogers, 61 percent; Springdale, 53 percent.
Source: Northwest Arkansas Quality of Life Survey Report, Walton Family Foundation
NW News on 02/25/2019
Print Headline: Riding between the lanes
Sponsor Content
Comments