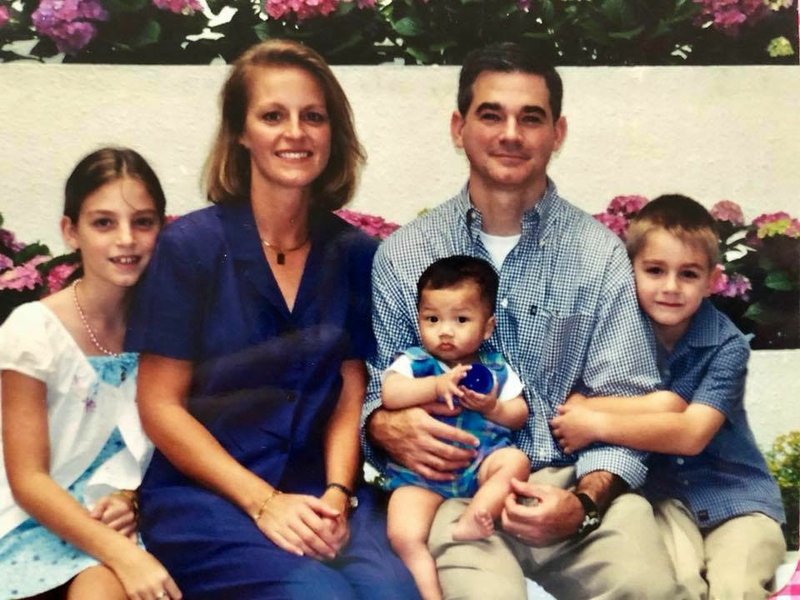 Photo courtesy West family Sarah West, 11 months, sits for one of her first family photos at the White Swan Hotel. Although her actual birth date is June 2, 2000, May 9 is commemorated as her "Gotcha Day," the date when she was adopted into her new family. Photo courtesy West family Dressed in pink, Sarah (left) is lined up with fellow adoptees before meeting their new families. "They would put lots of layers on the babies for photos before showing them to the future parents, in order to make the babies look fatter and healthier," Kim said.
Standing on the second floor of an orphanage in Gaoming City, China, Sarah Li Xiang West, 18, resembled more the matrons of the orphanage than her own family. This wasn't the floor she'd lived on for 11 months, and the name had changed in the past 17 years, yet Sarah and her family could still pick out remembrances from when she was adopted.
Although there were teary eyes from family members, Sarah West explains that she was taking it all in as a souvenir of her "finding location," the place where her life began 18 years ago, but not a place of loss or sadness.
Only a few weeks after her graduation from Fayetteville High School, Sarah was for the first time revisiting a place that had been only a memory to her but still a part of her identity. In the middle of the tour of her past, she was also preparing for the uncertainty and change from a move across borders to discover more about not only herself and Christ, but also her birth mother.
Lost and found
At 11 months old, the little girl that would be named Sarah was propped up on a red velvet couch -- a monumental seat at the White Swan Hotel, where many other children had been cradled and admired for the first time by their new families. Posed for her first family photo, Sarah was graduating from her orphanage.
She was found at a bus stop, and, after being rescued, lived among 70 other orphaned children on the fourth floor of Gaoming Social Welfare Services during her first months of life.
"I never knew my birth family, if I had any siblings, if I was an accidental birth, or if they were just like, 'oh it's a girl and we need a boy'-type-thing," Sarah says.
All that was left in the box that she was found in was a red envelope typically gifted during Chinese New Year. Inside the envelope, where one would normally find Chinese coins, were characters which translated to: "This child was born June 2."
At the time of her adoption, her future parents had just resigned from their positions at Procter & Gamble. Kim and Rick West were in their hotel room May 9, 2000, when they got the call that they were matched with Sarah.
"We said, 'Oh, welcome to our family, little one. We love you! Your dad doesn't have a job, and neither does your mom, and we're moving to a place called Arkansas that I've never been to, but trust me it all works out," Kim says, laughing.
Growing up in Northwest Arkansas, Sarah says she's never felt like she was a minority. She went through the same school system from elementary to high school, and after all those years of being with familiar faces, people got to know her story and never needed explanations about her family tree.
Although her parents attempted to keep her in touch with her Asian culture, Sarah grew into the life that she had in Fayetteville without any pressure to conform to the expectations of Asian families.
"One time, Sarah said to me, 'Mom, you need to understand I'm not a super-Asian,' and I asked what she meant by that, and she said that super-Asians gets grades like a 101 or are overachievers, and I said, 'Oh, so you're just a run-of-the-mill-Asian?'" Kim remembers with a laugh.
Her mother knew that Sarah had the skill set and self-motivation to succeed in school and in life, and any added pressure or expectation was unnecessary.
A different path
The 2017-18 school year hit, and starting her senior year meant college applications and due dates. Sarah soon realized she lacked the enthusiasm for college that most of her peers had.
Sitting at the Thanksgiving dinner table, Kim proposed a question to her kids: "What's something you learned last year? And what's something you want to learn this year?" When it got to Sarah, she leaned back, crossed her arms and said, "I learned that I don't want to go to college."
Although she had been accepted with scholarships to schools like Belmont University, John Brown University and the University of Arkansas, she didn't know what she was supposed to do, but she knew it wasn't college -- at least not yet.
A Facebook page for the incoming freshmen at Belmont University gave Sarah some clarity, when one of its members introduced herself and explained how she had spent the last year abroad with the World Race. Sarah began looking into this as an alternative to her freshman year.
The World Race is an organization for young adults who set out to do Christian mission work abroad. There are a wide range of destinations offered in different programs during nine- or 11-month missions.
"I felt called by God to do this," Sarah says.
When she proposed the idea to her parents, there wasn't a negative reaction from the two. Since they had raised their children with hopes of them being happy and proud of their futures, it was never a thought to veto Sarah's desire to defer her college enrollment and seek this plan, Kim says.
"I did look at her and I said, 'Are you serious? Is this really what you want to do?' and she said, 'I really am,' and I told her, 'OK,'" Kim says.
After getting approval from her parents, Sarah raised the money herself and began preparing.
A mentor and friend to Sarah, Harper Whaley, was a sophomore at Shiloh Christian School when she made her decision to take a gap year and travel with the World Race after graduation.
Whaley explains that while on the World Race, it is not only important to witness to the community and create outreach programs for the local teenagers but also being hands-on with the schools is very effective for growing their mission work. At the age of 19, Harper was teaching math to Cambodian second graders.
"It's funny because I don't have a degree in elementary education or anything... I hadn't even been to college, yet I was a teaching math," Whaley says.
A nine-month journey
Sarah departed for her journey Sept. 12, 2018, and will travel to four countries during her nine-month schedule. She began in Swaziland and will move on to Nepal, India and Guatemala after. She plans to start school at JBU in the fall of 2019.
She records her travels and mission work in a journal-style blog. Her weekly entries keep her family and other followers up to date on the progress of her journey and whatever revelations may come.
One of those discoveries was the pain she felt when saying goodbye to her parents. Although she'd spent the summer preparing, and hard goodbyes were expected, she continued to pray to God that he would use this pain in some way to help her in these next months.
"Of course, she's had lots of tears since she's left and the pain of separation of family and all to do [the World Race]," Kim said. "We face-timed her our first night without her at home, and she said to me, 'You know, Mom, I think I'm feeling the same pain that my mom must've felt from being separated from me."
One of Sarah's newly found purposes on this trip was to seek an answer to how her pain echoed what her birth mother experienced 18 years ago.
Since their trip to China and her decision to be a part of the World Race, Sarah's adoptive mother also realized something special about Sarah's story.
"Sarah's birthday is June 2, and her nine-month mission, the World Race, will end on June 2. She is on a nine-month journey the exact same days, weeks and months that her mother was pregnant with her from conception to end," Kim says. "So, it's like a parallel growth. I get chills thinking about it."
Rachel Roberts is a junior at the University of Arkansas studying journalism and political science. She is a writer for Hill, a student magazine. Email her at [email protected]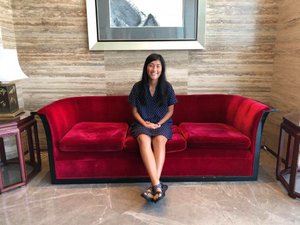 Photo courtesy West family Sarah re-creates her "red couch" photo during her visit to China in June. The meeting location for adopting families has since changed to a different hotel, but the couch remains at the White Swan.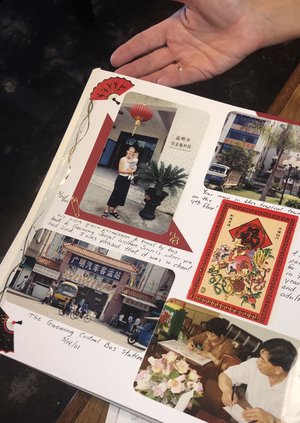 Photo by Rachel Roberts Sarah's mom, Kim West, shows off her baby book of memories from their first week together. The page shows the mother and daughter posed in front of the orphanage, the bus station where Sarah was found, and the red envelope that revealed her real birth date. For most adopted children, a confirmed date of birth is rare, Kim said.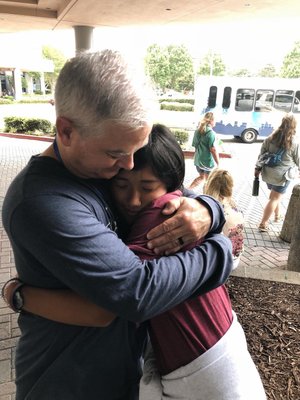 Photo courtesy West family Sarah, 18, hugs her dad before leaving to do Christian mission work abroad. Her parents attended the last preparation conference with her in Atlanta, where she made her goodbyes.
NAN Our Town on 02/21/2019
Print Headline: Sarah's nine months
Sponsor Content
Comments