SPRINGDALE -- One of Arkansas' most famous athletes spent the school day Wednesday talking with area teens about diversity and the importance of finding common ground with others.
Sidney Moncrief led the We Are One seminar for 60 students from nine junior high schools in Northwest Arkansas. The former basketball star -- first with the University of Arkansas, then with the NBA's Milwaukee Bucks -- and his wife, Takisha, engaged the students in discussions and activities.
Schools
Sixty students attended Wednesday's We Are One program in Springdale. Here are the schools they represented:
• Central Junior High School (Springdale)
• Farmington Junior High School
• George Junior High School (Springdale)
• Greenland Junior High School
• Lakeside Junior High School (Springdale)
• Lincoln Junior High School (Bentonville)
• Pea Ridge Middle School
• Prairie Grove Middle School
• Southwest Junior High School (Springdale)
Source: Staff Report
Central Junior High School hosted the event, one of several Moncrief is holding at schools across the state. We Are One is an initiative of the Moncrief Game Changer organization.
Moncrief, 61, started Wednesday's event by calling on the students to repeat the "We are one" mantra.
"Very important concept," Moncrief said. "'We are one' means that we are all part of a race, and what race would that be? The human race."
They discussed different kinds of diversity, including cultural, religious, ethnic and socioeconomic diversity. Students, working in groups, drew pictures representing diversity. Each group presented its picture while one person explained the meaning behind it.
Another activity had to do with breaking stereotypes. Students were asked to write something about themselves that differs from a common stereotype that might be associated with them. One student, for example, wrote "I am a teenager, and I'm respectful." Another wrote, "I am Hispanic, but I'm not religious."
They practiced introducing themselves with a smile and a firm posture, with Moncrief stressing others will form an opinion of a person within the first five seconds of meeting that person.
"Smiling is a universal language," he told students. "The person who smiles is considered more approachable, more leader-esque."
In another activity, students were asked to stand up for their favorite kinds of music, movies and food. The point was to show they all shared interest in something, despite their differences in other areas.
Bullying, core values, self-awareness and bias were some of the other topics covered.
Dexter Jenkins, 15, of Springdale's George Junior High School said he was enjoying the seminar as he stood in line for lunch.
"I'm really happy I came," he said. "Everybody's so nice, everybody's so friendly. I learned a lot I didn't know before."
His biggest takeaway from the morning was that "everybody should be treated the same," Dexter said.
The mission of the We Are One program is to raise awareness of the value and benefits of diversity and inclusion within society, Moncrief said. He believes this kind of lesson is more important than ever.
"We're segregated in certain areas. If it's not racial lines, it's along socioeconomic lines," he said. "And I think that what our young people see on social media, on TV, sometimes can be negative. It can be very divisive. We're trying to get them to understand they can be the difference maker, they can make a change, they can change people's opinions. But they need to start with their opinion and their outlook and their impact."
Moncrief said he'd like program participants to serve as "ambassadors" who will spread the word about the value of diversity and inclusion when they return to their schools.
Todd Loftin, principal of Central Junior High School, said Moncrief has done leadership training with students at the school in the past, and asked if Central would be willing to host the We Are One program.
Loftin observed most students didn't know each other when they came in and were quiet at first, but the chatter picked up as the day progressed.
"That's been really neat to see these kids step out of their comfort zone and share and get to know students from other schools," he said.
Galatia Andrew, 13, of Central Junior High said Loftin invited her to join the seminar. Galatia, who is Marshallese, said she enjoyed the morning's activities. She hoped students wouldn't forget what they learned once they go back to their schools.
"Take it back and then go and tell other people about it," she said.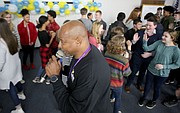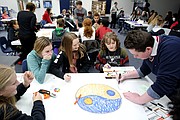 NW News on 02/14/2019