BENTONVILLE -- A $1.1 million grant from the Walton Family Foundation will provide more technological resources for students in the School District's Ignite Professional Studies program.
Wendy Broughton, who teaches Ignite's health sciences strand, said her students will have the opportunity to work with the kind of machinery one encounters in a hospital or medical clinic.
Ignite strands
Here are the career fields offered for study through the Bentonville School District's Ignite Professional Studies program:
• Construction management
• Culinary arts
• Digital design and photography
• Education innovation
• Global business
• Health sciences
• Technology
• Video production
Source: Bentonville School District
"It's going to be amazing," Broughton said.
Ignite, in its fourth year, immerses students from both of the district's high schools in a professional environment with support from a facilitating teacher and professional mentors. It offers classes in eight career fields.
Each of the career classes, or "strands" as they're often called, will benefit from the grant money, said Teresa Hudson, Ignite's director.
The technology strand, for example, will gain resources allowing students to delve deeper into artificial intelligence. The construction management strand will buy equipment to help students better understand design and drafting.
"We're grateful to the Walton Family Foundation for opening these doors," Hudson said. "The technologies this gift allows us to purchase are not typically found in a high school setting."
District administrators began work on the grant application last summer and were notified last week they would be receiving the money, Hudson said.
The foundation also gave the program $239,600 in 2015 to support its development.
Karen Minkel, the foundation's Home Region program director, called Ignite a "perfect fit" for the foundation's goal of fostering a world-class system of schools, according to a district news release about the grant.
"We want to help Bentonville and Northwest Arkansas become one of the best places to live and work in the U.S., and a high-quality education system is an essential part of that effort," Minkel said.
The grant also will allow for further recruitment of low-income high school students and offers a post-graduation plan of action for each program participant, according to the release.
There are 250 students enrolled in Ignite, though that number is projected to grow. The district is renovating a building it bought last year on North Walton Boulevard to serve as a hub for most of the program. The building is scheduled to open in time for next school year.
The district bought the 17,513-square-foot building for $1.45 million and is spending about $6 million more to renovate it.
Northwest Medical Center-Bentonville serves as a meeting place for the 48 students in Ignite's health sciences classes. Students get to observe what happens in the emergency room, the intensive care unit and the administrative offices.
The experience exposes students to all kinds of careers available in the medical field, said Steve Wing, Northwest Medical Center's director of education. Hospital officials hope the students will go off to college and eventually come back to work at the hospital, he said.
Nithya Sundar, 18, a senior from Bentonville High School, is in her first year of Ignite's health sciences class. She spends much of her time observing the medical center's cardiac catheterization lab, where doctors perform tests to diagnose and treat cardiovascular disease. The experience has confirmed her desire to enter the cardiology field.
"I can't put into words how great this opportunity is," Sundar said. "You can either confirm or deny whether you want to be in the medical field. You can do things you can't do in the classroom. This is actual experience. You're seeing things you probably don't get to see unless you go to med school."
The Walton grant will provide the program things such as patient simulators allowing students to practice treating patients in certain scenarios, Sundar said.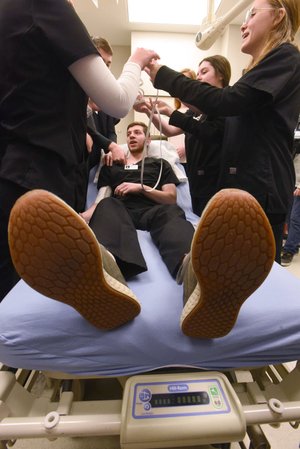 NWA Democrat-Gazette/FLIP PUTTHOFF Moe Abdin (center), a Bentonville High School student in the Ignite Professional Studies program, acts Tuesday as a patient while other students take his blood pressure, pulse and other readings at Northwest Medical Center-Bentonville.
NW News on 02/13/2019